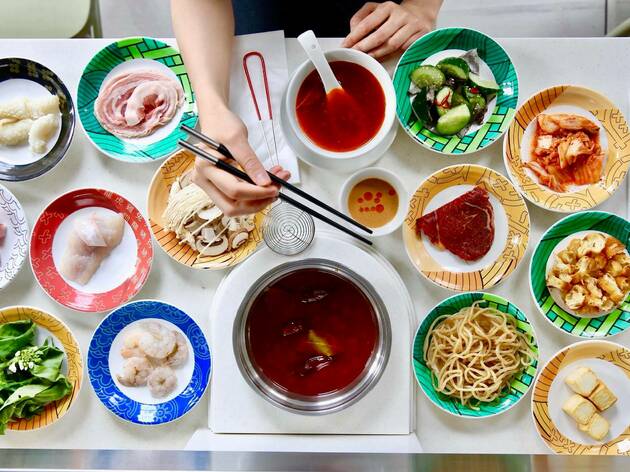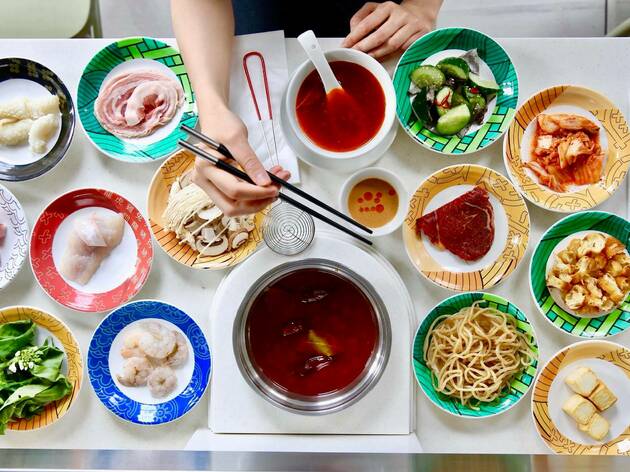 1/9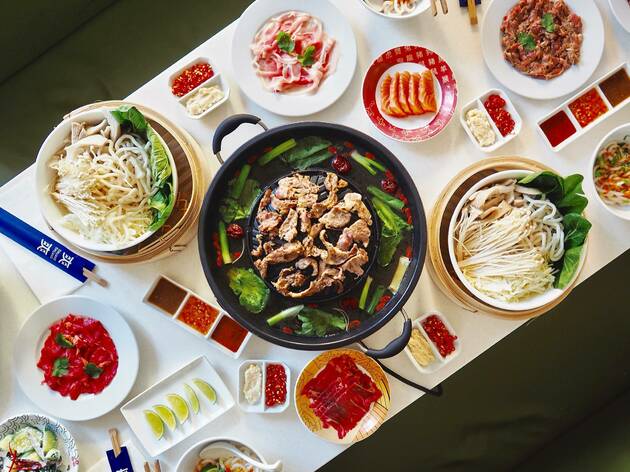 2/9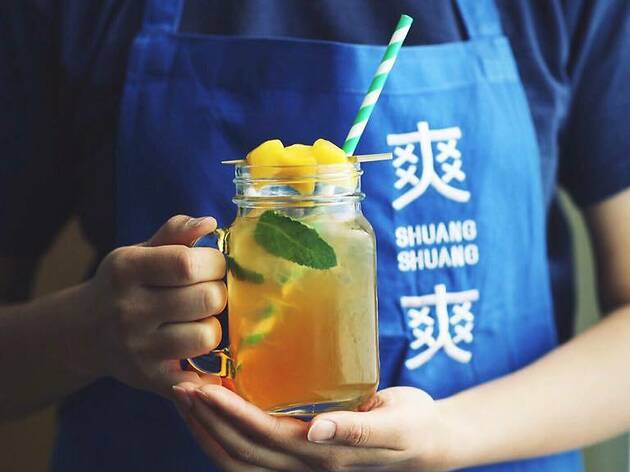 3/9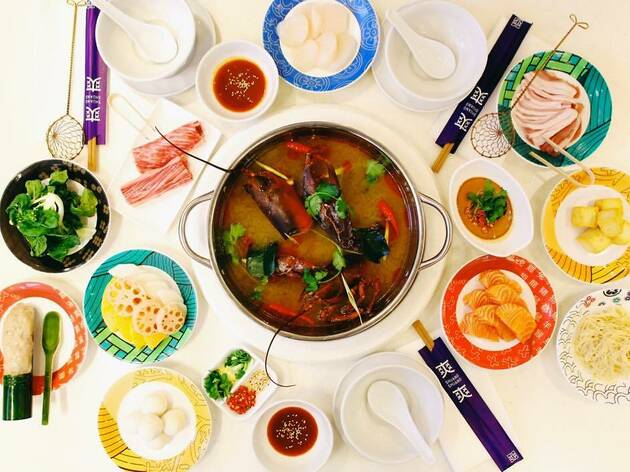 4/9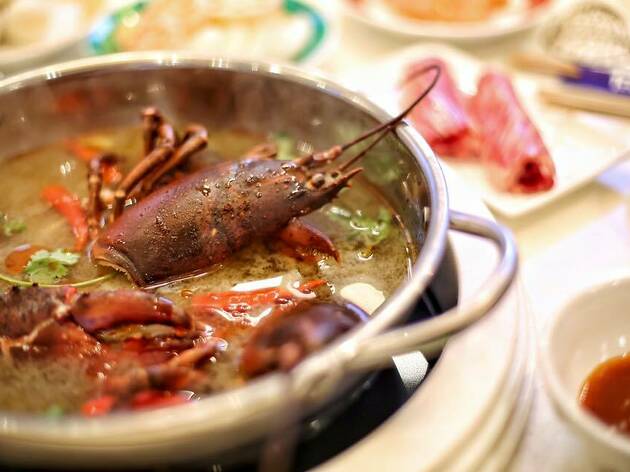 5/9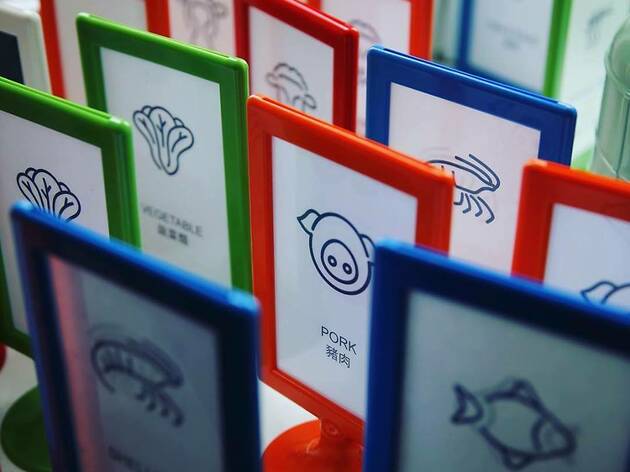 6/9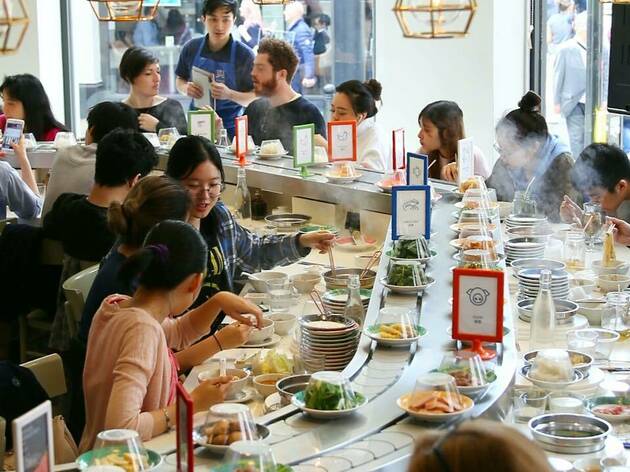 7/9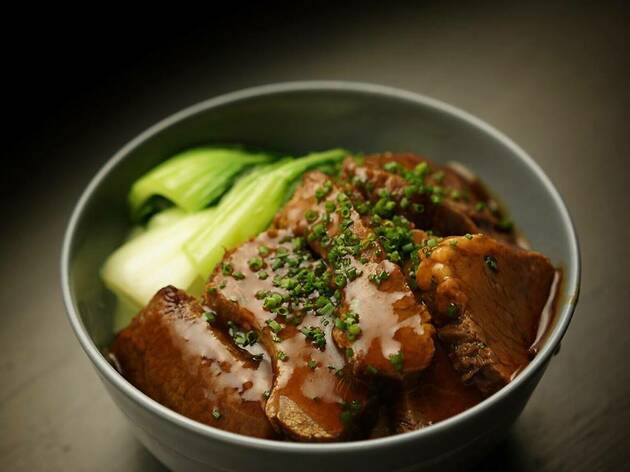 8/9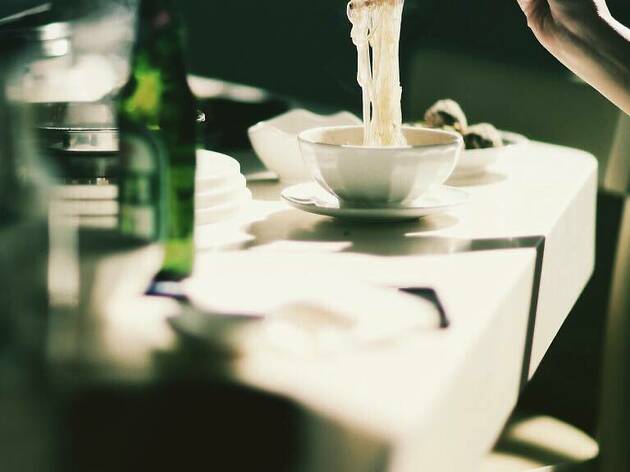 9/9
Time Out says
A Chinese hot pot specialist on Shaftesbury Avenue
Like puzzles? Try this. If a hotpot spot has five broths, eight things to dip and 46 things to cook, how many possible combinations are there?
I don't actually know the answer (Facebook us with thoughts, please), but I do know this: it's a lot. It's as if the owners said 'No-choice menus? Fuck that. Let's give them so many options it'll blow their tiny minds.'
But first things first. What exactly is 'hotpot'? Well, it's sort of an Asian version of a meat fondue, only using broth to do the 'cooking'. But before you say 'Oh yeah, hotpot, I'm all over that', Shuang Shuang hasn't gone for the standard set-up where you collect ingredients from a central 'station' (like a Pizza Hut salad bar); it uses a whizzy kaiten (revolving-sushi-bar conveyor-belt), in a gleaming white-and-steel space straight out of a dystopian sci-fi movie. This is DIY dining to the max. And because your first visit may slightly fry your brain, here's a step-by-step guide to getting the best out of Shuang Shuang.
1. Ask to sit. We like the upstairs, where there are also tables for four. 2. Order snacks. You don't need these, but the crisp chilli-and-cumin-spiced pigs' ears and moreish scallop-and-prawn fritters are too good to miss. 3. Order your broth. Szechuanese mala (meaning 'numbing and spicy') is true to its name – delicious but dominant; we also liked 'black bird', a more subtle chicken stock. 4. Choose or make some dip. We recommend 'DIY' which allows you to mix grated ginger with sesame butter or the dried-shrimp hit of 'sha cha' paste. 5. Use the buttons on your panel to turn your hotpot to high then – once it's bubbling – low again. 6. Pick your ingredients. If you're going old-school, you'll want fish balls, instant noodles, luncheon meat and tripe. For a more gweilo ('foreigner') friendly approach, try scallop chunks, mixed mushrooms (oyster, shiitake, needle), bamboo shoots, pak choi and firm ho fun. Also try sliding tiny morsels of the excellent 'house prawn ball' (a grey glistening tube of minced prawn) into your stock. 7. Set a stopwatch (use your phone). 8. Enjoy.
Shuang Shuang is a place for people who don't take themselves too seriously (did we mention there are plastic bibs?) and do like fast food that can be mega-healthy. Plus, it's a great spot to sit on your own and, you know, do a few puzzles.
Shuang Shuang says
Diners cook their own feast at London's very first restaurant dedicated to Chinese hot pot.

Take a seat at the counter or share a booth with friends and begin by choosing one of our five broths, served in a boiling pot at your table. Then choose from a range of more than 50 British and Chinese ingredients (from pork belly to pak choi, all delivered on oak-clad conveyor belts), dunk into your broth to cook, and enjoy.

If you are new to Chinese hot pot, Shuang Shuang's affordable set menus will ease you into the spirit of this centuries-old Chinese dish, and staff are always available to lend a helping hand.

All the the broths at Shuang Shuang are made in-house daily, using all natural, high-quality ingredients and with no MSG or artificial flavours added.
Details
Address:
64 Shaftesbury Avenue
London
W1D 6LU

Transport:
Tube: Piccadilly Circus or Leicester Square
Contact:
Opening hours:
Sun – Thur 12:00 – 23:00 Fri – Sat 12:00 – 23:30
Do you own this business?
Average User Rating
3.6 / 5
Rating Breakdown
5 star:

7

4 star:

12

3 star:

8

2 star:

3

1 star:

2
So glad finally I've found a hot pot place I really like in London. Been to many places but been disappointed with the amount of MSG they used. So tasty and so clean unlike other places in Chinatown which is a big plus for a girl like me! What can beat tasty chicken broth and so many fresh ingredients coming non stop on the conveyor belt, and that peach beer just cured my homesick on a cold night like this.
Valentine's Day, windy/ rainy/ freezing weather, my boyfriend and I were forced to stay outside of the shop waiting for our seat. Main door of the restaurant was locked, waiter had to unlock it when we asked for seat. No one were queuing behind us and there were definitely enough space for two of us to wait for 5 minutes indoor for our table. We said "can we wait inside please? We already catch cold, waiting in cold will make it worse" " we will catch cold" and all she said was "this is our policy, just wait for five minute outside"
I would rate this 1⭐️ Or even none just for this terrible service- making customers waiting in terrible cold weather, especially when there is no massive queue. Ofcourse, we couldn't be bothered to eat there, none of us wanted to wait outside when weather is horrible.
I like this place because it's fun! You get to cook you own food - don't worry it is not much work - end the end result is truly enjoyable. A different experience at affordable prices, just next to Piccadilly Circus where it is usually difficult to find a good place to eat.
This place is incredible. I can't even count the number of times I've been here. It's very affordable and you will definitely leave full. the decor is modern and chic with friendly and welcoming staff. The broths are delicious (definitely recommend the lamb tonic). You can get refills for your broth if you run out and you get to chose if you want to make your own sauce or have the house made sauce. There is a very wide selection of ingredients that constantly get replenished on the conveyor belt. The food is extremely tasty and very affordable. This restaurant has never been disappointing. I wouldn't go with a large group of people ass if you get seated at the conveyor belt it will be difficult to maintain a conversation.
We wanted to give a try to Chinese Hot Pot in London but….epic fail!
You have 2 options at Shaung Shuang, individual hot pots or group ones.It might seem fun to share with your friends but… word of advice? Don't!You will get a bowl of broth split in 2 (you can have 2 different types of broth in one bowl) and this is by no means enough for 4-5 people. You will find yourself, as we did, running out of broth while your bowl is still full of ingredients you have been picking up from the conveyor belt. Everything will start to get stuck to the bottom so you will ask for more broth to refill the bowl. Our surprise was big when we did so and realised that they were pouring hot water onto our soup and overprice ingredients. Plain hot water!!!! This obviously made the rest of the meal just tasteless and ruined pretty much all of the ingredients that we still had in the bowl.
The concept of grabbing the ingredients that you want from a conveyor belt is fun but the portions are ridiculously expensive and very, very small! (ie. we paid 4GBP for 3 mini pieces of beef). So unless you are willing to spend a fortune you will be left hungry.
The venue looks great with a clean and modern feel to it and staff and service was excellent (despite the broth vs water incident). They were helpful and took our jacket and personal belongings upon arrival.
Would make a great addition to London's centre if the portions got bigger and they poured real broth onto your bowl instead of boiling water.
Confusing but a lot of fun! My advice for here is to do a bit of research on hot pots before you go so you know what to expect. Once you get the hang of it it's so much fun, and the food is of exceptional quality. Lovely rich broths.
Didn't expect much but turned out to be a really lovely place. Was a bit overwhelmed at first but our super friendly staff was always helping us throughout the meal. My mala was extremely flavourful. I could feel my lips burning after the meal but totally worth it!
The portions were small and some of them were ridiculously expensive!! Our bill came to £15 each and we were only 1/2 full, if that. Quality of the meat was questionable.
Some ridiculous examples include:
- 3 prawns looking pretty dire - god knows how long they were going round for - £4.30(!!)
- small portions of corn for £1.60
- green veg ranged from £1 to £1.60 but there were only a few leaves
- 4 beef balls for £2.90 (the same price would get you a couple of packets from the supermarket)
The list goes on.
Compared to other hot pot places in China town, this was definitely a much bigger rip off. You pay a massive premium for the novelty value.
They also accepted reservation but insisted we'd lose the table if not everyone in the party was there within 10 minutes of our booking - quite arrogant in my opinion considering it's new in town, and it turned out there were PLENTY of seats available when we arrived.
Well I just loved the place, so now that is my third time coming here, I thought I should rite this. I like that our feedbacks weren't in vain cause from what I've seen, they made the portions bigger and also they added new things on the belt. This is a game changer and hopefully they will keep this going. Hopefully this will become a chain soon enough. Keep it like this shuang shuang. Good job
I visited Shuang Shuang when they offered a 30% discount for their soft launch opening. I enjoyed the food and atmosphere but works out quite expensive without the promotional offer. Great for couples / date night as the layout would make it hard to talk to each other in a large group. It's quite draughty inside so try and request to be seated in the middle if you get cold. Full review on: www.makebaketravel.blogspot.co.uk/2015/12/shuang-shuang-hotpot
A few good broths for you to choose for hot pot. Helpful staff.
Chinese hot pot is criminally under represented in London to date, so I was pleased to see this new addition bringing a more modern take on the concept. Alongside traditional sharing pots in the middle of a large table, a conveyor belt format with individual pots means even the lonelier among us can join the fun.
In terms of the food itself, individual plates are fairly pricey for what they contain, and the readily available conveyor parading potential delights in front of you adds an element of peril to the final bill calculation for those without the firmest self control. More adventurous eaters can cut the bill significantly by choosing less pricey items like offal and tofu over the likes of scallops and the top priced Japanese marbled beef, but this isn't for everyone.
As they are very newly opened I can forgive a little disorganisation among the staff, but we did find ourselves having to go to some lengths for attention occasionally.
Overall, this is a great new addition for those looking to try something new, but there is room for refinement and those on a budget will struggle to satisfy their hunger fully.
Not great. Looks lovely. Staff delightful. But.... the broth's are too strong in flavour, the instructions confusing and the ingredients you can add are not appetising to look at. The scallop & prawn snack we ordered was delicious. But overall this is a concept that somehow doesn't work. Also quite expensive for what you get. Still water is free, sparkling ridiculously expensive. I wanted to like it, but it doesn't live up to expectations.