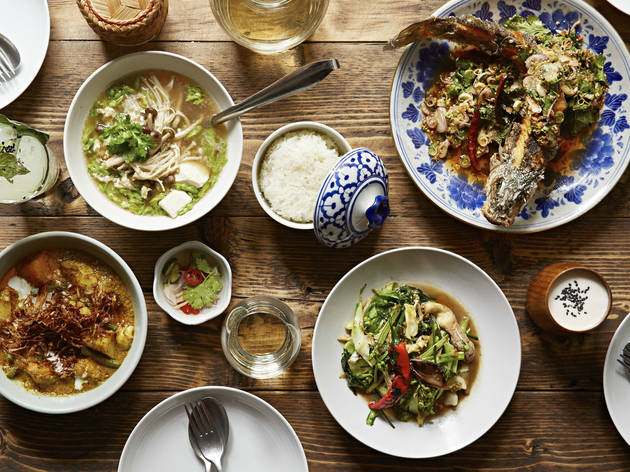 1/7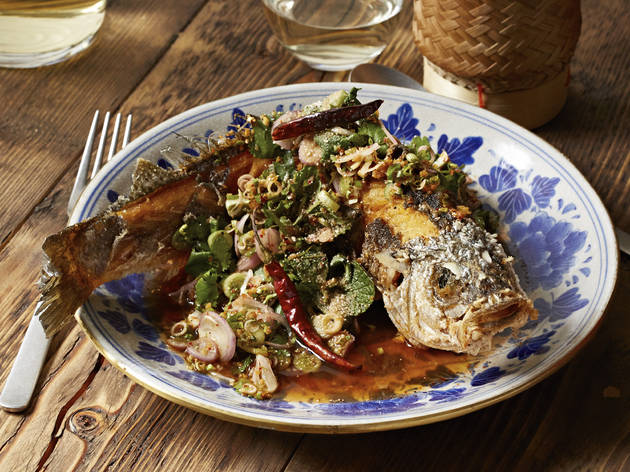 2/7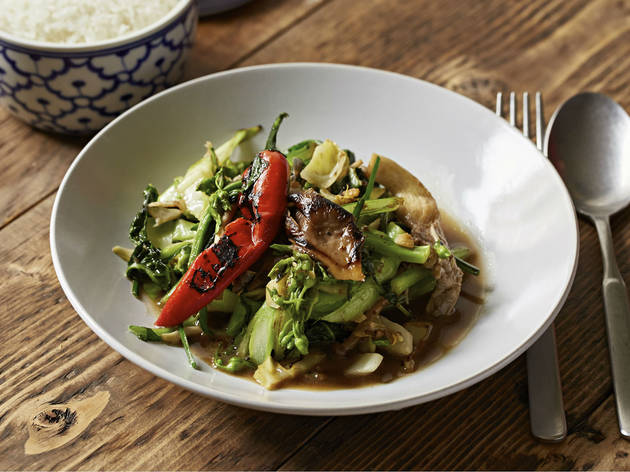 3/7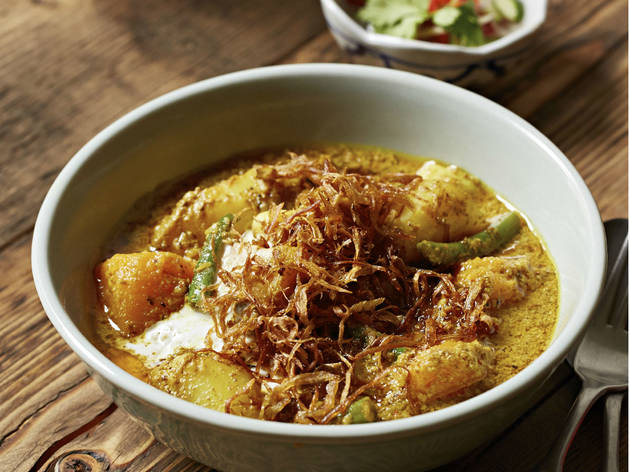 4/7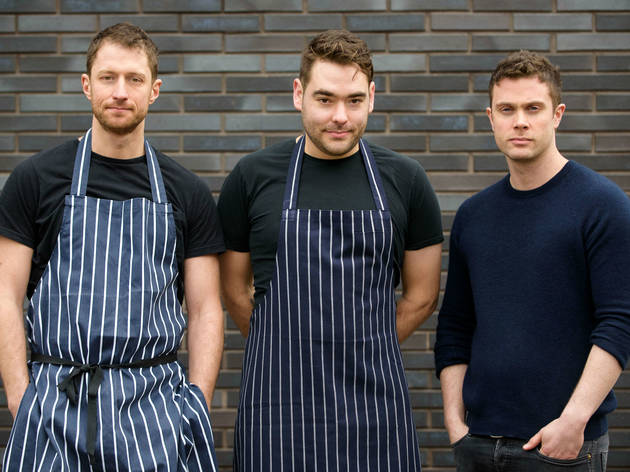 5/7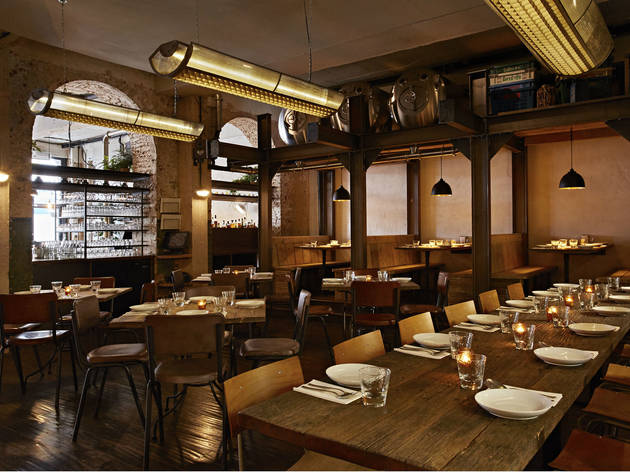 6/7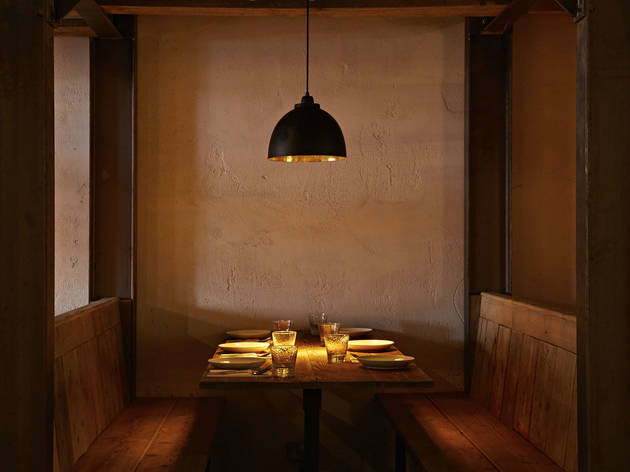 7/7
Time Out says
A permanent E1 home for a former Thai residency.
I remember the day Som Saa launched their crowd-funding campaign: Twitter nearly melted. This Thai food 'residency', previously housed at an east London coffee roastery (and a Peckham pop-up before that), was in the market for a large, permanent site. They'd hoped to raise £550,000, but had to close the books when they hit £700,000. Time taken to smash through their target? Less than three days.
Why all the fuss? Because the cooking at Som Saa will blow you away: literally and metaphorically. This is not somewhere you come for a cheeky green curry and a plate of pad thai. It's food from Thailand's north-eastern provinces, where nothing gets dumbed down and your tastebuds will be held up at gunpoint. Perhaps the closest comparison is at The Heron, a dingy karaoke-on-the-telly kind of a Paddington pub basement. Som Saa's chefs aren't natives – Mark Dobbie is an Aussie; 2009 'MasterChef' finalist Andy Oliver is a Brit – they met training under visionary Thai cook David Thompson, another Aussie, at Nahm – but both share a passion for food that intrigues and excites.
Take the deep-fried seabass with Isaan (north-eastern) herbs. Don't let the fact that it's served whole put you off. The sides come loose easily, leaving a cartoon fish skeleton that you can discard or take home to sew into an annoying housemate's curtains. What remains is delicate flesh, crunchy roasted-rice-battered skin; herbs (mint, coriander, Thai basil); mandolin-thin shallots and a puddle of sweet-sour-salt-fire sauce. The effect is thrilling: like setting off fireworks (the ooh-aahh ones, not those rubbish roman candle jobbies) of taste and texture in your mouth.
Equally unforgettable was a Burmese-style pork curry: an intense, comforting dish punctuated by melt-in-the-mouth, fatty meat and roasted peanuts. Or the silky palm sugar ice cream (think burnt toffee and salt), matched with grilled unripe banana: genius. More daring was a dish of jackfruit (which if you've ever had it roadside in Thailand, can be offensively stinky), its pieces steeped in coconut cream to create a soothing bowl of mildly scented milky flesh with chewy strips of baked-in-banana leaf sticky rice.
I didn't love it all. The Isaan-style som tam not only had a pungent fermented fish sauce (in itself an acquired taste) but a violent, almost masochistic level of chilli (and I'm half Sri-Lankan: I can take the heat). Also, if you're in a two, you can't book, so despite turning up at 6.30pm on a Tuesday, we had an hour-and-a-half wait, for places at a communal table. My tip? Come as a group: you can book ahead, you'll get better seats (ask for one of the semi-industrial cabina-style booths) and of course you can try more food.
Because that, when all is said and done, is why you go. Yes the interiors (in what was once an east London garment factory) are moody and exotic, but you didn't come for sexy decor. You came because once you eat at Som Saa, you may never order another pad thai again.
Details
Address:
43A Commercial Street
London
E1 6BD

Transport:
Shoreditch High St Overground
Contact:
Opening hours:
Mon-Sun 6pm-10.30pm
Do you own this business?
Average User Rating
4.2 / 5
Rating Breakdown
5 star:

10

4 star:

12

3 star:

2

2 star:

1

1 star:

0
Excellent food and excellent ambiance. We went there for a team dinner for 6 people. We were seated promptly for our reservation. The service was prompt and the food was amazing. The cocktails were great.

We ordered the special of the day – chicken skewers, whole fried seabass, pork curry, aubergine salad with soft boil egg. Everything was excellent. I had such a great experience that I texted another friend to let her know that we should go here again.
If you can get a table (and good luck to you) Som Saa is a real treat. Their signature whole fried seabass is out of this world. We ordered everything from curries to salads and baked aubergine, and there wasn't a crumb left on our plates. Would recommend ordering around 2 dishes per person plus rice. Be warned, a lot of it is pretty spicy, so if you're not one for a bit of a kick, then Som Saa probably isn't for you. This is some of the best Thai food i've had in London, though.
The food here is absolutely fantastic. I had the gaeng hung lae (pork belly curry with pickled garlic and fresh ginger), which was perfectly spiced and rich with authentic Thai flavours. I also had dtom khamin gai baan - a beautifully light, clear broth (again, well spiced with a great heat to it) with guinea fowl.


The staff were all very friendly, as was one of the owners, who I'd chatted to at the bar.

On top of all this, they have an excellent drinks selection - the Camden Brewery tank beer is my recommendation, from a big beer fan.

I've been back again since this visit and tried even more great dishes.
The best Thai food I've ever had - better than Nahm in Bangkok. Every dish was incredible.
Awesome food. Waited about 1.5 hours for a table (we were walk-ins). Had about 5 dishes between two, with sticky rice and delicious cocktail. Looking forward to my next visit already!

As good as any meal you'd have in Thailand.