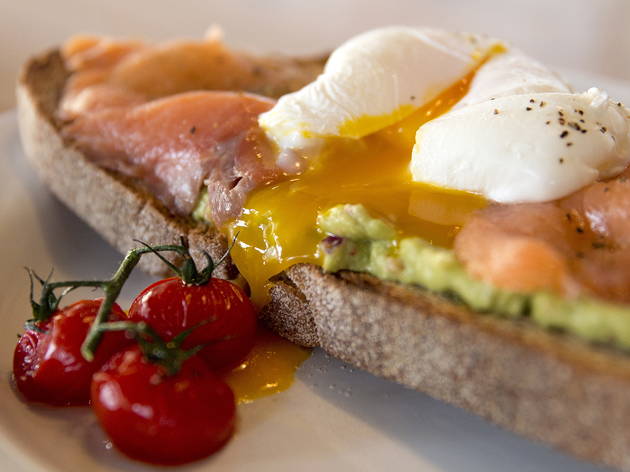 It's got a cycle-related name, for sure, and its strapline is 'coffee, burgers, cycling', but on visiting this new Holloway Road pub conversion, it's a bit tricky to tell where the bike connection is. There's no workshop, no big screen showing cycling events, no bike gear on sale, not even any themed decoration. There are no indoor racks either – mine was the only bike in evidence, and I had to just leave it in a corner which, in a busy place, wasn't ideal.
So is Spoke just a shameless attempt to cash in on London's cycling boom? Maybe, but all the same it's a great place whether you arrive on two feet or two wheels (or four – there were plenty of prams).
The former pub has been brightened up and fitted with an open kitchen at the centre of the action. Chefs knock out brunch classics, a few specials (pork shoulder sandwich, macaroni cheese) and the abovementioned burgers: beef, chicken or a prawn po' boy sandwich, which is a Deep South classic made here with wasabi mayonnaise.
As well as a serious coffee offer (filter is 'coming soon', we were told in May 2014), there's wine and beer – making this a place to linger. But it's no pitstop if you're on a bike.
Venue name:
Spoke
Contact:
Address:
710 Holloway Rd
London
N19 3NH

Opening hours:
7.30am-6pm Mon-Tues; 8am-midnight Wed-Sat; 8am-10pm Sun.
Transport:
Archway/Upper Holloway Overground
Menu:
View Menu
Do you own this business?
Rating Breakdown
5 star:

7

4 star:

2

3 star:

2

2 star:

1

1 star:

1
Lovely café. Friendly service and great breakfast menu. The coffee is delicious, the best of the area!! I highly recommend this café and I am thankful for the presence of this wonderful addition to our community.

Excellent burgers, brilliant breakfast, what's not to love?
Great place, great food, amazing coffee! Lovely place to meet and hang out or chill on your own.
Worst and stressful experience ever!
Poor menu, low quality in general, food doesn't taste like anything, portions very small and super expensive for the quality of the food. The coffe... there is a Costa round the corner that makes better coffee. I don't understand why it is called "coffee shop"
Also we were invited to leave the table in 1 hour (in very rude manners)
If you are thinking of going out and enjoy your food this is not the place. Go to another place if you don't want to waste your money and your "time" (they timed how long you are setting on the table)
Best coffee in the neighbourhood. Never mind the chains and imposters nearby. Tasty, tasty burgers and yummy chips in the evening - and be sure to get there early for brunch on the weekend.
Best brunch in north London.
When the Spoke opened in Archway, I was pleased. It provided a refreshing change from the takeaways in the area, and is one of the only areas (then) to chill out on a lazy Sunday afternoon, with coffee and late breakfast. As that is the case, I am really hesitant to fault it, so I'll start with what I love - and then - what I don't quite like.
The GOOD:
1) One of the few chilled out places in archway for a lazy Sunday afternoon brunch
2) Nice, cozy interiors: Bicycle themed
3) Breakfast served till late
The BAD:
1) I arrived one morning hoping for a breakfast only to find that the chef had not arrived. The staff member on duty was not apologetic although the chef was meant to already be there and I was expecting my breakfast.
2) The staff members are not particularly friendly. They don't really seem to care/put in the effort.
4) For the prices you pay, the quality isn't that great and the portions are tiny!
Overall, its a good cafe, in a good location and what saddens me is that it can be so much better! It's not living up to it's potential. However, if you are in the area, and are looking for a good place to catch up over coffee (I wouldn't recommend the food) definitely head there.
Came to The Spoke for a very hungover lunch, looking for comfort and delicious food and that is what I got! A cool little pub which seems to be full whenever I see it. Really friendly staff and the food was great, I had a sausage sandwich which was sufficiently greasy but incredible. My friend ordered a burger without the bun which left a little to be desired but perhaps that was her own fault!

The spoke is a warm, friendly and comfortable place to go and relax with a good coffee and some tasty food. The atmosphere is very laid back and it's a nice break from the hecticness of London life. The brunches are fantastic (the poached egg with smoked salmon and avocado chilli mix on sourdough is our favourite!) and the burgers are great - especially on a lazy Saturday afternoon when you are still recovering from the night before. From hangovers to hellos, gatherings to goodbyes, the coffee is easily the best fix in Archway, and turning up at 11:30am is hazardous: the choice between the brunches or the burgers is nigh-on impossible. The spoke does sometimes seem like it's struggling to cope with it's new found popularity but it's popularity is extremely well deserved. It's a great addition to the local community.
Going out for breakfast or brunch is my favourite thing - just about. And this place has a lot going for it, and could very easily become a permanent fixture on my schedule if not for two things:
1) the perfectly delicious Full English was sadly a bit on the light side - at £8.20 I don't expect to be still hungry after, and I definitely was
2) the service was very friendly and nice all round, but was let down by amateurish attitude - our drinks order was forgotten and arrived after the food; we had to ask three times to have the blind lowered (the 10am sun was blinding from every angle through the double-aspect windows); we ordered two Full English, one without beans but both came without beans; our empty plates sat for 20 minutes after we had eaten before they were cleared.
I'm more than happy to give The Spoke another chance as it has a lot going for it, the interior is lovely, the location is perfect, it has a nice vibe and is pretty comfortable, the staff are really nice despite what I said above, and I'm sure the evening menu is as imaginative as the morning menu - but there is much room for improvement.
More venues
Sponsored listings