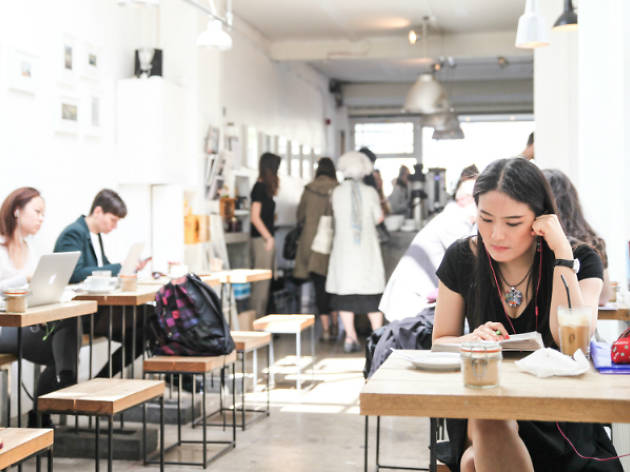 Time Out says
The clientele at this coffee bar smack-bang in the centre of uni-land, just a minute from Tottenham Court Road, combines academia and commerce. Quite apart from the enviable location, there's much to entice. First is the long, attractive room with bright walls and skylights at the back. Second is the food, which is a cut above many basic coffee bars and very reasonably priced by West End standards; most sandwiches and baked goods are around £1 cheaper than at many comparable places.
You'll even find that rarity, a top-notch vegetable quiche. Third is the service, which is unfailingly friendly and well informed. Finally, there's the coffee, all of it espresso-based. Most beans come from Square Mile, but there's a changing roster of guest beans well worth investigating. On our visit, it was a Yirgacheffe roasted in (wait for it) Detroit, Michigan.
The espresso from these beans is possibly the best we've had all year: properly tiny, lovely crema, with a rounded sweetness that required no sugar. A flat white was also judged a triumph. Store Street? We'd rather call it Star Street.
Details