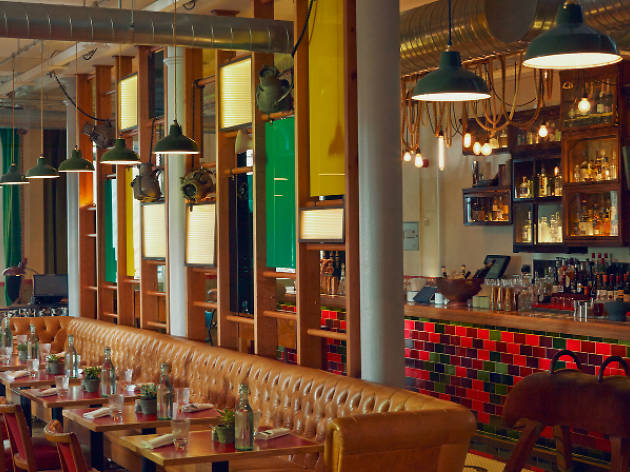 A new bar-restaurant offering all-day dining, a lengthy cocktail list and decor inspired by an old-fashioned gymnasium. Food is described as 'a contemporary take on comfort food', with typical dishes including crispy spam fritter and piccalilli, and liver, bubble and squeak croquettes and onion gravy. Breakfast and brunch menus are promised too. The restaurant's name and the leather aprons worn by staff are a nod to the area's past as the location of many of London's tanneries. The premises formerly housed Modern European restaurant Delfina.
Venue name:
Tanner & Co
Contact:
Address:
50 Bermondsey St
London
SE1 3UD

Opening hours:
8am-midnight Mon-Fri; 9am-midnight Sat; 9.30am-10.3pm Sun
Transport:
Tube: London Bridge
Menu:
View Menu
Do you own this business?
Rating Breakdown
5 star:

9

4 star:

9

3 star:

4

2 star:

1

1 star:

1
I went to Tanner & Co for bottomless brunch and it did not disappoint. Upon arrival, there was orange juice, coffee, croissants and a granola pot for everyone at our table. The brunch menu was ultimately a choice between one of their famous burgers or eggs benedict variations. The eggs benedict with smoked salmon and avocado was delicious and the burgers looked good too. The small menu allows for their speedy service and a focus on topping up the prosecco, bloody Mary's and mimosas! The only downside was the price, at £45, it's definitely one where you want to drink enough to get your money's worth!
Super funky styling with friendly and knowledgable staff
Great Venue with Great Food - If it wasn't for the Eaton Mess that I was served with absolutely no meringue they would be getting 5 stars. The bottomless brunch also looked great and very reasonably priced so I will definitely be returning!
Great restaurant atmosphere with delicious cocktails. Food is no nonsense and hearty and it's a great place to have a quick bite or a long dinner.
Best place in Bermondsey to have a drink and good food always vibrant 5 *****
Great place to chill out and have one of the amazing house coktails and try very good food!
Favourite local for brunch, lunch or dinner. Staff are always friendly and the guests I introduce to Tanner & Co are always content when they leave. Good luck!
Great food, amazing cocktails and a relaxed atmosphere.
Tanner & Co is a fantastic place with great food (oh that divine burger!!!) and pleasant ambience and service. Easygoing and friendly....
Really great brunch on Saturday. Attentive staff and quality food. The toilets stank of dried in urine however and that just spoiled the whole experience for me. I worry how clean their kitchen is when they don't bother with the loos

Just had starts the scotch egg is best I have ever had. I eat a lot of scotch eggs! Comes with a almost caramel without as much sugar (a dip) either way very good. Missis had the soup carrot and Corey very nice as well
I LOVED Tanner & Co - I've been to sooo many restaurants in London, since I'm a bar & restaurant blogger, but this is up there in my Top 5 for sure. I went for dinner a few months back and had a fantastic quintessentially British meal with a friend. Loved the décor.
- Nina
I'm afraid yesterday's Sunday lunch with my parents pretty much a disaster. The wholly unnecessary 'carving trolley' just doesn't work. My mum and dad were both served cold plates of uncooked wobbly lamb fat. My poor dad was almost sick - there was NO meat on the plate whatsoever and the whole lot was left. It's such a shame, it could have been excellent but was just, basically, a raw disappointing gristly mess. However the burger and chips were good, as were the salmon and scrambled eggs, (although quite expensive). Our dessert experience was hilarious - we ordered a few difference selections of ice cream and sundaes, and none of them were correct. All the flavours were wrong - my sister sent hers back and they brought her another one which was even more wrong. We kept ending up with peanut ice cream even though none of us wanted it. Two others were also the wrong flavours but by the time we'd finished changing the other orders it were starting to get late, so we just ate them anyway. There weren't even that many flavours on the menu, i don't understand how it went so wrong! Maybe they aren't labeled? Or the desert chef was having a shocker? Who knows. for what it's worth the ice cream I had was really really nice, just the wrong flavour.

- We did complain and the lambs were taken off the bills as was one desert, which was much appreciated. The staff were lovely and did do their best to rectify the situation and were very apologetic. I loved the venue, the ping pong, the wine list, I just think the food needs to catch up with the rest of it. I'll be back, but probably only for drinks.
We went in for Sunday brunch and were able to be seated straight away. The staff were friendly and attentive (although, I did have to wait a good 15 minutes for my coffee). The food was tasty, I had the smoked salmon and scrambled eggs whilst my friend had the full english breakfast. They recently set up ping pong tables in the back room which look like a lot of fun and I would definitely go back but do wonder if it would be better for a night out than a brunch spot.
We popped in and were surprised how buzzy the atmosphere was for a Tuesday night, the host / manager seated us straight away even though we did not have a booking and nothing seemed too much trouble. I have a gluten intolerance and the special menu showed they cared. Free still and sparling water kept the bill down and the burger was mega, cocktail finished the night off nicely. Will be back for sure, this could be my new favourite neighbourhood restaurant for spontaneous eating.
More venues
Sponsored listings