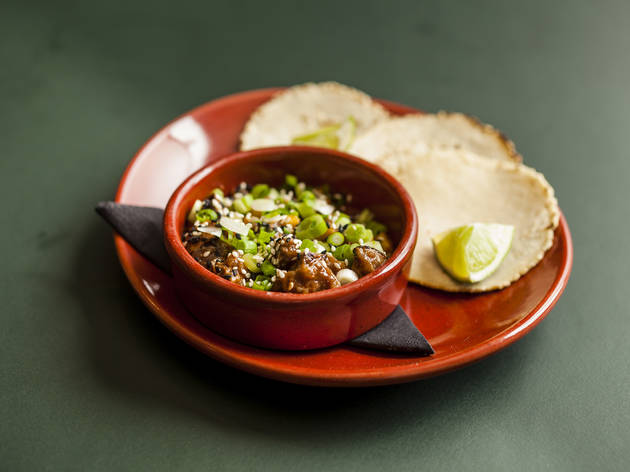 1/3
Credit: Ming Tang-Evans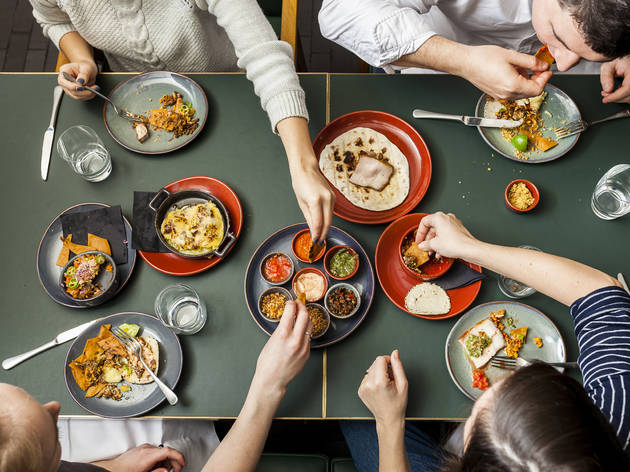 2/3
Credit: Ming Tang-Evans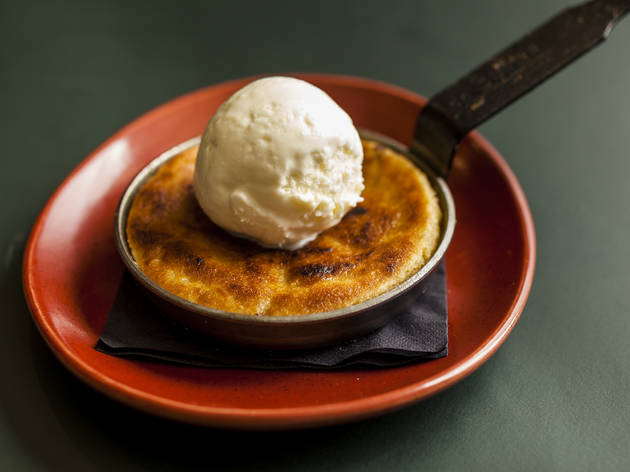 3/3
Credit: Ming Tang-Evans
Time Out says
A Soho basement smokehouse.
I love a rebel. Temper gallops up to the 'cooking on charcoal' bandwagon, then sets it on fire. Imagine smoked meat and fish served over tacos and flatbreads, with pow-pow Asian and Latin spices. It's one of those rare, holy-shit-I've-not-eaten-like-this-before places.
This Soho joint, from Scottish chef Neil Rankin (Smokehouse, Bad Egg) sources top-notch whole carcasses, which are grilled or smoked in slabs – a cow's entire ribcage, a legless goat (no jokes, please) – ahead of slicing or dicing. The most straightforward dishes are those served over a 'flatbread' (more of a basic roti, made with rendered animal fat and puffed up on the grill) in small, affordable portions. Try the impossibly juicy pork, or the full-flavoured smoked goat. To this bread-and-meat-combo, you add up to eight exotic sprinkles and salsas (all homemade). I loved the simplicity of their 'green sauce': just lime juice, coriander and garlic.
But it's with the tacos where things really get interesting. They grind the corn on site (of course they do), and because these rough, rustic little discs are hand-pressed, they're thicker than usual, so you can really taste – and feel – the corn. But the fillings, oh, the fillings. I adored the soy-cured beef. This is a twist on a yukhoe (a Korean 'steak tartare'), which they make by stripping off the outside of a half-smoked joint of beef to expose the uncooked bit underneath (sort of like using the inside of a medium rare steak), then hand-chopping and mixing with apple, homemade red chilli sriracha, sesame and soy. It's an addictive, melt-in-the-mouth jumble: smoky, sweet, fragrant, salty and fiery. It's epic.
Or 'blowtorched' mackerel, served with two kinds of citrus (lime juice and bergamot – bergamot!), a creamy mix of avocado and sour cream, an emulsion of smoked mussels, shavings of deliciously salty bottarga (a cured Sicilian fish roe) and more of that lovely green sauce. Don't miss the terrific raclette potatoes (cooked in rendered animal fat with lashings of cheese), either. Oh, and the moreish scotch bonnet chilli nachos. Order many, many portions. Trust me.
Then, just when you think the food can't get any more exciting, along come the puds. There's a kouign-amann (a puff pastry 'cake') soaked in sweet-and-salty butterscotch and served – as if it wasn't rich, buttery and nom-nom enough – with a dulce de leche ice cream. There's also a dish filled with cookie dough, baked so it's crunchy on the outside but gooey in the middle (where you'll find a semi-cooked brigadeiro: a Brazilian ball of cocoa-and-condensed milk). You know all those childhood fantasies about being allowed to eat the dough from the mixing bowl? This is all those dreams, come true.
And though the semi-industrial spot is in a large windowless basement, it has a fire at its heart. There's a huge rectangular counter with grills in the middle (sit there if you're on a date; grab a booth if you're with pals), music that's fun-loving, a bill that won't upset you and staff that act like they care, first and foremost, about you having a really good time. I'll drink to that. Mezcal please, barkeep.
Details
Address:
25 Broadwick Street
London
W1F 0DF

Transport:
Tube: Oxford Circus
Price:
Dinner for two with drinks and service: around £90.
Do you own this business?
Average User Rating
3.6 / 5
Rating Breakdown
5 star:

7

4 star:

9

3 star:

6

2 star:

5

1 star:

1
I really admire Ms Ballantine's enthusiasm for this venue. But sadly I don't share it. I can only assume she's a partner or friend of the venue. A hobby of mine is to walk from north london into town and as a reward have a lovely lunch. I can think of few times when the food has been so underwhelming. Dry goat on dry flat bread, chewy beef on dry flat bread, nothing to accompany it Well cooked whole mackerel with tough mini tortilla, burnt lemons and a herb bouquet and bland oily boiled potatoes with cheese. What a shame, as the restaurant looks great, has a great atmosphere, staff we met were friendly enough and professional. The pigs head Taco we tried was lovely. But still we left feeling like we had just been fleeced., and that's been a rare feeling in this city for the last few years. I really wanted to like it more, but if you want meat and bread then I'd suggest kebab.
Maybe we caught it on a off day. But at these prices it shouldn't happen.
My husband loves their dessert there and can't stop talking about it! :)
Standard food, small portions, stupid prices, Tick,tick, tick... Long que, staff were rude staff, basic food, Tick, tick, tick... Went with the highest of hopes, Time Out, you've got me on the ropes! Tick, tick, tick... The lamb portions were minor notes, They laughed their way down my throat, Tick, tick, tick... Christmas cheer was not present here, A good atmosphere but thats all, I fear, What can I say, stay clear! Their deep cookie dough rut had nothing on pizza hut. Tick, tick, tick... what a wast of my time.
I went to Temper Soho with friends and we really enjoyed the concept, especially sitting around the fire pit, watching the cooking process is a great experience,
Latin American Flavors are rich but I was disappointed by the quality of the meat dishes which was their special cut and signature, it was really chewy and overcooked! loved the slowed cooked goat dish it was so tender and flavorsome. its a great concept but they need to pay attention to their main feature more carefully.
For groups: a scam! - Do yourself a favour and stay away from this hipster wannabe-hotspot
I booked this restaurant for a 15-people company dinner on Tuesday February 6 after having done quite a bit of research on London spots. It was recommended by Eater in their "top 38" for London and ranked #3 of Time Out's top 100.
The reviews said the meat was sublime and that the reviewers were so full after the main course that they could barely eat dessert.
The process of tweaking the set "feast menu" that they offer for groups at 55 pounds went smoothly enough, they did have a table for us when we arrived, the starter tacos were delicious, and the desserts were nice. However, that's all the positive things I can say.
Service was a disaster. Despite knowing when we were supposed to arrive and having agreed on a set menu, it took more than 45 minutes from sitting down until we got our starters. Trying to order drinks was hopeless most of the time. And the attitude of the head server and the manager on duty was deplorable, but I will explain that later.
The tacos we were served as starters were served with less mini-tortillas than the people we were on the table, so people just had to eat the filling with their fork.
But the worst thing was the main course: three different meats that were supposed to be a "feast" and were anything but. Quantity per person was ridiculously small - at one end of the table they left a plate (that was not piled up) for 7 people! It probably had enough meat for 4, if that, lukewarm, and actually nothing special taste-wise, rather bland. When they posed that plate on the table I asked the server whether they were bringing more meat because that was not enough (each person on that side got the equivalent of two bites of each of the three meats), and he said he'd check with the chef and get back to us. We all wished afterwards that we had taken pictures of that ridiculous plate of meat to be able to share them here.
Ten minutes later he came back and said that what we'd been served was the weight of meat we were supposed to have and that if we wanted more we'd have to pay for it. That was the first we heard about a weight limit on the main course meat, which is in and of itself not an issue, but we said that whatever that limit was (he didn't want to tell us), what we had was not enough meat per person, something had to have gone wrong! We asked him to get the on-duty manager and he said it was himself, just great. We asked him to fix the situation and check again with the chef, and he didn't come back until 20 minutes later to ask: "is everything ok?" as if nothing had happened. Really? I told him to ask the side of the table with one plate per 7 people if they had eaten enough and he didn't want to do it. The third time I told him, he asked, and people said they were still hungry. It didn't matter, since he didn't budge. And he left again.
After 5 more minutes an equally hopeless girl came over, saying she was indeed the on-duty manager and that the other guy was only the head server. That the weight of meat on the main course per person was 180g and that we had gotten that, when there was no way that infamous 7-people plate had 1.26kg of meat on it. At that point, the dinner and fantastic mood we'd arrived in had been ruined for all of us. We kept discussing with her, but she just kept parroting the same words over and over. We (my boss, a Marketing Senior Vice President, sitting next to me talking to her, and myself, an event manager with over 10 years' experience in hospitality) had never run into such an incompetent restaurant responsible and gave up and requested to get the desserts brought over so that at least people would stop being hungry.
To top it off, out of the four sauces we'd negotiated to have together with the meat when organising the set menu, only two were ever brought over, and there was only one tiny saucer of each of the two to be shared along the 15-people table: a few people ate their lukewarm bland two bites of meat with no sauce whatsoever.
In the end she brought two extra desserts and removed the service charge (the least she could do considering the fiasco), but the night and the restaurant had already been labelled a disaster. We could only count ourselves lucky that it wasn't customers we'd brought here but only our own colleagues.
Our point of view is that they've gotten too successful for their own good and that they're squeezing the cow for as much as they can before people move on to the next thing, not caring what experience their customers have in the meantime. STAY AWAY!!!
Temper's been on my restaurant go-to list for so long now. Finally, I made it there last weekend and walked straight in around lunch time. The restaurant is much larger than you would expect and located in the basement. It's nestled on a corner in Soho and as a rule most places in Soho are tiny so this was a pleasant surprise!
As soon as you walk in the aroma of BBQ meat smacks you in the face! We were seated at the bar with a full view of the kitchen and grill (my favourite place to sit in a restaurant!). We arrived at the perfect time as half a lamb had started to be grilled!
We ordered the prawn tacos, smoking goat, lamb shoulder and a few sides. We found the goat was quite dry but it had a good smoky flavour. The lamb however was more tasty and it came with a sauce. We also ordered a burrata which was citrusy and delicious and the sides of the smashed cucumber and the corn were pleasant.
Although the restaurant wasn't busy, the service was quite slow. We waited about 10 minutes for someone to clear out plates once we'd finished and we had to wait again for the waiters to bring over our bill.
It's quite a reasonably priced restaurant and a perfect lunch spot.
I was taken here as a surprise for my birthday. The nine of us had a great time. We were compete novices when it came to a tapas-style meaty BBQ'y restaurant, but that didn't matter he waitress was incredibly helpful. She recommended "one of everything", and so we did.
The Goat was excellent, the Lamb was really tasty but the Burnt Ends were the star of the show!! The taco starters were lovely and easy to share with a range of flavours and ingredients. There is a wide-ranging list of wines which includes several around the £30 price point.
Temper has a great atmosphere, probably due to the kitchen being right at the centre of the restaurant. Really great food and well worth a visit.
I loved the venue and the tacos but I am not sure I would recommend Temper as a place to go with a group. I think the tacos are great to share (especially the crab and the prawn tacos) but the meat didn't really convince me. Although great in taste, we weren't really advisd on how to best share it amongst us and we ended up with 400gr on one tortilla for the 7 of us. I think next time I will go with 1 or 2 friends and hopefully I'll be able to enjoy the food more.
Head to this loud, smokey cave of a place with meat-loving friends, your veggie pals may not thank you for the 'Beef Fat Tacos' or the Sweetcorn slathered in lamb fat, but the carnivores definitely will!

Temper is a South American restaurant, but not like any other - sure there are tacos and mezcal - but the tacos range from Beef Fat, through Miso Pork, to Aged Hamburger and the mezcal can come in a Negroni (delicious!), if you so choose. In other words it's an interesting place, in a good way. The menu is inventive, but every gamble I took seemed to pay off - from the burnt-ends larb, to the pineapple and cauliflower side, everything surpassed expectations.
And then we come to the meat: glorious, perfectly-cooked portions of the finest beef, lamb and pork (when I was there - this does change frequently) and the possibility to order by 100 gram portions, which will please both the weight-watchers and the meat-maniacs. Only one downside to this - I foresee being disappointed at barbecues forevermore, as now I have seen how barbecuing can and should be done
Desserts were on the sweet side, arguably as they should be. My advice would be to share - I defy anyone to single-handedly polish off the Kouign Amann with Dulce de Leche ice-cream after having eaten their share of everything that came before!
Service was attentive and friendly, if not efficient. The final star of my review was lost to an over 20 minute wait for two drinks - our food came faster.
Perfection. Service was top notch. The spices in the Larb were unreal. The nachos...delicious. Best meal we had in London by far. I wish I could transport this restaurant to Toronto.