1/6
Photograph: Andy Parsons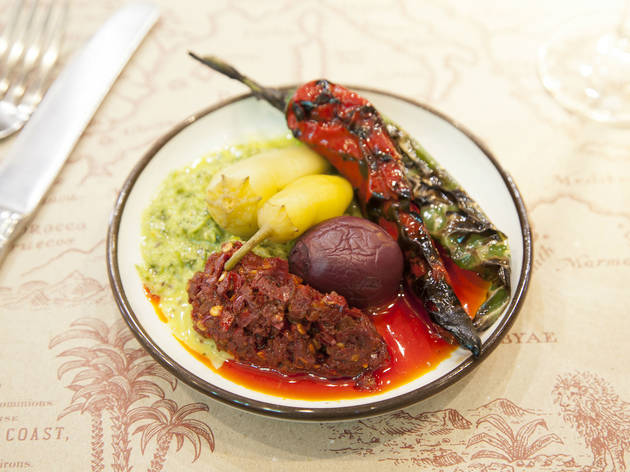 2/6
Photograph: Andy Parsons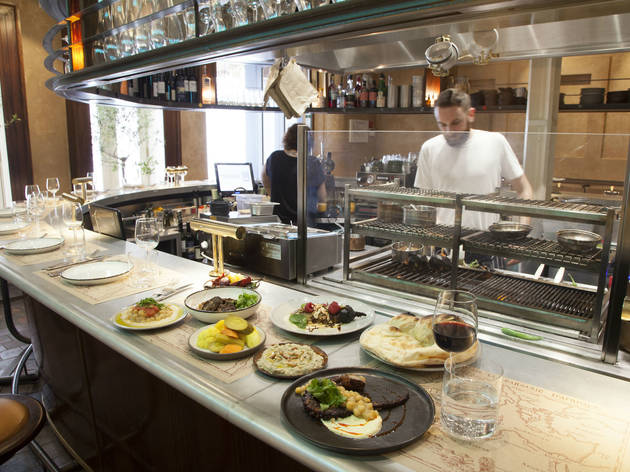 3/6
Photograph: Andy Parsons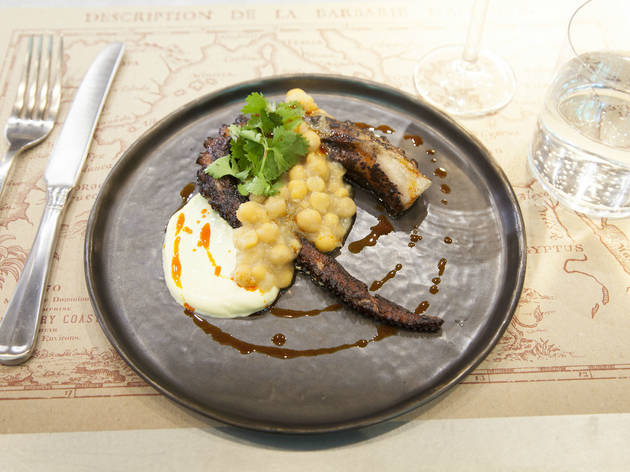 4/6
Photograph: Andy Parsons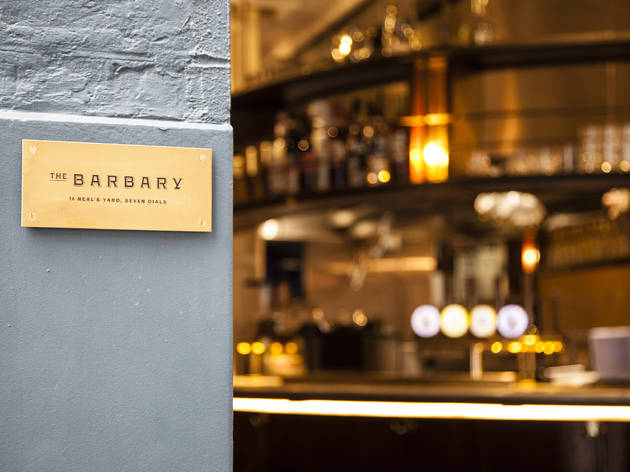 5/6
Photograph: Andy Parsons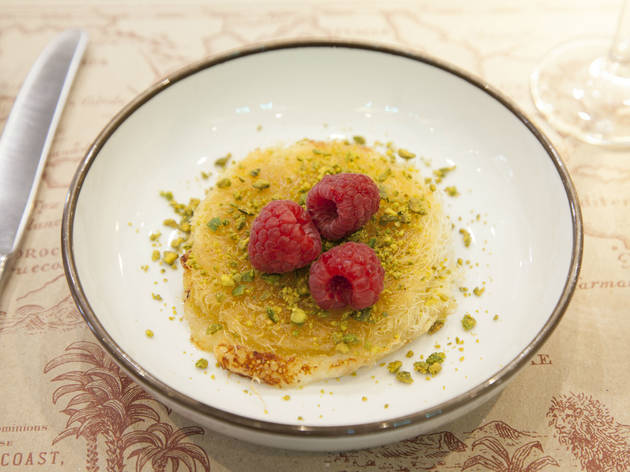 6/6
Photograph: Andy Parsons
Time Out says
A 24-seat counter bar restaurant in Neal's Yard, from the people behind The Palomar.
So you thought you loved the Palomar. You thought you'd be faithful and true. But that was before you met little sis the Barbary. It'll make you want to quit your job, pack your bags, and run away into the sunset together.
The Barbary, you see, takes everything that's good about the Palomar but ditches the bits that don't quite work (like the fact that the 'fun seats' up at the counter are also the most cramped; or the fact that the raw bar is the weakest link on the otherwise stellar 'modern day Jerusalem' menu).
At The Barbary, all the stools are arranged at 24-seat horseshoe shaped counter bar. Down one wall, there's a standing counter, where they'll feed you moreish bar snacks (like deep-fried pastry 'cigars' filled with cod, lemon & Moroccan spices) while you wait for a seat. And if the queue spills outside, you'll find yourself in pedestrian-only, full-of-character Neal's Yard. As places to loiter go, it's not too shabby.
Oh but the food, the food. Where the Palomar is intentionally progressive, looking to push the boundaries of 'Jerusalem' food, the Barbary looks to the past. The team, led by Tel Aviv-born chef Eyal Jagermann (ex-Palomar), have scoured the wider region, travelling down the eponymous Barbary coast (the stretch of north Africa from modern-day Morocco to modern-day Egypt) to revive the dishes that have informed their own culinary heritage. The signature 'naan e beber', for instance, is made to an ancient recipe for leavened bread, with just four ingredients (flour, sugar, salt and yeast). The flattened, kneaded dough is slammed into a fiercely hot tandoor for just a minute or two, quickly re-emerging all fluffy and blistered. When you can get this excited about bread, you know great things are about to happen.
Great things like the octopus. Slow-braised with oranges and bay leaves in its own juices, the chefs wait until it's soft enough to fall apart before slinging it on the coal-fired robata. Silky on the inside, charred on the outside, I'm declaring these the best tentacles in town. Equally tender and smoky was the chicken 'msachen', a dish you get at Israeli parties. At The Barbary, the skin-on thigh meat is marinaded in a yoghurt, sumac and baharrat (a Syrian/Egyptian spice mix) for a full 24 hours before cooking. It's a bit of a theme: everything here is made from scratch and with care. For dessert, order the knafeh – a sandwich of finely-shredded filo pastry filled with white mozzarella and goats' cheese. Pan-fried until it's crispy on the outside, chewy on the inside, it's then sprinkled with roasted pistachio nuts. Try pressing it gently with a fork and watch it ooze puddles of clarified butter. This is not food for the uptight, but for people who live life to the full. On my midweek visit, every seat was taken by 6.15pm, the atmosphere was electric, the air filled with charcoal smoke, music and laughter. The Barbary: a place to fall joyously, head over heels, lightning-bolts-R-us in love with.
Details
Address:
16 Neal's Yard
London
WC2H 9DP

Transport:
Tube: Covent Garden
Contact:
Opening hours:
Open noon-3pm, 5-10pm Mon-Fri; noon-10pm Sat; noon-9.30pm Sun
Do you own this business?
Average User Rating
4.6 / 5
Rating Breakdown
5 star:

12

4 star:

3

3 star:

2

2 star:

0

1 star:

0
Mouthwatering flavors that will not disappoint! Today for lunch a friend and I decided to go and try Time Outs number 1 restaurant. We loved everything we tasted, from the creamy Ikra starter with Naan bread freshly cooked in the Tandoor Oven right before your eyes to the Blackened salmon. Apart from the delicious food, sitting on the stools surrounding the kitchen and watching the chefs at work is an absolute treat! I am a huge fan of sitting at a table with a view of the kitchen so to be practically sat in the kitchen was wonderful! The service we had from the wait staff was top class! He knew everything about the menu and gave us great recommendations. I could not recommended this place enough. My tip would be to go early in the week at lunchtime or early afternoon to grab a seat straight away. Yes this place is spenny but it is worth every penny for the quality of dishes they put out, 5 Stars!
In my view the best restaurant I've eaten in London for the last 5 years at least. The Pata Negra Pork and Grilled Octopus are unbelievably good. They also make the best naan breads. The informal friendly atmosphere also adds to the whole amazing food experience.

I hate queueing. What I hate even more is having to queue for a new restaurant only to be a bit disappointed. Thankfully not only was I not disappointed wiht The Barbary, I would happily queue for 2 hours if it means eating that food again!
The restaurant is tiny, 24 covers on bar stools around the open kitchen. There are a few stools along the wall that are for drinks while waiting for a table. We were lucky, arrived at 6:15 and only ended up waiting for 20minutes, I think the maitre'd took a liking to us!
We sat down at the bar and were soon chatting to a waitress about the menu and asking her advice on what to get. The menu is split into land, sea and earth and some smaller plates. As is the norm nowadays, it's all sharing.
We had some cod filled moroccan cigars, arayes (lamb kofta cooked inside a mini pitta), swordfish, yoghurt marinated chicken, sirloin steak with what I can only describe as dijon mustard jam and a few other dishes too.
For me there were 2 stars of the night. The aubergine, charred on the grill with a nutty tahini sauce, chillis and herbs, seems quite normal but then they threw in some flaked almonds and fresh raspberries. Raspberries, tahini and aubergine really should not go but I am never going to eat aubergine without raspberries again! It was a magical combination.
The other star was one of the desserts, we had knafeh which is an arabic staple of goats cheese and mozarella in kadaif pastry and syrup. That wasn't the star. The star was the "hashcake" presumably named as it's that good and potentially addictive. This dense, sticky pistachio sponge comes with a dollop of whipped cream and a crumbly pastry crust. It is delicious.
In summary, go to The Barbary, queue as long as it takes. I promise you it's worth it.
The Barbary is THE go to place in London right now. Brilliant food, fresh, colorful, middle eastern dishes that are just mouthwatering. 5 stars easy!
"What they've done is taken the ancient recipes from across north Africa (from the one-time Barbary coast) and the Middle East that have gone on to influence food in today's Israeli kitchen" I have been to the place and it is lovely but lets not beat about the bush here, what they have done is taken food from the Arab world and re-christened it Israeli food. Not a bad thing in itself but it would be better to just be honest about it instead of this convoluted explanation which is akin to Pizza Hut describing itself as taking recipes from across the southern Mediterranean (the one time Roman empire) which have influenced modern American cuisine!!