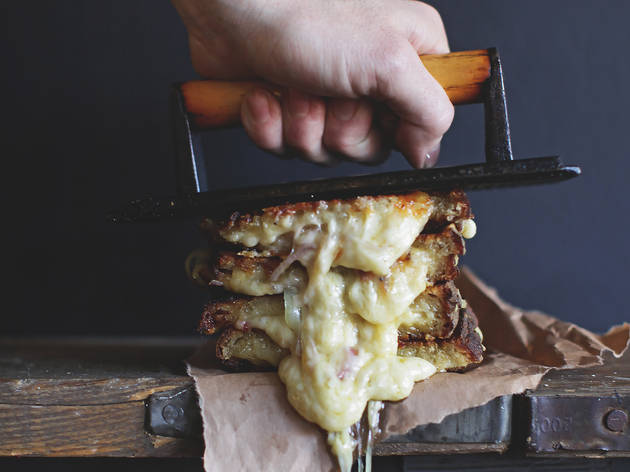 A cheese-centric bar from a former food truck.
It's naughty, nice, and if you overindulge you might have a nightmare. Cheese is basically the new booze, but now the people behind street food legend The Cheese Truck have gone and made it official by opening The Cheese Bar.
The best thing about The Cheese Bar is that it actually looks like a bar. Having spent the past three years operating out of a bright yellow ice-cream van, it's clear that founder Mathew Carver has put real care into designing this, his first permanent spot. Underneath a burlesque club in Camden Stables Market, the intimate space is dominated by a sleek, rectangular marble counter. Sitting here feels sexier than anywhere that smells this much of brie has a right to: there's low strip lighting, an apparently Drake-only playlist and lots of friendly and relaxed bartenders to talk you through the cheese-centric menu. That menu reads like foodie soft porn – be careful you don't drool on it.
The Cheese Truck only served (unbelievably delicious) grilled cheese sarnies, but the Bar's branched out to serve all manner of cheese-based delights. A case in point: the truffled baron bigod (a brie made with raw cow's milk) was almost indecently creamy. The wonderful thing about this dish was that the truffle was present without being overpowering – each bite like cool silk on your tongue. A perfect dish to follow this with was the indulgently oily 'young buck' stilton raclette – a hot mess of fried potatoes, sharp blue cheese and smoky strips of meat. Best of all, though, were those grilled-cheese sandwiches. The Cheese Truck are Insta-famous for serving up oozing puddles of dairy, so I was a bit disappointed when my Keen's cheddar and onion sarnie arrived with absolutely no overspill, but the taste more than made up for it. Piping-hot and perfectly greasy, this is a hangover cure to beat any bloody mary on earth.
The Cheese Bar isn't completely perfect – its waldorf salad is weirdly wet, and on my visit cheese really had to be the new booze because it hadn't got its alcohol licence yet. But it's got one now, and adding wine to the mix may just make this actual bar heaven. Go make it your local before everyone else does.
Venue name:
The Cheese Bar
Contact:
Address:
Unit 93 and 94 Camden Market
North Yard
Chalk Farm Road
London
NW1 8AH

Transport:
Tube: Chalk Farm
Price:
Dinner for two with drinks and service: around £90.
Do you own this business?
Rating Breakdown
5 star:

15

4 star:

4

3 star:

1

2 star:

1

1 star:

4
The chorizo cheese dish... Queso fundido was great. Busy place. Good atmosphere. Got served quicker than expected.
the young buck raclette is f**king great
What an amazing place. Hands down the best Mac and Cheese that I have ever tasted and they have a wonderful cheese selection. ( check out the pic of their fridge!! )
My wife and I are massive cheese fans and this place is wonderful and doesn't disappoint. We were helped by Christian who is an guru of cheese and really made us feel welcome.
Its just the opening week for them - and usually service can be quite mixed but Christian was great. He explained the menu and recommended for us the Mac and Cheese and the Mozzarella sticks. Mozzarella sticks were amazing and their grilled cheese sandwich which was also fab. The raclette was a bit strong for me - as I am not a blue cheese fan, but we really enjoyed it.
Top tip is get there early ( we were there at 12 when it opened) and by the end of our meal there was already a line.
Wasn't able to give '0' stars. Garbage. I've had better mozzarella dippers at McDonald's (and you get a monopoly token with them). We had two grilled cheese toasties and they were burnt, greasy with barely any cheese in them. I make cheese toasties at home in my £9.99 Argos breville for my daughter and she loves them. If I had served her up this tosh she would have disowned me and moved out. I'm actually thinking of setting up a cheese toastie business - if they can charge £6.50 - I can charge at least a tenner a pop. Outraged.
If you are after some melted toasted goodness in Camden Market this is the place although I personally found it too much cheese for one meal.When you first walk in you notice their modern interiors and posh marble top bar. The staff are very friendly.
My companion and I ordered The Baked Bix which was a triple cheese with rustic flat bread and chutney. We also ordered the Keens Cheddar Oglesfield. They arrived sizzling hot and the cheese was melting and gooey.
We then ordered the four cheese rotelle which is a four cheese macaroni that had Lincolnshire and Lancashire cheese with a blackened crust of Old Winchester. It was flavoursome and a real recipe for nostalgia!
By this point, I was certain I had surpassed my daily allowance for saturated fats but nonetheless we shared The Benleigh Blue, honey and pear ice cream sundae for dessert. It contained ewes' mild cheese; a rather bizzare yet delicious combination.
Overall the food is appetising. Dishes are around £7-9 and toasties £6-7. It isn't cheap but they do get their produce from places like Peckham's Gringa Dairy and La Latteria in Acton, so you can't really be too 'cheesed' off at their prices!
The attention to detail in this restaurant is superb, you can notice it from every angle whether it's the food, the environment, design or service. Highly recommend.
Bland small greasy burnt cheese toasties. Fatty bacon. Minimal cheese. Rubbery mozzarella dippers. Way over priced and absolutely not made with love. How can you get it so wrong?! Truly woeful.
Had a great night here last Friday with 3 friends. We ordered a wide range of dishes, from the poutine to the fundido, the truffled brie (OMG AMAZING) and the toasties and were not disappointed by any of them. In particular, the blue cheese ice-cream desert was amazing and I will definitely be trying that again! You either love it or hate it apparently, but it was well worth the risk!

We shared 8 dishes between us, plus 2 deserts, and 2 drinks each, and our bill came to just over £25 per person, which I wouldn't say was expensive for the amount of food that we ate. There is a wide selection to chose from, with some dishes being around £8 and some around £4 so it suits different budgets.
I pre-booked a table, so I didn't have to queue and would definitely recommend getting a reservation before turning up, especially on a Friday night. Although there are plenty of benches outside so
The service was great and the staff were really friendly and fun, not to mention the tunes paying in the background. It seems like the teething troubles from the earlier reviews have all been taken on board and sorted out. I am really looking forward to going back and trying more of the menu!

The truffled brie dish was incredible! I'll be back soon just for that.
There was a long queue to get a table but we had a drink next door and then came back.
Stunning little gem in Camden! We had the Short Rib Poutine, baked Bix, Truffled Baron Bigod along with the Queso Fundido and we were not disappointed! We've been fans of The Cheese Truck for years now after having them at Glastonbury in 2014 and it's great to see them come this far since then.
The service was good and they went through the menu items that we didn't know, and they recommended a perfect red to go with our meal.
The wait to get a seat can be a little while, so if you don't have a reservation I'd advise on getting there early! I know we'll be returning soon...
I was quite disappointed. The cheese toasties were good and very cheesy but the cheese did all seem fairly mild and lacked depth, for £6-7 per toastie I would expect something exceptional. The Poutine was a complete rip off at nearly £10 for a small portion of chips with a very small amount of meat and gravy on top. The cheese they used seemed to be quite bland rubbery mozzarella so it really was not worth the money. I did complain and they actually took the 'Poutine' off our bill so we didn't have to pay for it which was good customer service at least.
In future I would rather get a toastie from their van as the restaurant was just all a bit to trendy for my liking and lots of people playing with their food and photographing it rather than eating it!
Such a disappointment! Service was terrible, staff didn't even know what the dishes were. The cheese toasties were all so bland, mine had the mildest cheddar in it I'd ever tasted and supposedly some onions. My friend got stuck with the fattiest bit of bacon in hers she couldn't even eat - it's a cheese toastie, how have they got it so wrong? The bread was good though.
The other dishes were nice, especially the poutine, but none of the cheese was really that strong, it's clearly a place aimed at the masses, not a place aimed at actual cheese lovers, which I sadly thought it was.
Aww...crap. Planned on going there next week...but these early reviews tells me not to! Hopefully proprietors reads this and shapes things up re the ..CHEESE??
Snap up exclusive discounts in London
Time Out's handpicked deals — hurry, they won't be around for long...