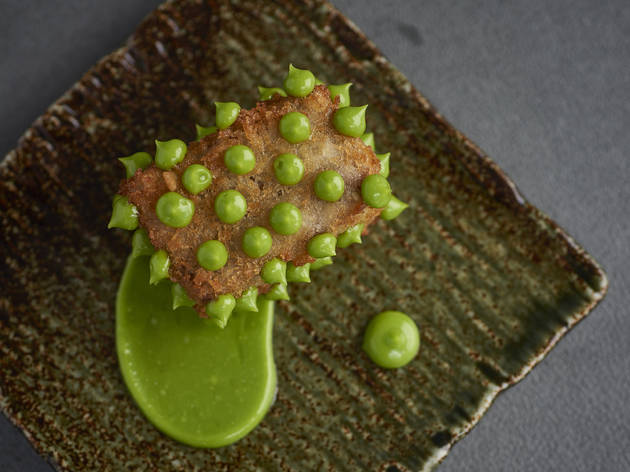 1/6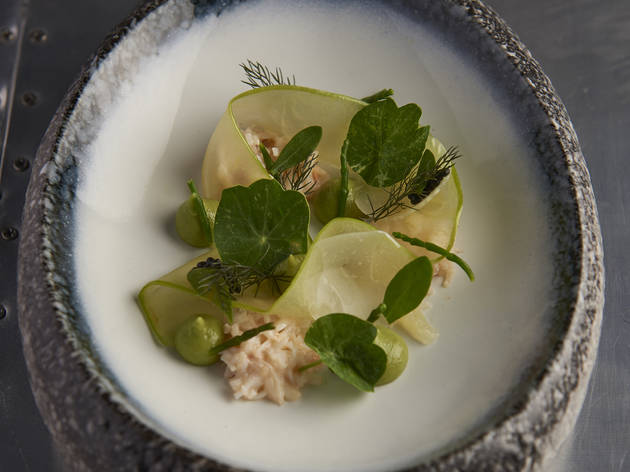 2/6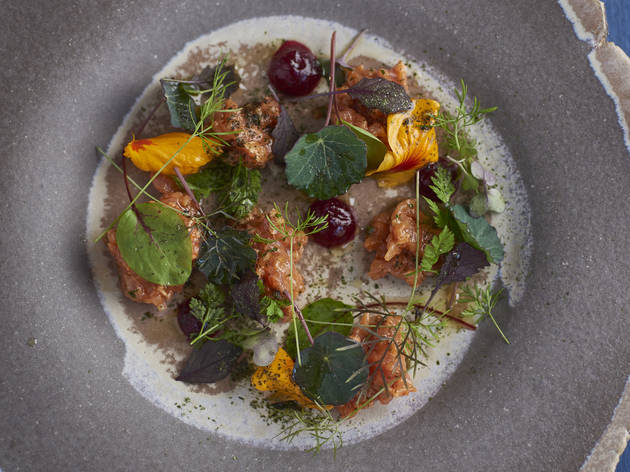 3/6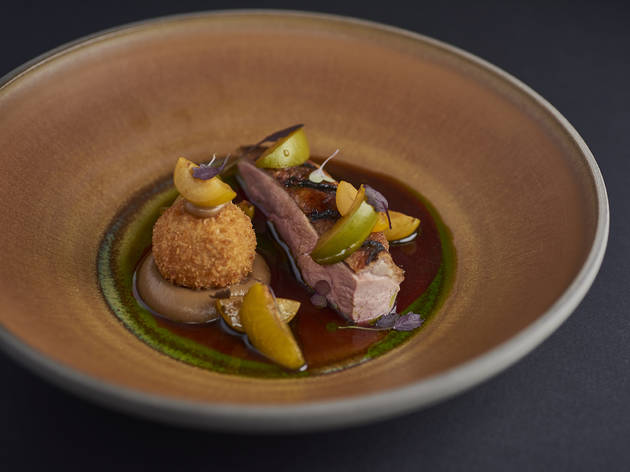 4/6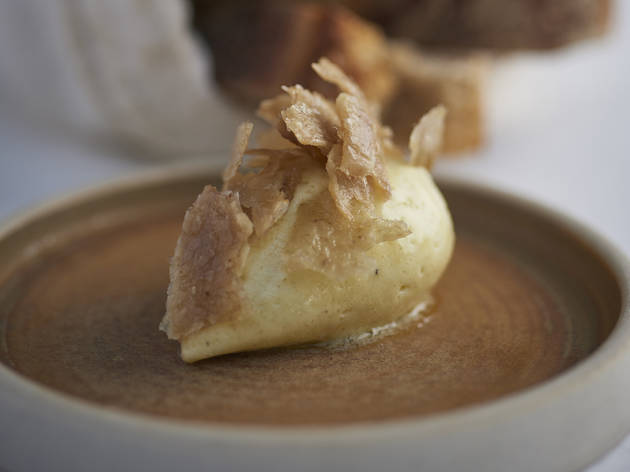 5/6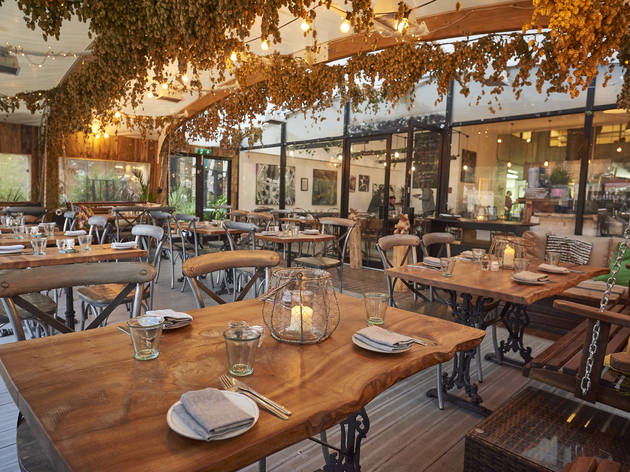 6/6
© Tim Green
Time Out says
An avant-garde, fine dining restaurant from chef Adam Handling.
This east London restaurant aims to serve ultra-creative cooking in a playful setting. And in some ways, it succeeds. Inside, the dining room is buzzy, all concrete floors and big open kitchen. Outdoors, a huge semi-permanent 'annexe' comes complete with a slew of foliage (live bamboo by the tables, dried hops hanging from the ceiling), heaters casting a red glow across the room and a DJ on the decks. Choose a table by the edge and you'll dine on a swing seat too. It's certainly memorable. But the food on my visit was awful. Dismal. Full of powders, swirls and flourishes, it was mostly interesting (though occasionally overwrought) to look at. But a pleasure to eat? No. The Frog is owned by celebrity chef Adam Handling ('Masterchef: The Professionals', 'Great British Menu'); perhaps, on my Saturday night visit, he was off at a book signing and had decided the potwasher deserved a turn at the stoves (no disrespect to potwashers – I'm trying to make a point).
Dish after dish showed a complete lack of restraint with seasoning. Several (anything with 'barbecue' in its name, from octopus to veal tartare) were disturbingly oversalted, a few (the three-ways beetroot, a dessert of burnt honey with malted ice cream and lemon) were unpleasantly sweet. Only one – a simple yet stunning dish of burnt tenderstem broccoli, its ashen tips offset by a chestnut-toned puree of roasted garlic and the runny yolk of a fried, salted egg – lived up to the hype.
It's a pity, because the notion of giving 'fine dining' a funky, avant-garde edge is the right one, especially in this postcode. But at these prices, substance still has to count, not just style.
Details
Address:
Old Truman Brewery
Hanbury Street
London
E1 6QR

Transport:
Tube: Aldgate East
Price:
Dinner for two with drinks and service: around £150.
Contact:
Do you own this business?
Average User Rating
3.9 / 5
Rating Breakdown
5 star:

5

4 star:

3

3 star:

4

2 star:

1

1 star:

0
I'm not sure why this hasn't got a much higher review from Time Out. This restaurant is AMAZING!! The dishes are utterly stunning and delicious.
Adam Handling is a genius and has created a really special place. I have been to both this one and the new one on Hoxton Square and neither disappoint.
One thing The Frog nails is taking their customers on a taste journey!
Give it a go, you'll love it and make sure you try the Mackeral
:-)
This has to be the best food combined with the most relaxed and friendly atmosphere anywhere in the country
The Frog has the best tasting menu in London without a doubt. I have been countless times, and it never disappoints. Great for date night, a catch up with friends and family, or if you're just in the mood to spoil yourself, why not treat yourself to some alone time and surround yourself with the ultimate food porn - cheese doughnuts, need I say more?! The restaurant feels like a home away from home, and the staff are so friendly, you will never feel like a billy no mates in The Frog.
I couldn't recommend it more. Get yourself down there, you won't be disappointed.
I absolutely love this place, the atmosphere, the service and relation quality-price is amazing! I always take there all my friends! the chef has a talent and I absolutely love his food! you will never get tired of this place as there is always new food to try :) I HIGHLY RECOMMEND IT!!! My favorites are: celeriac salad, ox, and the Hake....yumyyyy!!
Should really be a 3.5 star review but... While a huge fan of Adam Handling from his Masterchef UK days where he was runner up - I was super excited to try this place particularly as he was featuring three of his dishes from the Great British Menu (he was runner up for Scotland). My partner loved every dish except the one I had him finish off for me. Him being a meat eater, was just spoilt for choice. Me being a long time vegetarian I found that there was too much of the same (but delicious) topping of grated Parmesan and Black Truffle on several vegetarian dishes. So of all the vegetarian dishes that we ordered off the a la carte menu (and we ordered all of them), only one dish did not have truffle or Parmesan being the Beetroot dish which I thought was very beetroot in a good way! Also we were at an early dinner on Saturday and they had already run out of the GBM fish dish. However my partner was super happy with his Octopus dish. My "main" dish was the mac'n'cheese (again covered in Parmesan and truffle), I found that for the flavour (very strong and very salty and I'm a high salt person) was just too much. Would have been better garnished with lambs lettuce or cress. My partner had to finish it for me which he didn't mind whatsoever but agreed with me that it was a touch too savoury for the size of the portion. Dessert wise - perfect portion for my partner (chocolate dish) but I found mine a tad too small especially the quenelle of malted ice cream was like... A mouthful! All in all a mixed experience for vegetarians but really great if you are not.

Last night's dinner at Adam's new restaurant, The Frog @thefroge1
Like everyone else I have a wish list of things to do - for some of us it's traveling for others like me it's where to eat. Having dinner at Adam's @adamhandling has been on top of my wish list for a long time. Finally last night we made it to this newest restaurant The Frog
Being indecisive, we were recommended the tasting menu a great choice as you get to sample Frog's innovative dishes from across the menu!
I walked in with very high expectations and as I said to the Chefs @kerr_steven @jamie_park1 what was delivered was a bit like heaven.
Every single dish was an explosion of flavour and definitely loved the presentation and the atmosphere. All the team was very professional and very friendly at the same time! The chef hand delivered each dish very relaxed atmosphere!!! Definitely I would go again!!!