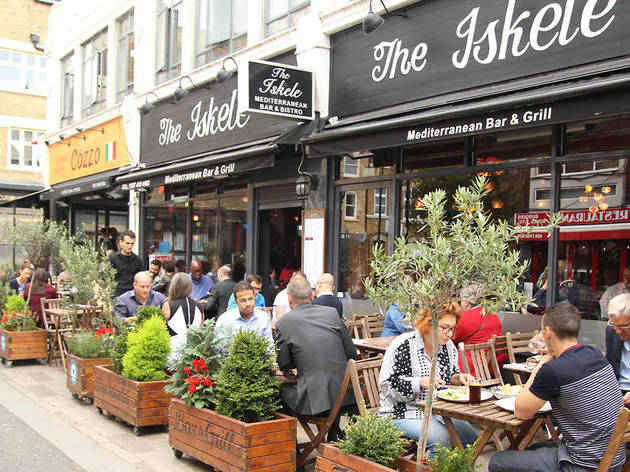 1/11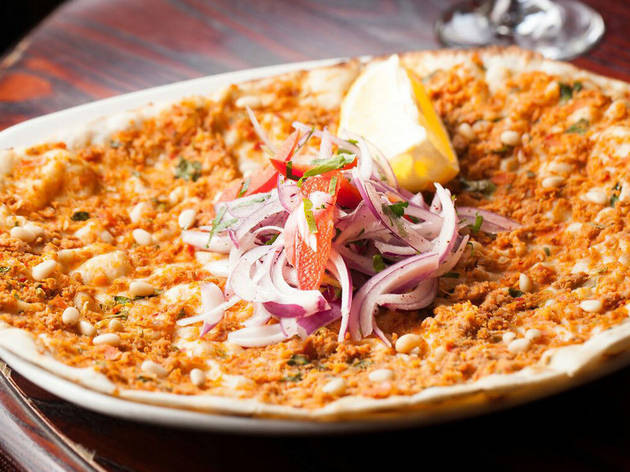 2/11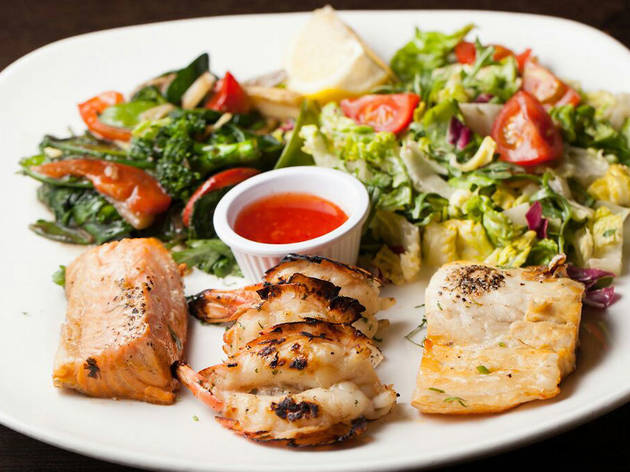 3/11
4/11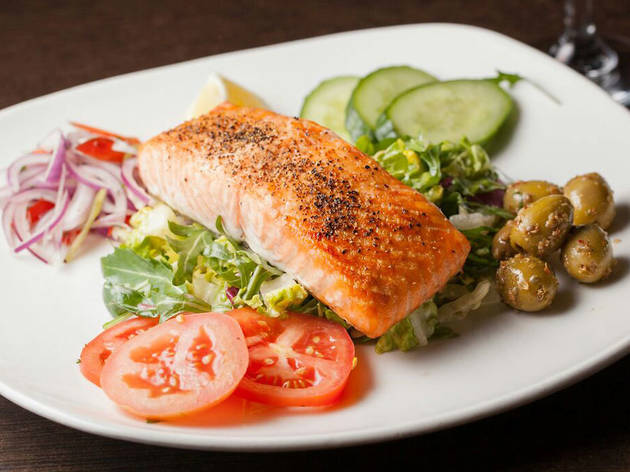 5/11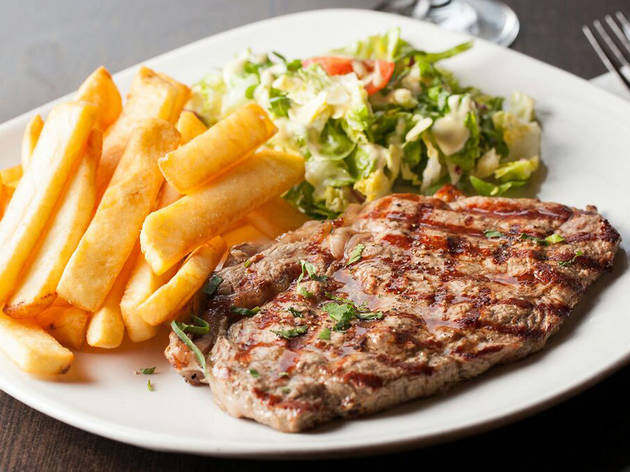 6/11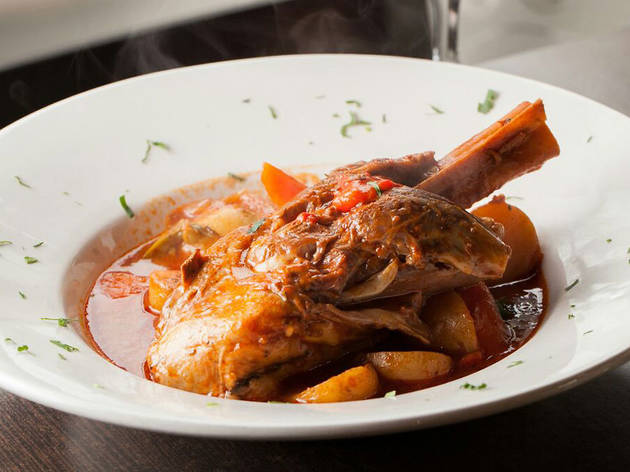 7/11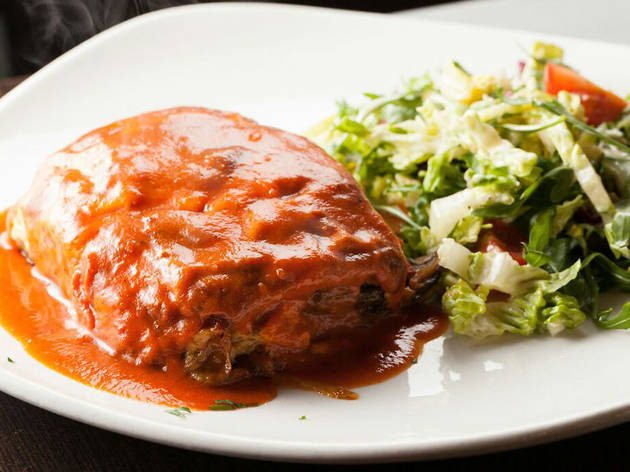 8/11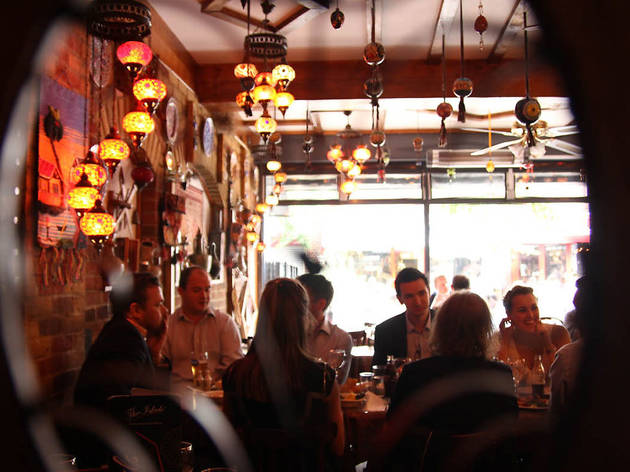 9/11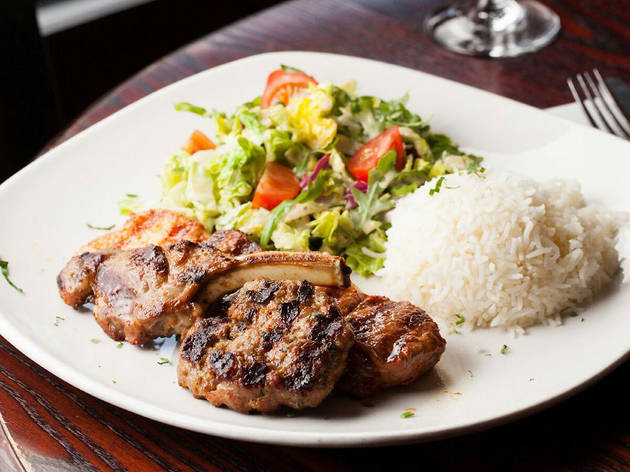 10/11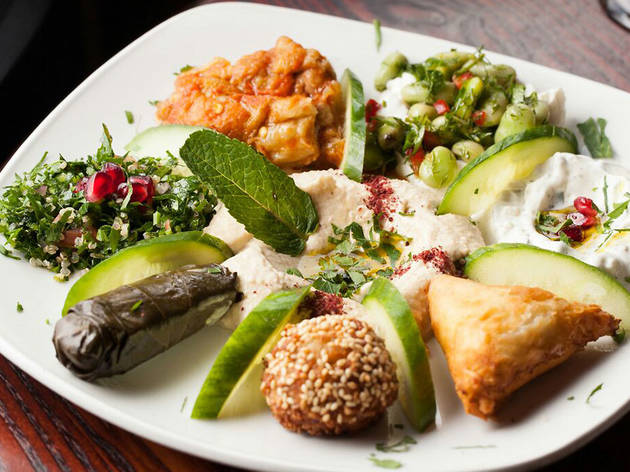 11/11
A spacious 'Meditteranean' restaurant with standard Turkish dishes.
Whitecross Street has become a destination for street food on Thurday and Friday lunchtimes,with stalls selling hog roast sandwiches, burritos, falafel wraps, jerk chicken and more besides. But in wintry weather, the indoor seating of the market street's cafés beckon. The Iskele is one of them, a 'Mediterranean' restaurant on a spacious site with coloured glass pendant lanterns and other knick-knacks that give it an Anatolian feel.
The menu is mostly Turkish, as this is what they do best, and meze can be ordered individually or as sharing platters. The wine list is short but of unusually high quality for a place of this kind.
More
Less
The Iskele says
The Iskelé has been keeping EC1 locals happy with fresh, reliable Mediterranean fare since 2000. From their spot on Whitecross Street, we've welcomed residents, the Old Street tech newcomers and the City workers alike.

Come for the bargain lunchtime specials, an unhurried meal before (or after) a show at the Barbican or to take in the authentic Ottoman décor.

Service is quick and friendly even on busy nights. We welcome groups and walk ins

We won Best Value at British Kebab Awards 2017 - we were delighted with this award as we strive to deliver dishes that are full of taste at a decent price point.

Our recommendation: the Lamb Tagine. The chefs use the backstrap, a tender, fat-free cut that marinates exquisitely. Very tasty.
More
Less
Venue name:
The Iskele
Contact:
Address:
179-181 Whitecross St
London
EC1Y 8QP

Opening hours:
Sunday - Wednesday: 12:00pm - 22:00pm. Thursday - Saturday: 12:00pm - 23:00pm.
Transport:
Tube: Old Street tube/rail
Price:
Meal for two with drinks and service: around £35
Menu:
View Menu
Do you own this business?
You may be interested in:
Average User Rating
3.6 / 5
Rating Breakdown
5 star:

8

4 star:

3

3 star:

1

2 star:

1

1 star:

4
Me and my work mates love this place, we mainly go to Iskele at our lunch break, great value and big portions. We already booked our table for Christmas. So excited to try some new dishes I have not tried before.
Make sure you book your table(especially on Fridays).
Great place, great foods and great people.
The best lamb cutlets in london!
This one of my boyfriend's and my favourite haunts - it's a lovely place for an evening meal that is delicious, filling and at the same time pretty damn reasonable, especially for London. My boyfriend always goes with the chicken skewers, I tend to be more varied, but everything I've tried is delicious, with my favourites prob being the lamb skewers with extra yoghurt, or the iskender. And of course baklava to finish, absolutely yummy and the perfect end to a Turkish meal. And I should say that the atmosphere is really lovely too, with the beautiful turkish lamps and warm atmosphere.
As working in City I go to The Iskele often. So far they have been very kind to me and my colleagues. Foods are great, service is great and fast. What else should I expect from a restaurant? I can easily recommend this place to everyone.
A group of 24 of us went for chrismas lunch. restaurant was so busy.but Service was very good and fast.. and the Turkish food was delicious.. Great prices in a barbican. Would high recommend for families, friends and business.
I have not even eaten at this restaurant but I felt so strongly about the way I have been spoken to i had to write a review (which i have never done i my life even if a restaurant is good.) I called them as they accused my brother of trying to redeem a groupon voucher that had already been used. So I called so that I could email them my confirmation email to prove the voucher i gave my brother as as gift was not him trying to get a free meal. I spoke to a lady who was nice but i then spoke to a man who refused to give me his name and told me next time if i did not want to pay i should have brought a voucher from KFC. : O As far as I am concern if that is they way they treat customers who are trying to clear up a matter (after they have eaten there) it speaks very little of their mentality and the fact they obviously must be busting at the seams with people trying to book tables. I must admit at least i now know there is no need for me to try this one out. Warning: if you respect yourself you wont go here.
food lacking flavour, very disappointing. staff either ignoring us or rushing. not going there again.
Poor service, slow, cold food, rude staff. Would not go back
Went there last night with 3 friends on the back of a Groupon offer. We had a fantastic night. We were undecided about the starters so they gave us what we ordered and threw in the houmous, which was amazingly creamy. I had the squid which was nice, the batter was a bit flaky, the others had the prawns which they enjoyed, albeit a bit small. The lamb tagine was delish, with large well presented portions. A bottle of merlot was under £15 and dessert was yum. We were well and truly stuffed after our feast. The setup is tables which are so close together that it is almost like bench seating, but it works really well. The atmosphere was great, decor was nice, and the staff, including the owner, are a really nice bunch. It was full to capacity and we all agreed we had a very very good night. A hidden gem definitely worth visiting.
Mediocre food; bad tempered service; far better middle eastern food around the city.
We found the Iskele by chance while staying in the Barbican area. We loved it so much we went there 3 nights running. The food was consistently good and the staff very nice and prices very reasonable. There is a lively buzz to the place and a nice mix of clientele, from couples to parties to families. We will go back next time we are in London, its worth making the effort.
i've been here once and keep meaning to come back and have finally booked to go. i found out about this place because of the group on offer late last year and the food was delicious. i don't know if it's changed since then but i'm excited to go back as a precursor to a sadler's well visit.
Last year, the Iskele had a really weird manager who was creepy and bullied the staff, and I never returned until I reluctantly was invited by a friend. I couldn't believe the amazing transformation since the creepy manager has left. The food is much much better, the staff are more relaxed, friendly and attentive and it was a real pleasure. I had a cracking night and have been back many times since. Well worth a visit. I would lose the plastic table cloths though. If another voucher offer comes along I am getting loads.
Despicable customer service. I called to ask how long it would take to order some take away. I could not tell if the man on the other line said 15 minutes or 50 minutes and asked if he could please repeat what he said. The man answered rudely "the animals are not alive you know they are already dead" while a fellow employee laughed in the background. You have lost my business and those of all of my friends and colleagues who live and work in the Barbican neighborhood. Sincerely, A Dead Animal