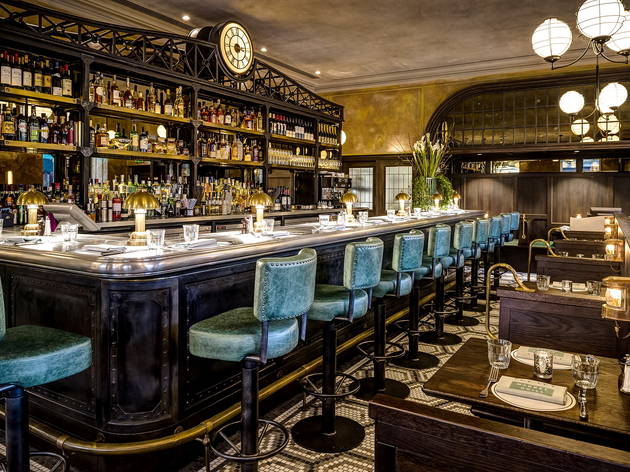 Time Out says
A sister venue to The Ivy, this new Covent Garden restaurant is located on the piazza. Afternoon teas are available as well as an all-day menu.
That's right, a branch of that most inimitable restaurant, The Ivy. The time has come at last for the current owners to cash in on one of London's most recognisable and exclusive brands, and roll it out.
Yet this is hardly an Ivy sellout – it's no McIvy Burger, Pret-a-Shepherd's-Pie, or Hard Ivy Rock T-shirt of Posh and Becks tucking into rhubarb cheesecake. It's all done in the best possible taste. But rather than being discreetly located in a Covent Garden sidestreet lined with paparazzi, this one's bang on Covent Garden Piazza – where no ordinary Londoners, never mind A-list celebs, ever set foot.
The interior's lovely, in a classy, bourgeois brasserie, my-family-own-Dorset sort of way. The service is, for the most part, better polished than a Bentley hub cap. And the menu's a good read, with a pleasingly retro Continental feel to the dishes, but using mainly British ingredients.
Much research has been done by psychologists on how setting affects our appreciation of a meal: get the look and circumstances right, and school dinners taste great. Take away the white linen, silver bowls and embossed plates, and the wow factor is reduced. A prawn cocktail looked pretty, but the shellfish were merely okay. Shepherd's pie was rich in butter, but otherwise ordinary. A fried fish sandwich didn't really work, as the toasted bread failed to envelop the contents; butties are better untoasted. A chocolate bombe was a shell that melted on having hot caramel sauce poured over it; the result was a congealing mess. Baked Alaska also suffered from global warming, the lemon ice cream interior simply too molten. If you're looking for a culinary superstar, go elsewhere.
Yet we liked Market Grill, and its please-all approach; it serves breakfast, afternoon tea and all-day snacks, and has a good children's menu. We'll return for the late opening, striking good looks and dialled-in service.


Details
Address:
1a Henrietta Street
London
WC2E 8PS

Transport:
Tube: Covent Garden
Do you own this business?
Average User Rating
4.2 / 5
Rating Breakdown
5 star:

3

4 star:

10

3 star:

0

2 star:

0

1 star:

0
Lovely restaurant and perfectly located in the heat of Covent Garden. Had a great meal and staff were very attentive. When our table was up we were offered seats at the bar and the waiter was really polite and didn't make us feel we had to rush our drinks or leave immediately. Food was really good and perfect spot for a bit of shopping too, though that probably wasn't the best idea after a few drinks!
The Ivy Market Grill is located on the cobbled edge of the piazza in Covent Garden. It is a branch of one of the most famous restaurants in London, The Ivy, which is popular with celebrities and theatre goers. The brasserie has an air of exclusivity, maybe stemming from the fact that there was a time when you weren't able to get a table here unless you were famous.
I came to The Ivy Market Grill with a couple of friends for a birthday brunch. The service was impeccable and I would have expected nothing less. The staff are on point with everything. Our waiter was very friendly and attentive throughout the meal.
The menu is broad with a selection of modern British inspired dishes. It includes a great breakfast, afternoon tea and brunch selection. There is also a pre and post theatre menu, due to its close proximity to the main west end shows making it an ideal spot for the many theatre goers dining in Covent Garden.
Avocado and spinach benedict-This was very tasty and well presented, no complaints here! I did have my heart set on the truffled eggs but sadly we were too late and this is only served for breakfast.
Truffle chips- Delicious!
Zucchini Fritti-Crispy courgette fries with lemon and chilli. These were good, but I expected a bit more of the lemon and chilli flavour to seep through.
Chocolate Bombe- This was the bomb! A melting chocolate bomb with milk foam, vanilla ice cream and honeycomb centre with hot salted caramel sauce. The waiter theatrically poured the hot salted caramel sauce over the chocolate ball to reveal the honeycomb centre leaving a bowl of delicious chocolate mess.

Very good food enjoyed in a beautifully decorated interior. Went for mid-week lunch and enjoyed delicious scallops for starter accompanied by a very good selection of wine. Highly recommend this restaurant for either lunch or supper.
Food was great and the service was good. Not quite as intimate as the Ivy itself but great for a meal with a few friends.
No better place for a (slight hungover) breakfast meeting than the Ivy Market Grill. Probably one of the best full English I've had in ages combined with a very tasty bloody mary. The Ivy Market Grill has a great setting next the the Covent Garden Market. The heated terrace outside has a very Parisian feel to it. Service however is not good at all. But then again, for some reason I wasn't expecting the best service at a restaurant run by a stuffy Private Member's Club.