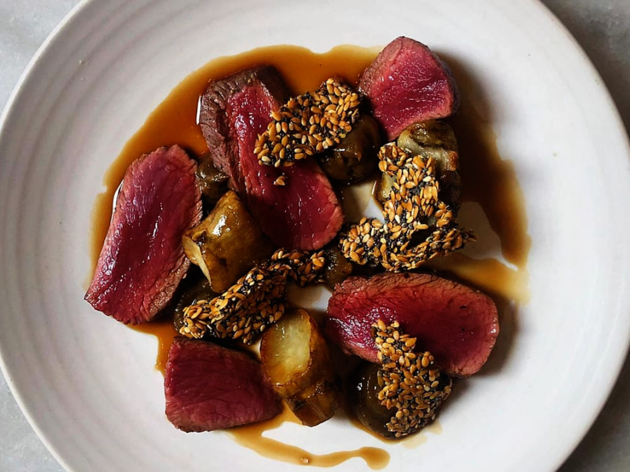 1/5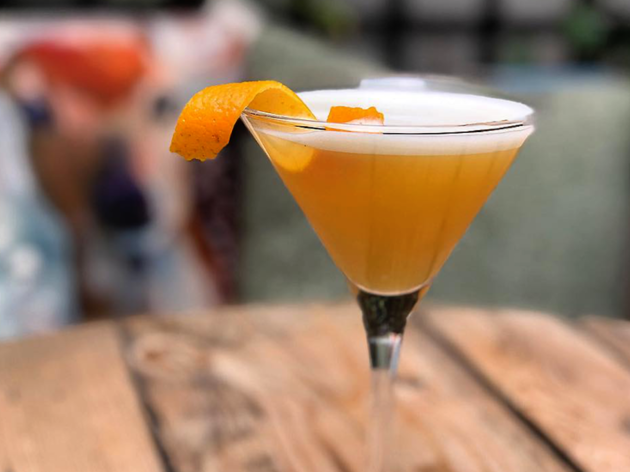 2/5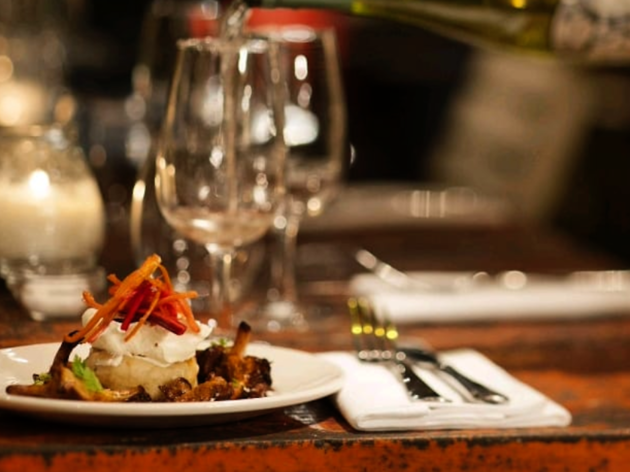 3/5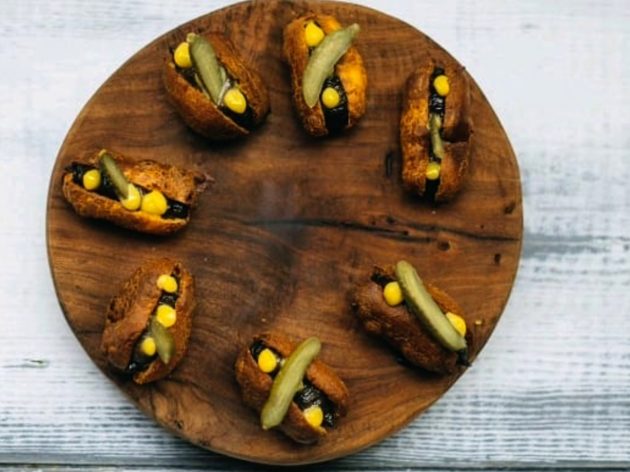 4/5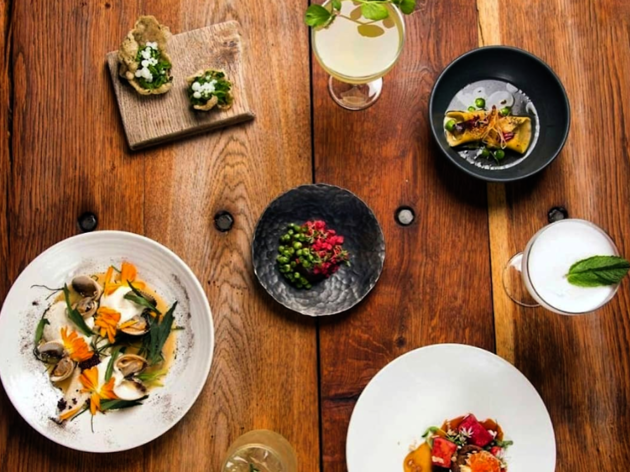 5/5
Time Out says
The flagship farm-to-table by the Gladwin Brothers.
Tucked away behind a curtain of tousled ivy, The Shed serves up small, resourceful dishes built with foraged and locally-grown ingredients from the countryside. Led by the Gladwin Brother trio, who have their own farm and vineyard in Nutbourne, West Sussex, as well as two additional London restaurants, their flagship Shed was quick to become a local neighbourhood favourite when it first opened in 2012.
Though the menu changes seasonally, the original plates are still the best bet. (Note: everything is served tapas-style and 2-3 dishes per person is the recommendation.) The Nutbourne Cures – with generous piles of crumbly, aged chorizo and a swell of tangy labneh yogurt, plus kale and caraway crisp bread – held all the comforts of home, if you grew up in a bucolic farmhouse with a master chef for a parent. Plates like sharp pan-fried goat's cheese – which sits under a pile of almonds, licked with local honey and thyme confetti – tasted of the wild, fresh farmland and dewy meadows from which it sprung. Sophisticated with a burnt butteriness, the Honeycomb Crunchie, served with whipped mascarpone and a faint sifting of tarragon sugar, was everything you want in a farmhouse dessert: nostalgic-but-novel, and damned delicious.
The Shed says
The Shed in Notting Hill is owned by three brothers- a chef, a farmer and a restaurateur. Bringing a slice of the countryside to West London, the menu champions British produce using all things wild, foraged, and locally grown to serve sensational small plates.
Details
Address:
122 Palace Gardens Terrace
London
W8 4RT

Transport:
Tube: Notting Hill Gate
Price:
Dinner for two with drinks and service: around £100.
Contact:
Do you own this business?
Average User Rating
3.8 / 5
Rating Breakdown
5 star:

6

4 star:

1

3 star:

1

2 star:

2

1 star:

1
A place of contradictions. On one hand trying to be 'rustic'... another trying to be far too cool for school. Food was tasty, but portions rather tiny (far from hearty!) to say the least. Music was johnny cash/American country while at same time trying to also wax lyrical about British country produce. Beautiful space but yet crammed in on uncomfortable stools. Trying far too hard.
BE CAREFUL.If your wallet is not ready for surprises, thing twice.
It was fairly easy to reserve a table online.After we seat down, only then we were told the portions would be like Tapas.The prices online were very inviting (I had a feeling).
We had a set of 5 delicious dishes, some would fit in a small serving spoon, but they were exquisitely made and very tasty.One singe small "carafe" of the House Chardonnay, and one desert.We've paid slightly over £75.00
Sorry "Shed", there are plenty of sophisticated places in London where that money can be stretched.It was…an experience.
Went for our first visit to The Shed on Valentines Day this year. With exceptional food from the £25pp set menu, a deliciously spicy Bloody Mary, great service and a talented acoustic guitarist, I've been recommending this place to my friends and can't wait to return... enjoy!
Unctuous, cheap ingredients ignorantly foisted......
What could have been a pleasant lunch turned into a restaurants kamikaze-based approach in ensuring mild-mannered but discerning patrons are turned into public detractors. It is, as described, a shed; with aspirations to be a glasshouse, this should, of course, have been a warning. Apart from the reviews I have since read about the unreliable electrics, which I had no need of, the initial jolly banter was all about the concept. I, for one, cannot eat concepts. So British Tapas is for sharing I was told. I asked for meat. As there were no cuts as such, the ingredients were disguised in "wild garlic" and the American habit of over-describing a simple food in order to pump up its cost to the under-discerning or just plain compliant customer and ladies who lunch in that detached from reality manner. Whilst I dallied with the leaving immediately strategy, my fellow diner had his interest piqued, so I relented by looking at a wine list of overpriced young reds that were a text book triumph of selection from cash and carry by Yahoo, not even a sound search engine these days, multiplied by a random number larger than 10. The final price of the wine served being defined more by the bus numbers floating past rather than any reflection of the input cost and/or merit. Chorizo arrived after some time, maybe the electrics had electrocuted the initial chef, after the aforesaid lunchtime plonk, £40. The chorizo tends to sausage-like construction in my limited 30 odd years of consumption in Spain and, more recently, even in the United Kingdom. This was an oily, tartrazine-red mince. Beef cigars of limp , grey, indeterminate protein-like filling that I could not bring myself to move from plate to mouth. By this time the staff had of sort of grasped the British Tapas concept was not sating appetites and their young, thrusting and unfounded confidence was undermined. This made them very sour. Somewhat unable to absorb the clear benefit of being gently informed that the menu really was mutton dressed as conceptual lamb, but with added benefit of sharing, of course, without even the relief from poor wine as a crutch to maintain a modicum of customer satisfaction. £70 for the amount of pleasure the Great Hadron Collider would have difficulty in measuring. Kensington Wine Rooms over the road on Church Street is convivial, provides excellent fare and allowed us to wallow in a fine 1998 for the same outlay. When cost is not an issue there is the luxury of time to appreciate quality. The Shed assumes the first of its customers and provides nothing that would enable that type of custom to anything but be underwhelmed to the point that they need to broadcast the result of their tawdry experience. Avoid.

I came here to celebrate my fathers birthday and couldn't have enjoyed the evening more. The Shed has now become my favorite restaurant in London and I can't stop telling everyone about it! The waiters are lovely and its as if you are invited to join the family. There's a great atmosphere and genuine rural vibe. The daily loosener was delicious and we all enjoyed the fact that so many of the ingredients are foraged. The food was definitely the high point, especially the lamb chips, and we all loved the sharing aspect. Its amazing how much emphasis is put on sourcing the produce and the passion for the food is shared by the waiters, chefs and owners alike. The Shed offers a truly unique, fantastic dinning experience, which is not to be missed by anyone!
The shed is one of the best london restaurants Ive been to. The food is excellent, and the staff are friendly and knowledgable about the dishes and produce. We will definitely be returning regularly!
The food was really good. The service was another story and it made the whole experience pretty bad. I live in the area and had high hopes.
Popped into this place for a Friday lunch (with no booking). The front of house were very friendly and explained the menu thoroughly - I would suggest having at least 2 (or 3) plates per person...small portion of absolute sensations! The lamb chips and tender cuttlefish are a must. Great for sharing but you could order your own I suppose. International wine list; I tried a biodynamic sauvignon blanc from New Zealand. Have a table booked for dinner as I want to try out the buzzy atmosphere of the evening service - great little place and I highly recommend it!
Eaten there once so far, as I live in the country, but have another date planned very soon. Food was totally superb and very original, as was the decor and atmosphere. Tried a white wine from their associated English vineyard, really excellent. Service a little on the slow side. They need to work on that !!!. But all in all an excellent and exciting evening out.