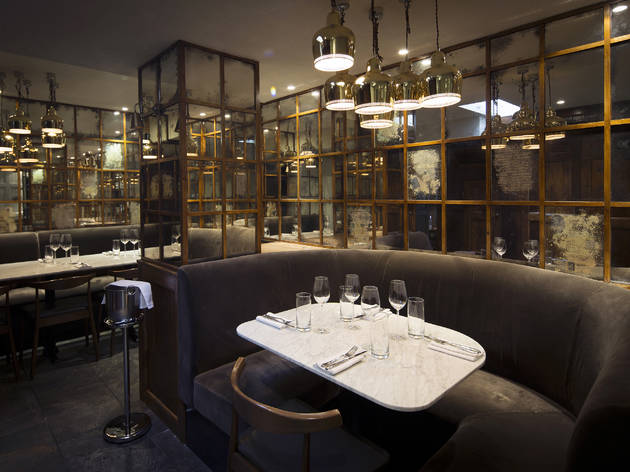 Time Out says
Gaining its first Michelin star in 2012, Trishna London is a world away from the shabby interior of its sister restaurant in Mumbai. This contemporary-looking eaterie is smart and quietly conservative, its dining room barely distinguishable from those of its Marylebone neighbours save for the retro Air India prints on the walls.

The Mumbai original is known for its focus on seafood, but here equal prominence is given to meat and vegetarian dishes. An Indian twist on a British classic, Trishna fish and chips was let down by under-seasoned fish, but a main-course sized starter of a typical Indian snack, aloo chat (a sweet and sour blend of potato, chickpeas, tamarind, yoghurt, shallots and chilli), was the best dish by far.

To follow, guinea fowl 'tikka' was tender and smothered in a rich marinade of yoghurt, fennel and star anise with a gentle kick of chilli. For pudding, perfectly crisp, dinky sweet filo parcels styled as 'samosas' gave way to a nutty coconut and mango filling, accompanied by a feather-light lychee ice-cream. Portion sizes overcame us, but staff happily packed up leftovers to take home. The early-evening menu is fantastic value at £25 for four courses.
Details
Address:
15-17 Blandford Street
London
W1U 3DG

Transport:
Tube: Bond Street tube
Contact:
Do you own this business?
Average User Rating
3.6 / 5
Rating Breakdown
5 star:

5

4 star:

4

3 star:

1

2 star:

0

1 star:

3
Trishna Restaurant.I must write to relate the most awful of restaurant experiences that I have ever encountered in my twenty plus years of dining out! . To cut to the chase the experience was so bad that we had to leave. We made a booking for 7 pm. We were called at 5.45pm to let us know that we would have to vacate the table by 8.15pm. We accepted the offer of an earlier table at 6.30pm. On announcing our arrival to the maître 'd we were asked to come back in 10 minutes while they were setting the table. To be clear, although a little awkward, there was nothing unpleasant about this interaction. We opted for the 5 course tasting menu. From this point the experience degenerated markedly. Our waiter, in sommeliers attire, had an attitude of a disgruntled school boy who was doing us a favour by serving us in his off hand and frankly rude way.The waiter told us that he would bring some papads for the table. We politely replied that we did not want papads. Papads arrived and we were told rudely, that he did not order the papads but the chef had sent them any way. We were also told that we could eat them if we want. Before we had a chance to reply he had left them on the table and walked off. Next we were choosing a wine we asked about a particular wine to be told rudely 'what do you want to know about it?' His whole attitude was rude. This was very unpleasant. We chose to ignore this and ordered. The wine arrived and said waiter gruffly presented the wine to my partner – making no eye contact with her and in fact looking at me. He then roughly poured the wine into my glass presumably to taste, made no sign or sound. There was no 'service ' from this waiter. The idea of customer service was completely off the menu. I felt like I was being served gruel in a Siberian prison by a guard. We had ignored this man's rudeness and lack of service thus far in the vague hope that it would pass or settle down to a tolerable level. But no it was simply becoming intolerable.I told him that he was lacking in any kind of service.He simply argued that he was right, criticised my use of language. He continued to insult me and told me that I should leave my problems and not take them out on him. I felt it was rather the other way around. We asked to speak to the manager, to which he replied, unconvincingly that he was the manager. He told me that he would not be spoken to by me, the customer, and if I didn't like it I could leave. We had come out for a nice meal, not to be dealt with rudely and in an off hand manner. We left.I cannot emphasise what an unpalatable experience this was. This waiter really made us unwelcome and unserved.We never made it as far as the main course. Please do not patronise bad restaurants such as this one. There are many good restaurants that you should try instead with impeccable service.
Third and last time dining here. As before, the food was very good and the service gracious until the tea, if oddly slow coursing. We had the five-course dinner, which took nearly 2 1/2 hours to finish; we are not particularly slow eaters and there were long periods between courses. An adjacent table which also ordered the five-course dinner ordered after us but finished while we were eating our main. Following dessert, the served ask if we'd like tea. My husband requested tea. As soon as the tea was placed in front of him, the manager came over and told him that the next party had arrived and needed their table immediately. The manager did not say please, thank you, sorry, my fault, hello...or make any evenly vaguely polite. Nor had we nor seemingly the servers been advised that the table had to be vacated, else we or the server might have thought to look at the time before the manager ordered us out. As it was, my husband gulped his tea, paid, and we hustled out in record time--5 minutes. The manager had the table by two minutes past the hour. We would have been shocked to be treated in so poorly in any restaurant, much less a 1-star Michelin restaurant. Fortunately, there are many London Indian restaurants (Jamavar, Dishoom, Amaya etc) that are as good or better AND are well-managed.
We had dinner at your restaurant last night and found your level of customer interaction at best tepid and really in poor form. The two rather elaborately dressed gents at the door who we took to be owners could not give a toss when we arrived - not even bothering a smile or even engaging us with any level of common courtesy. The food was average and we left with - why did we even bother to go out to an average restaurant manned by 2 clownish looking gents who we felt that it was beneath them to serve customers. There are better Indian restaurants in London at a fraction of the price run by well mannered people- in short don't bother with TRISHNA, 15-17 Blandford Street, Marylebone
Delicious food, staff very friendly and fast, try the tea for dessert!
Went here last night with two friends and the food was absolutely delicious. The staff were friendly, kind and didn't mind that we were there for the cheaper early evening menu (available to order between 6.00-6.15 on a Thursday evening and varying times on other days - see their website). The wine waiter helped us find a reasonable bottle of wine and they didn't hurry us from the table. It is rare to taste Indian food of this quality in London with such nice staff and a friendly atmosphere.
Simply the best Indian food in London. Whether you prefer Lahore in east London or Benares in the west end I recommend you try this place. The staff are very helpful and the food is great. Highlights are the lamb, guinea fowl and duck. This is proper Indian food!
I had organised a birthday dinner for 10 friends of mine yesterday. The restaurant looks very modern; hard to tell the cuisine is Indian. Good atmosphere and I have to say the food was very good. It's more refined, but still VERY GOOD Indian. Service could be slightly better. Highly recommended.
Good food from the Lunch Bites menu. The sommelier matched the wine flight very well to our food choices. The seafood salad was particularly good. I would return but for two points. Our waiter didn't clear away our finished meal until we had finished our wine - 20 mins with the leftovers still on the table wasn't great. Also, the "discretionary" service charge was actually obligatory; I wanted to leave a tip, in cash, but not the prescribed 12.5% as I felt the service did not warrant it. Although we asked the service charge to be removed from the bill and I would leave a separate tip. The waiter said it wasn't possible, and to cap it all when I paid on card I was prompted to leave a tip!! Nice for a one-off but I doubt I'll go back.
super food, super service, fantastic wines! will be visiting again and recommending to all.
We visited Trishna on a Saturday evening. It was very busy and lively but the service was exceptionally quick and our waiter was very attentive and friendly. We had the tasting menu which was a fantastic choice and the wine which our waiter helped us choose was a fantastic compliment to the dishes. A thoroughly enjoyable evening. We will be going back ASAP!!