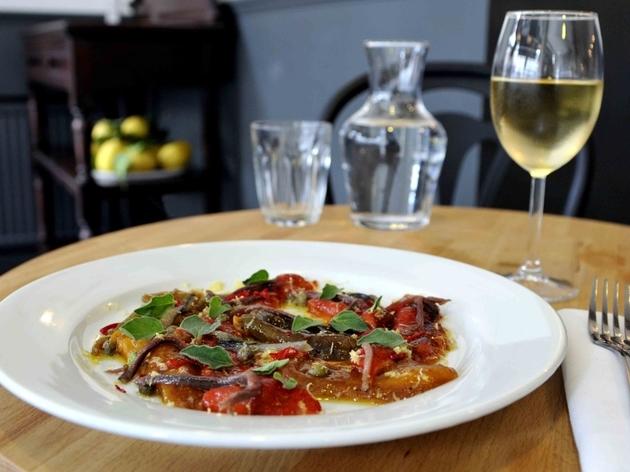 Time Out says
Highbury's star Italian, two floors of contemporary trattoria with a serious reputation for fresh pasta, charcoal grilling, and wicked fruit tarts.
While evenings are still busy-to-frantic in this two-floored contemporary trattoria, lunchtime finds Trullo calm and the cooking relaxed and assured. A bargain £12 set menu gleans two courses (primi plus either antipasti or dessert) from a daily-changing menu. On our visit, the tempting selection of starters included bright British asparagus with parmesan, and cured trout with wilted spinach and poached egg. Slivers of grilled ox heart were perfectly cooked, with the accompanying roast shallots, beetroot and horseradish almost, but not quite, overwhelming the unexpectedly delicate flavours. Pappardelle with beef shin ragu has been a staple since Trullo's early days and remains a silky, substantial delight. Seasonal tagliarini with nettles and nutmeg featured an uncooked egg yolk wobbling daintily atop a vast pile of green pasta; when mixed in, it made a wonderfully creamy dish.
In opting for the set menu you miss out on the roasts and grills, but as a giant Black Hampshire pork chop and generous cod with cannellini beans and mussels whisked by our table, we weren't sorry to have missed out on them – after all, where would we have put the succulent loquat and almond tart?
Details
Address:
300-302 St Paul's Road
London
N1 2LH

Transport:
Tube: Highbury & Islington tube/rail
Contact:
Opening hours:
Open 12.30-2.45pm, 6-10.15pm Mon-Sat; 12.30-2.45pm, 6-9.15pm Sun
Do you own this business?
Average User Rating
4.4 / 5
Rating Breakdown
5 star:

13

4 star:

4

3 star:

0

2 star:

0

1 star:

2
Being a big fan of Padella , I've been wanting to try Trullo for a while. The meal was a delight and the pasta certainly did not disappoint.
The restaurant is smart yet feels cosy. Our table was downstairs where it feels like a tavern. For starters, I had the burrata with marinated chard which was nice but I'm not convinced the combination is a hit. Personally, I prefer the burrata dish in Padella where it's served only with Puglian olive oil. For pasta, I had the Papardelle with beef shin ragu topped with Parmesan which is one of my favourite pasta dishes. The Dorset Lamb rump was perfectly cooked and goes well with the garlicky salsa verde. The accompanying soft polenta was more of a miss. Dessert though was on point, the tiramisu was 👌 and the lemon tart was tangy and just slightly sweet served with cream. If I had the room for it, I would have ordered the chocolate and quince tart too which was rich and delicious. To wash it all down, we had a light red wine, the Velluto Valpolicella red.
Overall, a great Italian venue for larger group as it take bookings. However dining for one/two my vote still goes for Padella.
I haven't been to Padella due to my hate for queuing, so I had no idea why people were so hyped about a bit of pasta. After visiting Trullo, I finally get it.
Our Friday lunchtime visit was extremely pleasant with no crowd and a pleasant atmosphere. Service was excellent - everyone was incredibly friendly, kind and helpful ("if you don't understand any of the words just ask me, no need to Google!"). And the food was just heavenly.
The pasta is fresh and needs nothing more than what it gets - a bit of amazing beef ragu, or even just butter and black pepper. But the thin, delicate and delicious ravioli with ricotta and spinach won first prize - I could have had this for all three courses. The pasta is undescribably different from what you cook yourself, full of flavour and colour.
The mains also get five stars, except maybe the duck which was a bit dry. But the lamb dish was cooked to perfection, accompanied by roast, stuffed aubergine; and my vegetarian dish was actually the best plate of fresh veggies I've ever had. It included roast squash, lentils, chard, mini carrots (which were the absolute winners on the plate), accompanied by a small heap of goat's cheese. Everything was fresh, seasonal and just perfectly cooked. I can't tell you how exciting it is that a simple combo of vegetables makes me smile and rub my tummy happily.
The menu varies slightly day to day and gets a complete refresh every two weeks, so you're always in for a surprise. But only the good kind - it would be hard for these guys to get anything wrong. So much love!
From the infamous team at Padella comes this incredible restaurant. This had been on my "to eat at" list and I finally ticked it off with some friends. It did not disappoint! Our waitress took the time to take us through the menu and her enthusiasm and passion was contagious and we immediately wanted everything she described! We shared starters and mains and loved it all. True Italian food, simple great ingredients coming together to create delicious food. A perfect local restaurant- great for a casual night or for date night ;) Highly recommend the ragu!
While the most instagrammed dish here is the beef shin ragu (which definitely rocks), it's the ribollita that stole our heart. This Tuscan soup of kale, beans, bread and pancetta is layered with flavor and warms a rainy winter day.
Also love the ambience in the basement level with its cave like booths.
Such good food and service
Always had good service and good food here. Love the menu and great position.
This is my little neighbourhood restaurant, five minutes walk away except it is no ordinary little Italian in the corner. It's stylish, sophisticated, self assured, contemporary and urbane trattoria in the heart of Highbury.
Trullo's sophistication lies not just in its decor or ambience but the menu - which is short. The longest menu is the antipasti, and the rest have about 3-4 items. The dishes are created around the fresh pasta and charcoal grill using seasonal produce and inspired by Italy.
The cooking is self assured and unfussy. Every single thing, including the bread - made daily in the premise - was delicious.
My favourite dish so far is the nettle and sorrel tagliarini with a fresh, vivid yellow egg yolk in the middle; smiling at you like the bright Tuscan sun over the greenest field. I am still dreaming of it.The staff at Trullo teased me to call ahead if they are serving the dish on the day I plan to come.
I love Trullo so much - I have been there three times in 10 days. In fact the third time I was there, my friend asked if I was just there the night before since she saw my photos on Instagram.
While some of the dishes are traditional, most are not the kind of thing you find in other Italian restaurants in London. Jog your palate a little, take it to Trullo. It won't disappoint... it might even convince you to go there twice or three times on the same week.
Consistently great neighbourhood Italian with small menu and fantastic food. Love it!
My partner and I had a fantastic evening at Trullo, with a beautiful Italian inspired seasonal menu (given, a small one at that) the Pappardelle with beef shin ragu was an absolute delight! Despite it being a Monday evening it was surprisingly packed, so ensure to book in advance to avoid disappointment.
A vlog of our experience can be found on our YouTube channel: Interestaurants
Why calling the restaurant Trullo if there are no connection with Puglia? Not even the Extra Virgin Olive Oil! The menu is from north of Italy!!!! I'm sure food is great but the name is misleading for people who have been to puglia and hope to find genuine pugliese food!
I went to Trullo for a casual lunch with my partner. I was really pleased with the raw cauliflower antipasti and the pasta, which was tasty and so authentic to me. I am italian by the way, and was very surprised by this place. Will go back.
Love this place. Friendly service and excellent food. Highly recommended local restaurant.
I have been thoroughly impressed in my visits to Trullo. The food is adventuresome without being needlessly difficult, and quite simply tastes very good. I have had less luck with some of their fixed menus, but when I have eaten here a la carte it has always been exceptional.
I had looked forward to visiting Trullo (18th October) after reading the positive early reviews. But was disappointed. The special of Figs and Mozzarella was underwhelming, small portion of figs overpowered by a large lump of cold mozzarella and slice of bruschetta. The main course I chose was plaice, white beans and roasted pepper. Plaice was fine if simply cooked. The beans were in a lot of juice which renders the fish soggy.Roasted pepper really lacked any finesse. Composition as well as presentation in both courses lacked any sophistication. By this time I had lost heart and didn't try any of the deserts. Other problems - the wine in the carafe was not chilled enough and the waitress cleared glasses, plates, bread the second they were finished. In fact in the end took the wine away before it was finished! We were well within our time slot so the effect of this was to make us feel rushed. So sorry would not recommend Trullo to friends.
Yeah! Trullo rocks! ....just had the best Tapas dinner ever (at least in this neighbourhood) in their basement and now i keep on dreaming bout going back! A feast for our tastebuds and very nice Staff that helped keep on ordering and stuffing our faces! cheers!