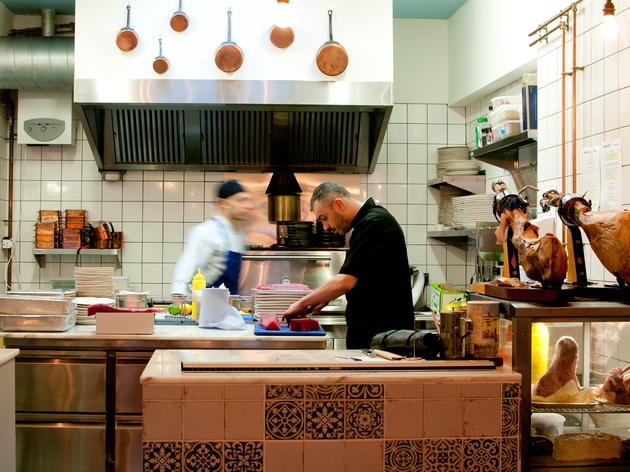 Close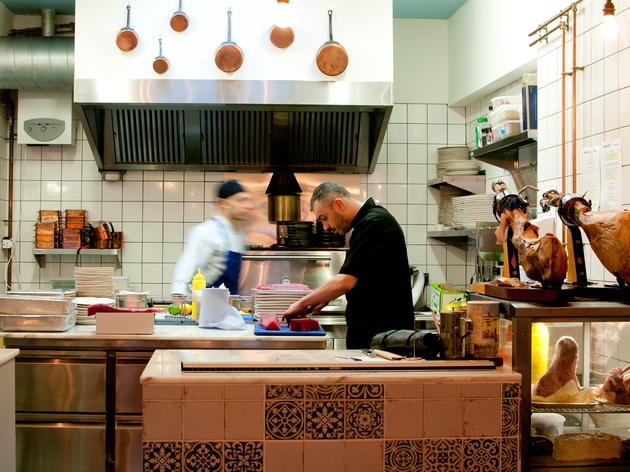 1/19
© Tricia de Courcy Ling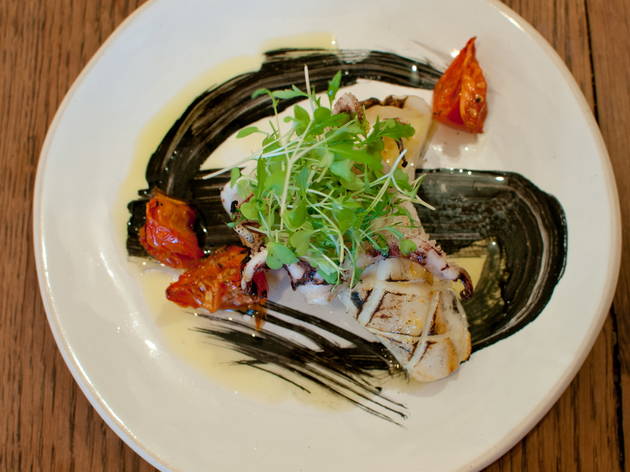 2/19
© Tricia de Courcy Ling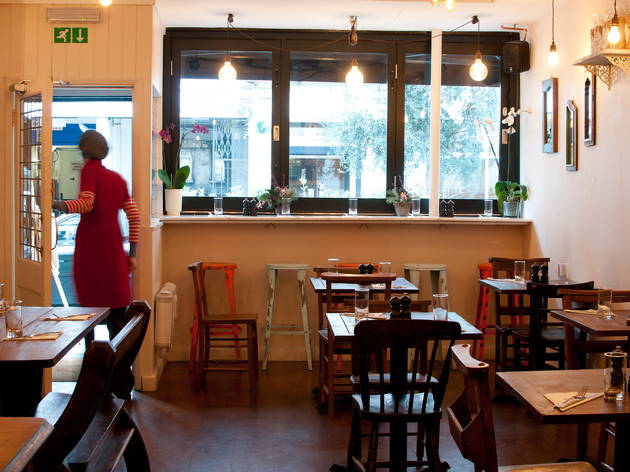 3/19
© Tricia de Courcy Ling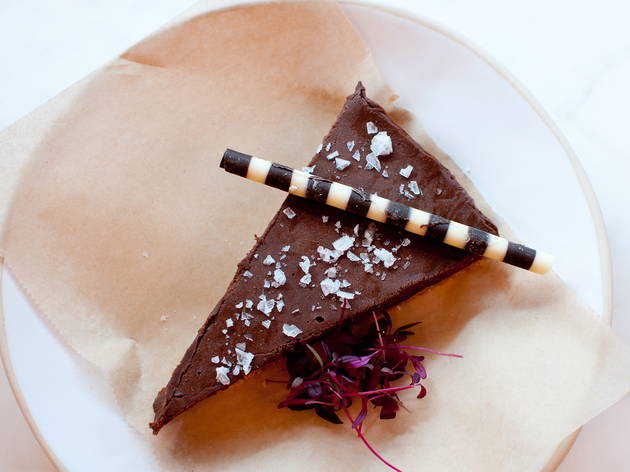 4/19
© Tricia de Courcy Ling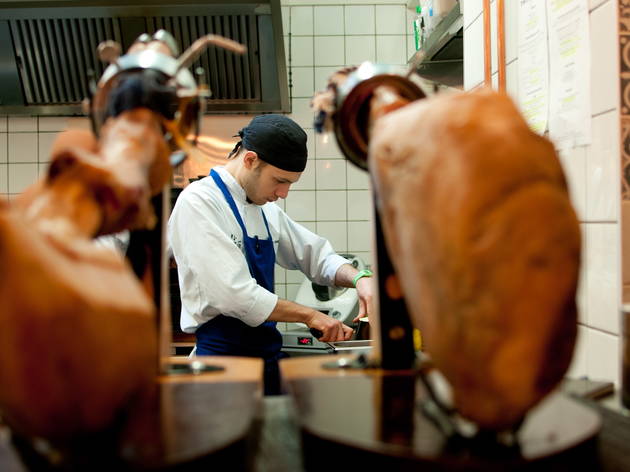 5/19
© Tricia de Courcy Ling
6/19
7/19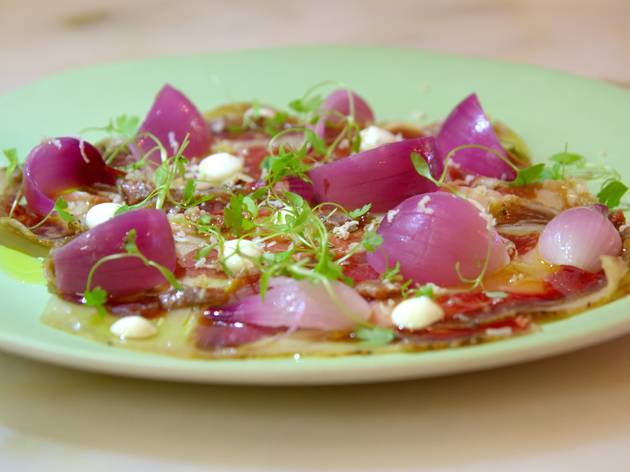 8/19
9/19
10/19
Jonni™
11/19
12/19
13/19
Jonni™
14/19
15/19
Jonni™
16/19
Jonni™
17/19
18/19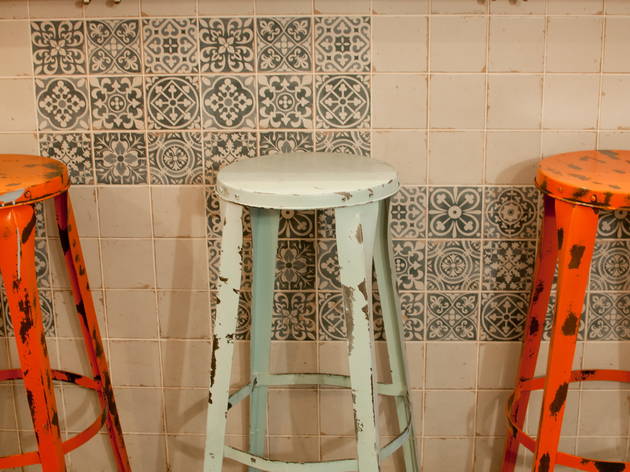 19/19
© Tricia de Courcy Ling
Charming Marylebone restaurant with dazzling Spanish and Italian dishes served by unfailingly friendly staff.
Ordering dishes was simpler in the old days. Proper menus had starters, main courses, then desserts. Only children, the infirm and johnny foreigner ate small portions. But now, every restaurant in London has a 'small plates' menu. Urban sophisticates no longer go out for a slap-up three-course meal; they head to filament-bulb-lit hangouts to graze as they text, tweet and take selfies. How did this happen?
As the British of the pallid hinterlands supersize themselves with ready-meals eaten in front of 'MasterChef', Londoners are going to the other extreme, nibbling and foraging and table-hopping like rabid bunnies.
The small plates menu is, however, nothing new. The Spanish call it tapas; the Turks call it mezze; we all call it yummy. It's not often you see an Italian chef embrace small portions, but that's exactly what Neapolitan Eduardo Tuccillo has done at this charming little Marylebone restaurant. Rather than stick to southern-Italian dishes, he's mixed it up a bit with Spanish and other Mediterranean influences.
The freshly-made pasta was perfect – firm and unevenly shaped fettuccine perfectly slathered with a creamy mushroom sauce heady with truffle. Seafood is a strength, with fat and juicy prawns cooked the Spanish way, a la plancha, with chilli and garlic, then served on a purée of jerusalem artichoke – an inspired combination. Squid was char-grilled but still pert, a dash of its ink painted on the plate. There are also Spanish and Italian cheeses and charcuterie to choose from, but with a kitchen that's clearly packing a lot of talent, we suggest sticking to the cooked dishes – our risotto, stirred with Cacio Magno ewe's cheese and a dash of Amalfi lemon juice, was faultless and didn't really need its extra topping of wafer-thin slices of raw beef.
Top-flight ingredients are in clear evidence throughout, such as in a dense chocolate tart, flavoured with fleur de sel. Dishes are on-trend without being too silly; pannacotta was served in a Kilner jar, but that's as pretentious as it gets (and, for the record, we saw no diners posing for selfies). Because Twist is really a stylish and grown-up neighbourhood restaurant that just happens to have an honest commitment to quality cooking. This is backed up by service that was unfailingly attentive and smiling without being uptight, and a wine list diverse enough to cater for most tastes and budgets, with a particularly appealing by-the-glass selection. What's more, although small plates usually require small appetites to limit the bill, you can eat very well here on three dishes each. That's a twist we can shout about.
More
Less
Twist says
Our twist: impeccable sourcing of high-quality ingredients, protected designation of origin products and the best sustainable meat from a multiple award-winning traditional British farm. Our head chef follows the rhythms of the seasons and keeps the freshness in his beautiful, tasty dishes.

Twist has been built from a foundation of deep respect for the food we cook with daily, our ingredients are sourced from suppliers who share our passion for healthy and sustainable food, and are kept seasonal whenever possible. Our simple cooking style reflects their quality, letting the natural flavours and textures speak for themselves, so that as we explore ever-varying fusion combinations, the beauty of the raw material remains.
More
Less
Venue name:
Twist
Contact:
Address:
42 Crawford Street
London
W1H 1JW

Opening hours:
Monday to Thursday 12:00-15:00 & 18:00-23:00 Friday 12:00-15:00 & 18:00-23:30 Saturday 12am till midnigth Sunday Closed
Transport:
Nearest Tubes : Baker Street, Marylebone, Edgware Road, Marble Arch
Price:
Meal for two with wine and service: around £90.
Menu:
View Menu
Do you own this business?
Average User Rating
4.8 / 5
Rating Breakdown
5 star:

12

4 star:

3

3 star:

0

2 star:

0

1 star:

0
Unpretentious, easy-going, shortish menu but very well-rounded.We went for the "tapas" sharing style and we ordered 6 different dishes, from babaganoush to padron peppers , from foie gras to chicory tacos. All in all a good combination of small portions that made our culinary adventure a true delight. The place is small but they compensate with good service and good prices. I could not say it was Spanish tapas, but rather an international fusion of dishes served tapas-style. Good quality, good flavours and good location.
Media is no longer visible.
Been to ''TWIST'' on 5 occasions after stumbling across it 3 days after opening. The fantastic quality remains the same, getting a table has inevitably got harder, Tapas with an Italian twist, phenomenal flavours and a changing menu, Bar downstairs, All round winner whatever the occasion. Wherever you live, going to Twist is a must.
Twist is simply the one and unique little restaurant with amazing food with so much love !!!
The very best of the very best! Every dish is so flavoursome and the ever changing menu makes this place always a new discovery.
Love it here - feels small and local but with global fare - amazing!!
Amazingly friendly and accommodating staff. The ever changing menu is so tasty using seasonal ingredients. The chefs love of food really comes across in their reasonably priced menu. They also have a fantastic wine menu
Twist is my top list tapas restaurant in London the service is always very good and helpful we find new dishes all the time with amazing quality ingredients we love Twist
Never disappoints. All dishes we order and we do try and order some different dishes every time we go are consistently good and the staff are lovely.
been a regular at Twist and i love this restaurant the food is a jurney around the world with amazing taste with very good service and a good selection of wine love twist !!
Beautiful fusion of tapas, flavourful and well balanced, very welcoming, friendly and knowledgable service, very special experience to dining at Twist, everyone should give it a shoot
This is not your run of the mill neighbourhood restaurant. Love of food is central here. There is a lot of passion and creativity in the kitchen and we always feel welcomed by the charming and professional service team.
We eaten at twist several occasions and never disappoint amazing taste and great service
best fusion tapas with quality ingredients charming atmosphere great service!!!!