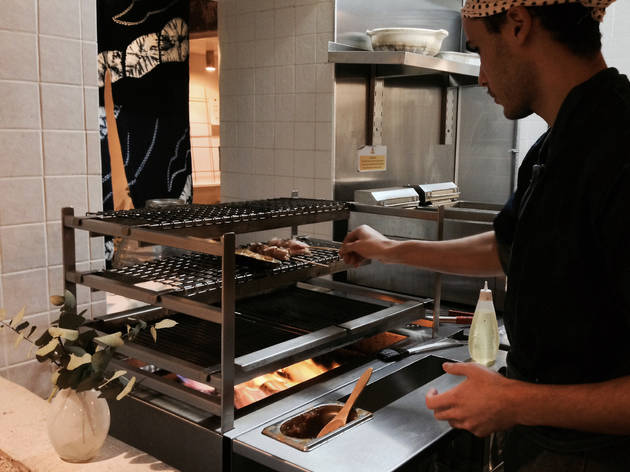 1/2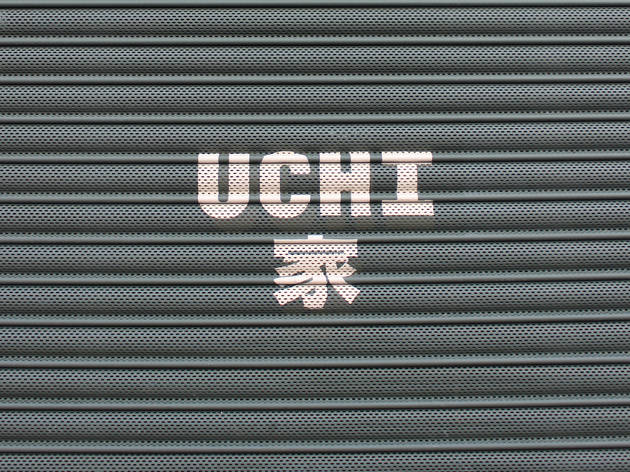 2/2
Time Out says
A pretty-as-a-picture Japanese restaurant with twists on traditional, home-cooked dishes.
On a residential Hackney street, someone's Pinterest board has come to life. At least, that's how this Japanese restaurant feels: from the brushed gold countertops, untreated wooden stools and pretty glass vases with delicate foliage, to the square cards that make up the specials board which, naturally, are held together by mismatched bulldog clips. The lighting is soft – perfect for a date – the music soothing and the atmosphere relaxing. If it wasn't for the obligatory wino staggering about outside, it all might feel a bit too perfect.
The menu, while not exactly a tome, boasts all the usual suspects: thickly sliced, melt-in-the-mouth tuna sashimi; piping-hot, fatty karage (fried chicken) with an interesting chilli-kick; succulent charred pork skewers. But it was the veggie dishes that really stood out. A 'seaweed and carrot salad' might sound like food for an amphibious bunny, but it was deep, earthy and full of umami satisfaction. Mushroom and spinach nigiri might sound bland, but had a wonderful fleshiness (they contain huge pine mushrooms) and came packed with sesame. And the texture of the sweet miso aubergine was perfect: soft but still solid and not in the least bit sloppy. Whatever you do, ask for the black rice and tempura broccoli maki – a rainbow wheel of veg and rice wrapped in crisp nori, the lightly-battered broccoli giving it all a satisfying crunch. Technically a 'special', it would be a real shame if this dish doesn't become a permanent fixture.
The attention to detail in the décor is reflected in the presentation of each dish – everything is mouth-wateringly beautiful and served on dainty crockery with banana leaves. It's an almost perfect place. It's just a shame that on that night, the pacing was so off. The food arrived in an onslaught and the table soon resembled a Tudor banquet, meaning that the meant-to-be-hot-and-cold food was quickly all the same as the water on Mariah Carey's rider – room temperature.
Details
Address:
144 Clarence Rd
Lower Clapton
London
E5 8DY

Transport:
Rail: Hackney Downs
Contact:
Opening hours:
Mon, Thu & Fri 6-11pm; Sat 11am-11pm; Sun 11am-8pm
Do you own this business?
Average User Rating
3.6 / 5
Rating Breakdown
5 star:

2

4 star:

1

3 star:

0

2 star:

2

1 star:

0
- First of all: impossible to get a hold of someone on the phone to book a table, then you arrive at the restaurant an all tables are miraculously booked.
- they don't open for lunch, or on Tuesdays and Wednesdays, although they write on their window: monday to saturday from x hs to y hs and only way below they tell you they are closed on Tuesdays and Wednesdays. Hence I tried to have lunch there and dinner on a Wednesday only to get the door shut, since they never pick up the phone to inform you of such oddities.
- the food is very SO SO. I'm a sushi fanatic and have eaten it once a week for the past 18 years and I know good sushi when I have it.
- on the other hand it's very hard to get a taste of their food as everything is served in a tapas style, with every mini sushi/sashimi dish costing £13 on average. Even if you spend £50/head you still leave the restaurant hungry. There are no sushi/sashimi boxes/combos! It's like they don't like sushi themselves as their menu doesn't reflect a sushi eater's choice. We like to eat loads of it! But I guess it's the best way to make somebody leave top ££££ on their table.
- the biggest problem of all: they are in Hackney, and it's by far the most expensive sushi restaurant I've encountered, while serving extremely mediocre sushi. Wanna have great sushi? Go to Sushi City. Wanna have great fancy sushi and leave with a tummy full of sushi? Go to Nobu. Wanna pose as if you're in Marylebone? Can't do! Even in Marylebone, Chelsea or Soho you have 10,000 times better sushi for half the price. And think that they pay 4 to 5 times the amount in rent, good wages, and that they have to have good quality because they have competition in the area.
- I would've had to spend around £100/person to leave with a tummy full of sushi... in Hackney! Hahahahahaha never even thought any place could be worse then Sushi Samba when it came to posing hahahaha
At least I left Sushi Samba with a tummy full of mediocre sushi the 2 times I've regrettably been there. There won't be a second time in this Uchi. Ridiculous!
- I'd much rather go to Nobu for many many reasons and I'd spend a lot less to be properly fed in authentically posh location.
Get over yourselves Uchi! What a joke!
Wow, what a complete and total disappointment. A comprehensive listing of missteps would go on for awhile, but let's just say that every last thing was too salty, the tempura was soggy, there was a bone in one of the pieces of nigiri sushi (!), and worst of all, the rice was the wrong texture for sushi. I agree with the reviewer below who couldn't understand how people who eat and enjoy sushi could possibly feel OK about serving this food.
The space is lovely, and filled with thoughtful architectural touches, and it's pleasant to sit at a window onto a slice of Hackney life and watch the evening go by. But the service is awkward-to-outright-clumsy; the food is honestly in the lower tier I've had, even in a city not known for its mastery of Japanese cuisine; and insult to injury arrives in the form of a check that wouldn't be out of place in the heart of Soho.
We really, really wanted to like Uchi, and during the first fifteen minutes of our meal found ourselves ginning up increasingly elaborate excuses for the inexcusable, but finally we began to feel like the butt of an inexplicably nasty joke. When one of the dishes we'd ordered failed to show up, it gave us a perfect excuse to cancel the order, settle up and duck out before our mood and the evening could be spoiled completely. Still holding out for a place in this part of town that attempts to do this sort of thing and gets it right, though.
Delicious food, lovely vibes, friendly staff.