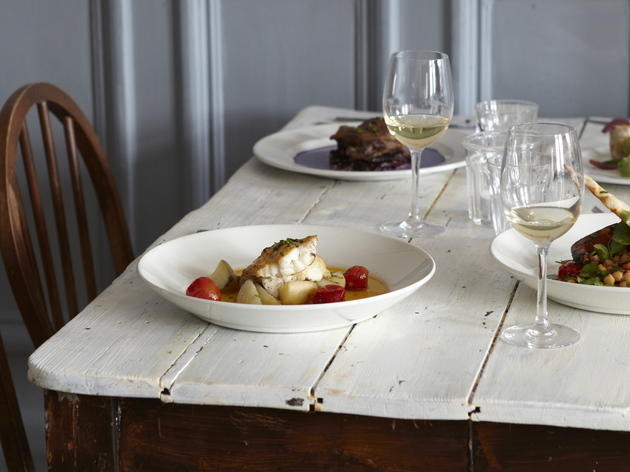 Time Out says
Please note, Upstairs at Amuse Bouche was formerly called Claude's Kitchen, which this review refers to. Head chef Claude Compton is no longer with the restaurant. Time Out Food editors, May 2019.
The last time I was here, everyone was crying. No sinister reason: it used to be a function room, and we were over-emotional at an emigration party. These days this 'room above a pub' is more likely to have you weeping tears of joy. Set above Amuse Bouche (an inviting bar selling champers at friendly prices), the room has found new purpose as a terrific neighbourhood restaurant.
The vibe is charmingly casual: the high Victorian ceilings have been strung with filament bulbs and the fireplace filled with tea-lights, while the champagne-themed posters are a hangover from its party space days. The coat cupboard is unticketed – you simply point yours out when you're leaving (they won't get nicked: this is Parsons Green, where people still queue in an orderly fashion for rush-hour buses).
But cut to the food, and it's an altogether more serious affair. Our bread came with flavoured butter, and we were served a large carafe of tap water infused with cucumber. The weekly-changing menu is courtesy of Claude Compton, who trained at Club Gascon and Petersham Nurseries. 'Claude is very experimental,' gushes our waitress, 'but he's got a great palate, so it nearly always works.' She's not wrong.
Both starter and pud were innovative without being wacky, bringing interesting ingredients to life. There were spears of white asparagus finished with goat's curd, zested lemon and a dusting of onion ash, and a finale of blood-orange slices drizzled with thick raspberry vinegar. But the real star was our main course, which took ordinary ingredients and elevated them to greatness. A beef cheek had been slow-cooked to melting point, then teamed with a blend of tartare and horseradish sauce: creamy yet sharp, with chunks of gherkin. Perfect. The meat came over a dollop of creamed parsnip, finished with a silky hint of white chocolate. A hunk of bone stood to one side: the marrow had been scooped out, mixed with parsley and breadcrumbs, then returned to its shell for eating with a dainty spoon.
But, it's not just good food that makes a restaurant, especially a local restaurant: it's great service. And Claude's Kitchen appears to have hired the nicest bunch of people in town. Ultra-efficient, warm and welcoming, they're everything you want. For all these reasons, it should be applauded.
Details
Address:
Upstairs, Amuse Bouche
51 Parsons Green Lane
London
SW6 4JA

Transport:
Tube: Parsons Green tube
Contact:
Do you own this business?
Average User Rating
4.4 / 5
Rating Breakdown
5 star:

7

4 star:

1

3 star:

0

2 star:

0

1 star:

1
Extremely poor. I'm never one to write a review but it was bitterly disappointing.
- We walked in to Claude's Kitchen and the staff member said 'take a seat anywhere'... with only half the restaurant full, a quarter Of the tables had not been reset - were an absolute mess.
- We took a seat on Valentine's Day with two tables with old desserts next to us. Our bread came out and we had to wait 15 minutes for side plates. a wine list and cutlery.
- Food was average after I was reading so many great reviews (no where near as bad as the service)
- I asked the waiter to clear the dirty tables next to us which was key with attitude
- At the end of the meal I said how dissatisfied I was and the girl who had been the cause of much of the poor service said that her staff weren't trained properly and that they were also understaffed.. she suggested a free drink downstairs after the £200 meal with service charge was already paid.
- Absolute disgrace - strongly suggest not to go here. Management should be absolutely ashamed of themselves on Valentine's Day.. and I heard two tables complaining about service and the food also.
-
Nice place and ok food but I guess personally I prefer less stuffy, more relaxed locales. If you're not in the faux-foliage covered conservatory bit you might get squished in a smaller 'less-romantic' section. I was grateful to be taken there and loved spending time with the person I was there with, but we felt rushed and ultimately I was still hungry a few hours later and we ended up at F**e Guys..
Great place, great staff, great food
Great food. Great atmosphere. Highly recommend it!
The best find in the area. Completely delicious food and gorgeous, understated setting. Favourite local for all the locals.
On Tuesday night, Mr D and I decided to head to my favourite champagne bar in Parsons Green. Here there is an incredible little restaurant serving up some of the best food I have tasted for a long time called 'Claude's Kitchen'.

The bar has an excellent atmosphere every night of the week and serves up one of the biggest selections of champagnes I have ever seen. Naturally, I had a glass of exactly that and Mr D settled for one of their bottled beers.


Claude Compton is the new Head Chef, and the kitchen's namesake, previously working at the highly acclaimed Petersham Nurseries and also the popular Club Gascon. His aim is to focus on great seasonal ingredients and michelin dining within a relaxed environment. He could not have got it more bang on.

We sat by the window and our menus were brought to us immediately along with some toasted bread and a choice of two butters, salted or tomato.
Settling on a carafe of house red (it was a Tuesday after all) for our tipple we browsed the menu, which changes weekly, offering a choice of 3 or 4 starters and the same with mains and puds - Excellent, no huge problem with choosing? WRONG! I found it impossible, even the non-carnivorous choices sounded delicious... Beetroot (curried), toasted spices, coconut, lentils and flat bread? - yum!



We decided there and then that we would share our choices 50/50.

Mr D settled on wood pigeon (seared) celeriac mash, cardamom, pickled red onion, lavender, honey and a port jus. The pigeon breasts were so tender and the sticky port jus was so delicious when mopped up with the mash, I didn't want this to end. The lavender hit was really subtle but such a nice addition along side the punchy pickled red onion. It just shows the skill of Claude's pallet. An all round winner and possibly the dish of the day. If you can get here this week, this is a must!



I chose the Cornish mackerel (line caught), crunchy red grape, blood orange, beetroot and Bloody Mary sauce. Really fresh zingy flavours complemented the oily fish perfectly. I was reluctant to hand over Mr D his half as it was a tasty, refreshing dish to start a meal with. The acidity of the orange and crunchy grapes brought the whole dish together in flavour and also texture. It was also a very pretty dish, lots of lovely spring colours to help you forget this delightful British weather we're having!


Our mains arrived in good time - finally a restaurant that isn't pushing you to leave and lets you to enjoy your time with them!

Mr D went for the Megrim whole Sole (chargrilled and Cornish), wild garlic, almonds, new pots, shaved sprouts, sprouting broccoli and lambs lettuce. At least 3 of those ingredients I could eat everyday so we were onto a winner already. What was fantastic about this dish was the simplicity of it and the textures, soft perfectly cooked fish, al dente broccoli and then a hard crunch from the almonds were such a great combination I would attempt this again at home, however in fear it would never taste the same. The new pots were fluffy and buttery, a great added extra to an already perfect dish.


My main choice was pork belly with butternut puree, quince, black cabbage and Romesco. The pork was perfectly cooked and had a fantastic layer of crackling which we both saved (the best) till last. Romesco, a type of nutty, red pepper sauce often used in pasta was served as a quenelle and worked well with the succulent pork. This and the quince cut through the pork belly's sweet fattiness and the plate was licked clean.

One thing that we thought was fantastic about Claude's Kitchen, was that there is no need for additional sides. With the Chefs' impressive knowledge of food and ingredients, everything comes with exactly what it should.
Not quite bursting, we decided on having puddings. Mr D chose the 'sweet and sour rhubarb' which came with lemon and star anise possit and a hot piquillo tuille. The lemon possit was a sweet pallet cleanser and worked brilliantly with the sour rhubarb. The spicy tuille was unexpected but added a lovely crunchy texture.

My choice of sweet was (of course) chocolate parfait, red wine figs, beet crisp and fizzy grapes. The fizzy grapes came in an almost sorbet consistency and was delicious, cutting through the rich chocolate parfait and sweet figs. A good pud for you chocoholics!!



Overall, one of the most enjoyable meals we've had. All aspects of this British inspired menu focus on great ingredients, textures and fabulous tastes, all served in a relaxed and homely environment. It's on our doorstep, therefore, I will be back very soon...and wait for it... I was on 'Claude 9'!

Snap up exclusive discounts in London
Time Out's handpicked deals — hurry, they won't be around for long...