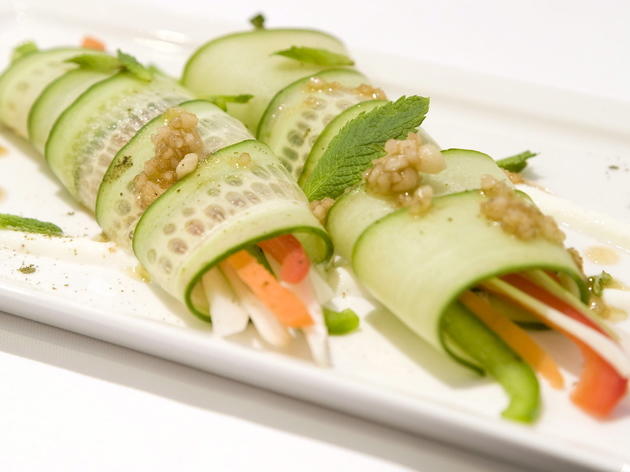 1/4
Ming Tang Evans / Time Out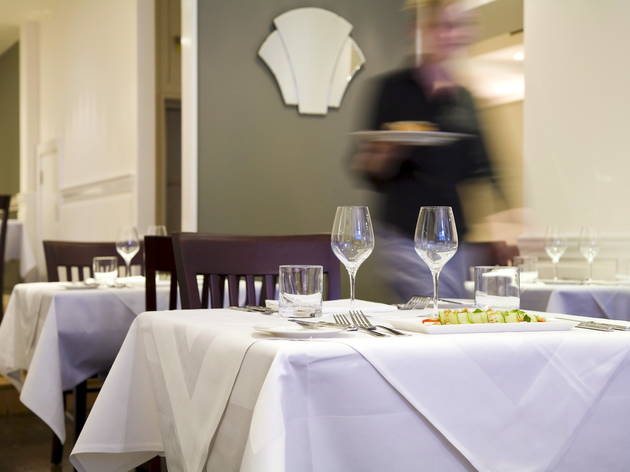 2/4
Ming Tang Evans / Time Out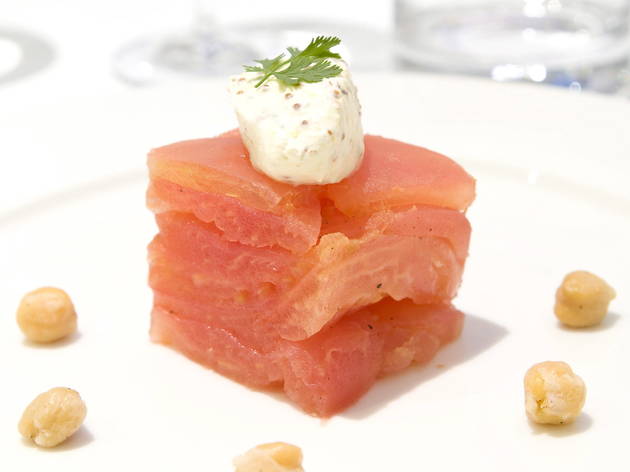 3/4
Ming Tang Evans / Time Out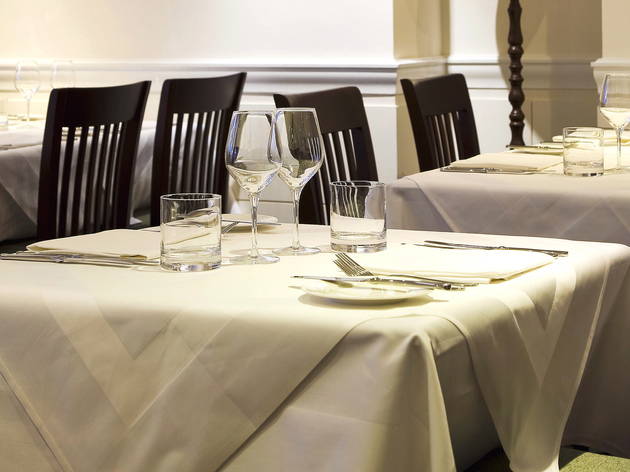 4/4
Ming Tang Evans / Time Out
Time Out says
An unusual proposition if ever there was one. From the outside, Vanilla Black is your average smart restaurant frequented by well-heeled couples young and old, and the odd suit. Even the menu gives no clue as to what awaits. The advent of a spoon was the first indication that a dish might not be what we expected, shortly before a deconstructed jacket potato arrived: a bowl of 'mash' with a swirl of tomato syrup and chunks of wensleydale lurking at the bottom. Another 'Hestonified' dish was a veritable tableau of toasted puffed rice towers, leek 'buildings' and fluffy iced lemon dumplings. Vanilla Black might easily be described as the place where tired taste buds go to be revived, as a parade of textures, tastes and temperatures will surprise at every mouthful. Continuing on the 'whatever next?' theme, desserts included builder's tea ice-cream and liquid doughnut. Service is discreet and attentive, and the atmosphere is relatively muted – though you'll notice a fair bit of smiling and smirking as dishes arrive at tables. This is clever cooking and, in the main, successful. You're unlikely to have tasted anything quite like it before.
Details
Address:
17-18 Tooks Court
London
EC4A 1LB

Cross street:
off Cursitor Street
Transport:
Tube: Chancery Lane tube
Contact:
Do you own this business?
Rating Breakdown
5 star:

5

4 star:

2

3 star:

2

2 star:

0

1 star:

6
I love the food here, yes it isnt the cheapest but their food is imaginative, and always super tasty and enjoyable.
Utterly disappointed by the ridiculously small portion sizes of the dishes. We all left still feeling hungry after a three course meal and went home to have a snack. Vegetarian fine dining can not operate in the same way as meat. Vegetables have less calories and the dishes need to have more substance to leave the guests feeling satisfied. I am a big lover of vegetarian food but will not be going back to Vanilla Black any time soon. Staff were friendly though....
I can not find anything positive to say about the food and the whole experience.
The whipped jacket potatoes with reducing ring and onion was in fact and in plain English a small ball of mashed potato and cheese yes nothing more than a cheesy mash potato with a badly executed onion ring on top: no batter! Your local chippy will do a better job at it We asked what variety of potato
they use for their whipped Baked Potato/Potato mash , the answer: Marris Piper. Yes, I know Amazing bog standard potato then?
Their "Own Lemon Butter" tasted as if some artificial lemon drop had been mixed with the butter to juice it up.
The yeast ice cream tasted like frozen marmite. In fact I am definitely sure it WAS Marmite mixed with cream.
The seaweed and cabbage looked dead ans sad like a plate of leftovers and tasted of powder artificial vinegar.
The staff is arrogant…. rand took positive criticism with eastern Yorkshire disdain.
I felt ripped off and abused as a dinner and as a vegetarian disappointed and insulted but I "admire" their marketing and PR campaign.
Food is all about personal preference, maybe the food here is too salty for some people, but I didn't notice an over abundance of salt personally. So I'm not quite sure what the complaints about.

I started with a whipped potato thing, which was amazing. I can't really remember my other two courses, I think they were pretty average, but the whipped potato was outstanding.
My girlfriend who is a veggie loved it too, and I also think it's worth noting that I am not a veggie, I took her for her birthday, and I wasn't expecting much, veggie food is usually pretty awful. However this place surprised me, and I'd consider it even if I wasn't with any vegetarians.
It definitely has some experimental dishes though, so if your a fussy eater, and like your food predictable, this is not the place for you. From the reviews below, I'd also stay away from the ice cream brie!
The worst veggie restaurant ever. Should be renamed Salt City. I presume from the high salt content of every dish that the chef has no taste buds and is a Nordic with a Heston complex without the experience or ability to actually make dishes tasty. A hotch-potch of flavourless rubbish that you wouldn't ever want to repeat. Too rich, too flavourless, too pretentious and far far too salty. Ice-cream Brie made me feel sick after just one mouthful. Some vegetables were undercooked and all in all it was a complete let down.
A huge disappointment. Ice- cream brie dish was disgusting! Goats cheese and cauliflower not much better. I was looking forward to dining here but will never return and it goes without saying really, not recommend to anyone looking for a good vegetarian dining experience.
Nice concept but the food was a let down.
The food was mostly very creative and tasty, but some of the dishes seem to compromise on taste for the sake of novelty. My main complaint is that the service was inattentive. At that end of the price range, I expect not having to waive vigorously to draw the attention of staff all the time (from order drinks right through till the bill).
We went to Vanilla Black as a Wedding Anniversary treat. My wife's a veggie (vegetarian, not retarded) and I'm not. We really enjoyed the meal. We went with recommendations from the waitress which I would recommend, as some of the other reviews point to some dishes being hit and miss. The flavours are very intense which is a pleasant surprise for veg food. My one negative point would be the desserts were a little under-sweetened. This is clearly deliberate, but it felt like we were having another main course. Still it was generally excellent and good value too at £60 a head for three courses plus wine.
Went to Vanilla Black for the first time a few weekends ago. I'm a veggie but haven't always been and I took my non-veggie family. I have to say that the rest of the family has a better meal than me, and on the whole the food was of an excellent standard. Top marks go to my main of Cauliflower and goat's cheese millefeuille which was unconventional but absolutely delicious. For me the problems lay in my other 2 courses. Starter was a beetroot dish which sounded amazing on the menu, however the beetroot itself lacked flavour, and the "baked porridge" was more of a granola. Not a bad dish just lacked flavour and depth. The real problem was the dessert. Feeling adventurous I chose the White chocolate and Cep tart. What a bad mistake. The cep was completely overpowering and the dish came with added licorice sauce/jel which was not on the menu and not very nice! Overall my meal was pretty disappointing, but the quality of the main course reveals the quality of cooking the establishment can produce. Clearly I just made some bad choices, as the rest of the family had lovely dishes. Special mentions go to the Yukon potato starter, the Hen egg and ribbesdale main (pretty rich I warn you!) and the Peanut butter cheesecake dessert which was heavenly!
I have been to Vanilla Black on two occasions (with at least 18 months inbetween) and both times I have felt welcome and enjoyed the food. Some of the alcohol-based flourishes to the dishes were not to my taste but they were modest and it was overall a lovely dining experience and I would definitely go again. It's great to go for something a bit different as I have been vegetarian a few years and already finding options for dining out somewhat limited. Reasonably priced considering the location, and staff very friendly explaining the dishes when we ordered.
A disappointing birthday treat, we will not be back. Went with high hopes, to find overpriced, bland, quasi-stodgy, and unimaginative food (retro in a bad way) with decor to match, reminiscent of a provincial spa. For stylish, high end vegetarian/vegan food, Saf is the winner in London by miles. OK, so they (Saf) do have some cheesy paintings up (that only serve to compromise an otherwise elegant room) BUT the food and the winelist and cocktails (and some nice exposed concrete) more than make up for that.
We dined at Vanilla Black at the suggestion of a concierge from Chancery Court. My dining guests were vegetarian however, not I. I have become accustomed to a "rustic" style dining experience when eating vegetarian food but found Vanilla Black to be a fine dinign experience. I loved the food- absolutely special. The attention to detail, delicate flavours and excellent service made it a wonderful dining experience for myself and my two young vegetarian companions. I predict that this restaurant won't be tucked away in this location for very long.