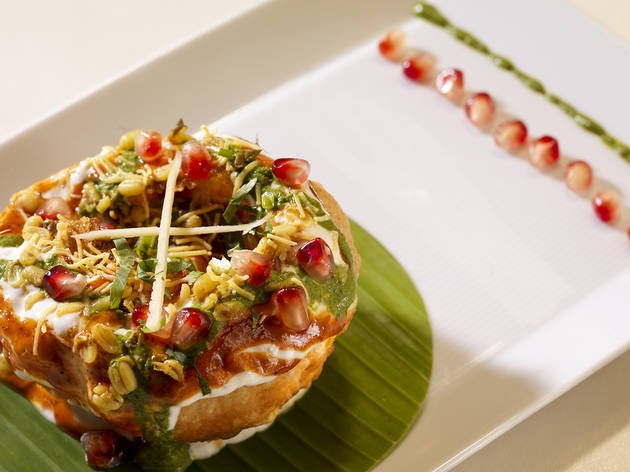 Time Out says
Enter through a tiny doorway just off busy Regent Street and a lift takes you up to a first-floor dining room with windows looking on to the retail chaos below. Veeraswamy has an air of granny's posh drawing room about it – if granny's family were royalty, that is. Tinted glass lamps, sepia-tinted photos of the Raj and plush carpets make the whole thing feel a little 1970s, in a retro-cool sort of way. The restaurant opened in 1926 and its owners' portfolio now includes Chutney Mary, Amaya and the Masala Zone chain.

Glitzy surroundings aside, the food is, in the main, outstanding. A starter of meltingly soft paneer layered with green herbs and warming spices arrives gently charred from the tandoor. The spicy paste on the perfectly pink amritsari lamb chops is authentically heavy on the ginger and garlic. A tiny portion of gulab jamun provides a perfect end to the meal. The only thing that jars is the cost. A fairly average bottle of red wine is priced at £34 and, moist and moreish though our chicken biriani was, all the 'aged basmati' in the world would never justify its £23 price tag.
Details
Address:
Mezzanine Floor, Victory House
entrance on Swallow Street
London
W1B 4RS

Cross street:
99-101 Regent Street
Transport:
Tube: Piccadilly Circus tube
Do you own this business?
Average User Rating
2.8 / 5
Rating Breakdown
5 star:

5

4 star:

1

3 star:

0

2 star:

4

1 star:

5
I have to give Veeraswamy a zero.
My friend I, after a few drinks at Kettners, wished to relish some Indian food. We walked to Veeraswamy and enquired at the narrow entrance if they had a table for two and specified that were looking for a rather light dinner. After some confused fuss over a table being available we went up the lift to find a rather empty restaurant. We poured over the menu and decided on what to eat. The person who took our order insisted that we have some thing to drink which we did not want, having enjoyed a few drinks earlier. Then he said that it was mandatory that we spend 35 pounds per head and clearly we were not up to eating many dishes.
What was objectionable was the obvious bullying tactics to run up a minimum bill. I think its not ethical, especially, when nothing to that effect was specified at the entrance. Its not a nice experience to walk away from a dinner table not wanting to put with someone dictating how much I should be eating.
The staff was very inconsiderate and was of "I care less attitude"
What they did not realize that if their food was so delectable we could have easily ordered for some more and even had drinks to complete the dining experience and the bill would have been definitely more than 70 pounds anyway,
They do not qualify to be in the service industry of food.
I have to give Veeraswamy zero stars. Unfortunately or maybe fortunately we didn't get a chance to taste the food. I can however comment on the very unpleasant experience at check in. I was there with my dad who was visiting from India, and having made a reservation a good few days in advance we had starved ourselves looking forward to a nice hearty Indian meal. To our utter annoyance, we weren't even allowed in since my dad had open sandles (24 Deg weather that day!) but an otherwise formal attire. I can understand a dress code in a club/lounge but if a restaurant wants to adhere to it so diligently, it should have been made clear either on the website or when I made the reservation. When I explained our situation to the manager on the day, Mr Sid, he very dismissively recommended popping out to the high street and BUYING a pair of new formal shoes !!! It was humiliating and offensive and in my opinion extremely poor customer service.
We then went over to Tamarind, an equally upmarket restaurant for a rather brilliant service and food.
Maybe their food is alright, but I know I will not be attempting to visit Veeraswamy again simply on principle.
Terrible service and food not worth the price. Indeed you have to check the bill carefully, as they add items you haven't had.
Way overpriced. Had the taster menu with drinks, and although the starters were good, the main course was distinctly average. There are many better Indian restaurants in London.
I was shopping with my nephew in regent street, when he was hungry we decided to go to Veeraswamy, there is a lift to take you up and when the lift opened the restaurant staff waiting there looked at me with a kid and laughed at us for reasons known to them. When i asked what was there to laugh at us, they turned away to hide their laughter. We had to wait for a table and we ordered biryani which was very expensive on its own. And as the biriyani was quiet dry we asked for some sauce or gravy. But we were told to order it separately, the cheapest we cuold get was an aubergine sauce which was itself £25 on its own. Every thing is very expensive and not worth the money. May be you can treat your clients there and if you can claim it in expenses. Otherwise for families it is not a good place to go. Long time ago it had a very good reputation, But i am told the standards have gone down in recent times.
Truly awesome experience here. Fantastic regional dishes, great service, very nice space with an interesting history. The food quality was uber-top-notch and the serving sizes perfect. Go for the South Indian (Kerala Prawn Curry, Lemon Rice). I can't wait to go back!
This restaurant is one of the best in London. Very posh and romantic settings.
The service is exquisite and the staff very charming. The menu is very unusual but the tastes are still very original and authentic. Our lamb shanks and prawn ...
More
This restaurant is one of the best in London. Very posh and romantic settings.
The service is exquisite and the staff very charming. The menu is very unusual but the tastes are still very original and authentic. Our lamb shanks and prawn curry were fantastic. Try the very well made cocktails.
Disappointing evening. Having visited Chutney Mary (awesome) and Amaya (mediocre) was keen to close the loop and visit the much talked about Veeraswarmy. Positives Nice central location, nice ambience, romantic, rose petals on table nice touch, attentive and friendly staff, & enjoyed my Raj Kachori starter (signature dish) - nice (not amazing) Negatives Overpriced for standard of food, didn't walk away feeling mesmerised by food (mesmerised by £140 bill for what we were getting), signature Hyderabadi lamb birayani was basic (given £25 price tag) - more impressed by mother in law's version! Confused and slightly tacky decor (not my definition of opulence) Wouldn't recommend in a hurry and unlikely to return
Not the kind of person writing comments about a Restaurant, I was looking forward to a wonderful evening with my friends who invited me to visit Veeraswamy I found this Restaurant unnecessarily expensive for the pretentious Indian food they were serving in the Restaurant. One very good point made by my fellow dinner stating the obvious "Most Indian Restaurants One goes to these days do not have Indian cooks, but Bangladeshi and Pakistani Chef" I'm an Indian but love the food prepared by Bangladeshi and Pakistani Chef, at least they have real taste & flavour. The service was reasonable for what it worth, my friends said service was better before. It's a real shame, probably will visit again in the future just to see if it was one off bad experience.
I think many of the negative reviews must have come from inexperience. Having Having lived in HK, Singapore & New Delhi, I can vouch the cooking is of the highest standard. Most Indian restaurants one goes to these days do not have Indian cooks, but Bangladeshi, so the Surrey takeaways or your 'local' Indian will give you a different taste. This place does not do mediocrity. What is does is give you a fantastic tour of the best of modern Indian cuisine has to offer. Crab cakes were delightful.
I just dont think most of the reviews below have got the point of this place. If you want a vindaloo or a kurma then go to your local Indian - Veeraswamy isnt the place that caters for that type of Indian cuisine. - This place is all about the other foods that India has to offer and i personally think they are fantastic. Ive been several times, never had an issue with staff or service and one time they actually recommended that i stopped ordering so much as they knew i wouldnt be able to eat it and that it would be a waste of my money! For a common or garden curry dont bother going but if you want a change from vindaloos and other standard dishes, you will not be disappointed. highty recommended
WIthout a doubt the best Indian meal we have ever had. The service was excellent; despite it being busy our glasses were never left to run dry and there was just the right amount of time between courses. The waiter took the time to talk to us, and the manager stopped by to check everything was satisfactory. In reference to the last comment, there were definitely at least 2 or 3 main vegetarian options. Overall, we cannot fault the Veeraswamy.
We went there and only veg items found are side dishes. Apparently the owner was not happy with the total amount and asked us to order more items. We immediately got up and left the place.
Andrew Wheal and Zed - my thoughts entirely. When we arrived seated in waiting area and given cocktail menu. When we said we didn't want any, they took us over to our table which had been booked! Husband loves vindaloo and was hugely disappointed with the very mild vindaloo he chose. There were no chutneys as appetisers on the table and when we spoke to them about how disappointed we were, there was no real interest. It felt as though they only wanted the maximum money from you possible. Our meal was £138 for main course only and, as Zed said, I have better meals from my local curry house in Surrey. We had told them beforehand it was a celebration for an octogenarian mother-in-law, who had enjoyed many meals at Veeraswamy in her younger days, but no acknowledgement made of this. She was just so disappointed at what had become of Veeraswamy. Decor was lovely but without the food and the attention to service, it is rather pointless. We will never ever return or recommend Veeraswamys to anyone
Snap up exclusive discounts in London
Time Out's handpicked deals — hurry, they won't be around for long...