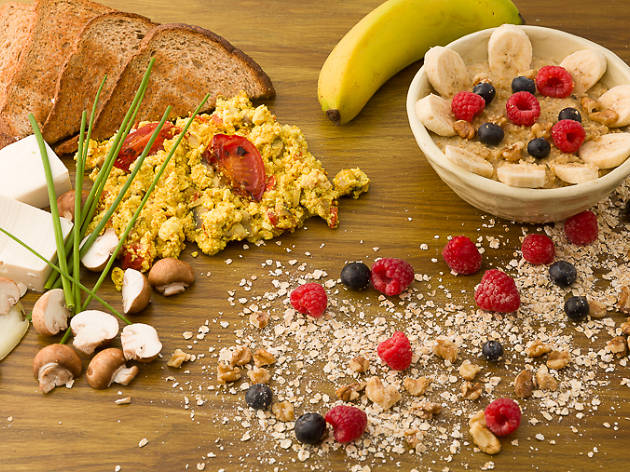 Time Out says
A vegan restaurant on Rupert Street, in Soho. Expect own-made light meals, cakes and cookies alongside bits and bobs from companies sharing a similar mindset – including energy bars from Aduna.
The menu draws influence from across the world, so expect a full English breakfast alongside falafel wraps, a soya hot dog, Chinese rice, an aubergine caprese sandwich and a coupe of dishes featuring pierogi – Polish dumplings here served with either spinach, or with potato and vegan cheese. Desserts include a vegan coffee cheesecake, crêpes with strawberry jam and an apple and cinnamon cake with raisin and walnut.
Fresh juices are available, too. Monikers hint at their supposed benefits – 'beautiful people' (carrots, apple and ginger) or 'turbokick' (pineapple, spinach, cucumber and lime), say. Daily specials also feature.
Details
Average User Rating
3.1 / 5
Rating Breakdown
5 star:

2

4 star:

3

3 star:

0

2 star:

0

1 star:

3
Visited in May 2016. I liked Vegan Hippo. I had a vegan 'egg' sandwich, which I thought was quite nice. I would recommend this cafe for lunch or cakes. :)
I visited this cafe with a non-vegan and it was unfortunate because the food was lackluster, cold and took 40 minutes to arrive - not a great example of tasty vegan food! I had the mushroom burger which had a crumbly patty that I took out and left on my plate due to the taste, the patty was barely warm and the bun was cold. My friend had the hot dog and fries (actually chips), the hot dog was rather cold and her order arrived about half an hour before mine did which wasn't great. Considering they serve such simple food, I would expect it to be done well. The price would be reasonable if the food was of a good standard.
I really wish this place was better as I want to be able to support smaller vegan cafes and I like the concept of simple, inexpensive vegan food :(
Central London pre theatre vegan cafe
My wife and I went to see the Book of Mormon last night, which is at a theatre close to Leicester Square, and the play didn't really live up to our expectations to be honest, but this cafe more than made up for it. Such a treat to be able to buy decent cruelty free food in the middle of central London without paying through the nose.
This place has really got it right. Why can't more places be like this without trying to be super fancy and doubling the price of everything?
I had the gyros wrap and my wife had the jackfruit burger. They were both filling but we still had space to share a slice of the vegan chocolate cake, which was rich and heavenly. The whole meal cost less than £20, and it was such a relaxed place compared with the other stuffy restaurants nearby.
We don't come to London very much because of the expense and general lack of choice for good vegan food, but we'll definitely be coming back here soon.
As a vegan for over 20 years, and a vegetarian for over 35 years, I feel it is so important to support independent little places like this that pop up from time to time, and that really make me feel proud of our community.
I thoroughly recommend the vegan hippo to everyone
John and Margaret
This was a really disappointing experience. The staff seemed all a bit down and it didn't really feel the venue was very clean. The jackfruit burger was huge - really difficult to eat and oozing bbq flavoured brown sauce which was quite slimey in texture. The kale chips were limp and some were chewy. These guys need to up their game.
I visited Vegan Hippo last week and I must say this place is a god send, I was aware of vegan places in shoreditch and hackney but now my vegan needs can be attended to whenever I'm in central. I had the tomato soup to start and then the Jackfruit burger with kale chips and a cheeky helping of chocolate cover peanut butter filled dates I felt like I was cheating I wil be back to try their complete vegan menu which includes vegan mayo what a god send.

I visited Vegan Hippo recently and I tried the vegan "egg" sandwich but in a roll (it's a little more expensive than with bread but I don't like English bread), it was delicious. I tried also the chocolate cake, amazing. I am giving 4 stars because the cafe still has a poor selection but I hope it will improve with time. Good luck, it's lovely to see a vegan cafe in center of London.
We first visited Vegan Hippo in Oct 2015, not long after it opened. As vegans, we were thrilled there was a hip new place in central London where we could eat everything! Back then, it had a fairly extensive menu: burger, hotdog, gyros (seitan kebab wrap), pierogi, potato pancake with mushroom sauce, lots of salads, cakes and fresh juices. Every table was taken when we visited, and there was a nice atmosphere. We really liked the vegan art and the selection of books about vegan cooking and animal rights. The presentation of the food was, however, pretty basic and uninspiring - the pierogi dough was thick and rubbery and the hotdog buns were cheap white fluff.
Returning in Jan 2016, we were disappointed to see it had gone downhill. The place was empty (admittedly on a Mon eve) and the longer evening menu had been replaced by just 4 options - a vegan burger, hotdog, gyros or pierogi. There are more salad options during the day but these were not available as "the chef has gone home for the night" (slightly worrying at 7pm in a restaurant still serving food!) Asked what was in the vegan burger (vegetables, beans, tofu, seitan?), the waitress couldn't tell us.
We instead ordered a hot dog meal, a gyros and the pierogi. All were served up lukewarm, with limp sweet potato chips, undressed shredded carrot and cabbage and spinach leaves. We asked for the pierogi to be warmed up and they came back microwaved.
Not impressed; won't be going back.
Snap up exclusive discounts in London
Time Out's handpicked deals — hurry, they won't be around for long...