Vicoli di Napoli Pizzeria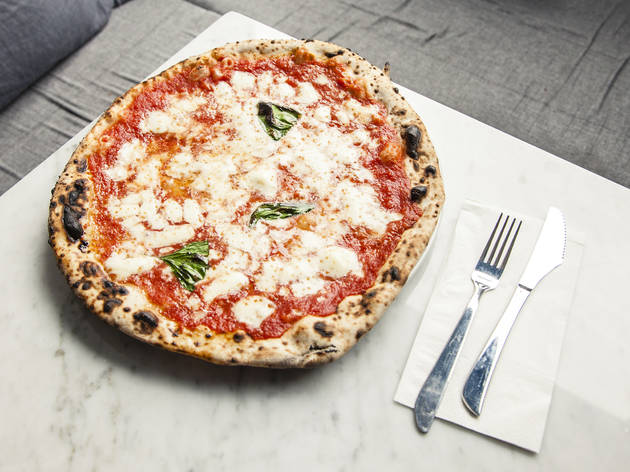 1/6
Photo: Andy Parsons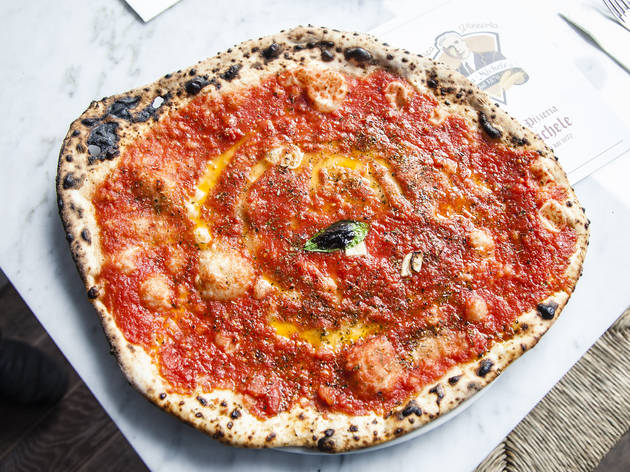 2/6
Photo: Andy Parsons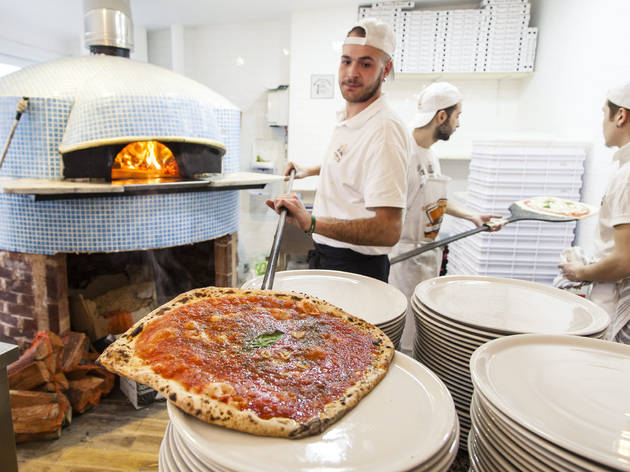 3/6
Photo: Andy Parsons
4/6
Photo: Andy Parsons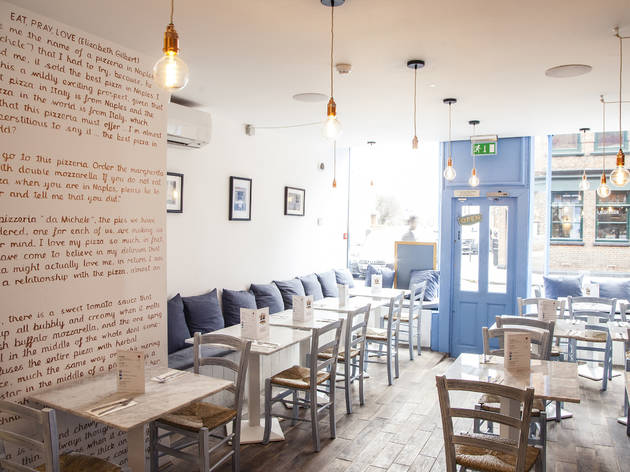 5/6
Photo: Andy Parsons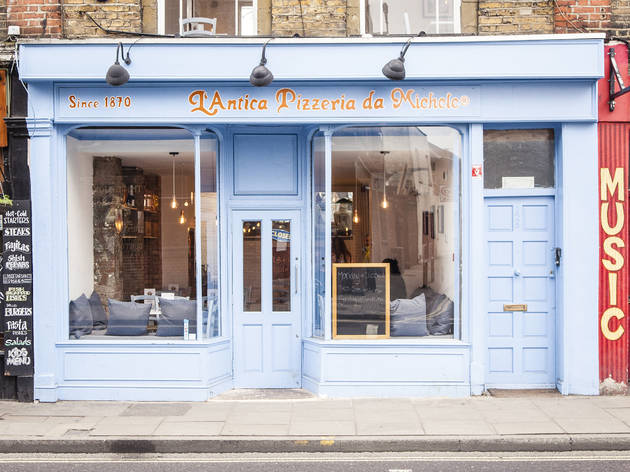 6/6
Photo: Andy Parsons
Time Out says
A London branch of the Neapolitan pizza joint made famous in 'Eat, Pray, Love'.
Please note, Vicoli di Napoli Pizzeria was previously called L'antica Pizzeria da Michele. Time Out Food editors, May 2019.
The shabby naples joint of L'antica Pizzeria da Michele, open since 1906, is much hyped as 'the best pizza in the world'. Fanning the flames of that rep was the 2010 film 'Eat Pray Love', where Julia Roberts sits all blissed out, declaring she's 'having a relationship' with her pizza.
Well, lucky old us, because the Naples original has just spawned its first international branch in Stoke Newington. A much less shabby, bright blue establishment on Church Street to be precise – and the whole of the capital is in the queue. First things first: L'antica really is amazing, but if you're looking for a relationship with this pizza it's going to take some commitment.
Not only do you usually have to queue for at least 40 minutes to get a slice of the action, but once you fight your way in, the menu is the pizza equivalent of monogamy (well, Mormon-style monogamy, at any rate). There are just two varieties – marinara and margherita – or you could argue three, if you count the double mozzarella margherita on its own. But you can definitely forget about having any bits on the side – when my date asked for a condiment (which shall remain unnamed) the waitress looked like she was going to ask us to leave.
And good thing too, because when something's this delicious you don't need any distractions. Thin, crispy and served with beautiful burnt bubbles in the dough, what makes L'antica's pizza really special is its softness. No exaggeration, you can cut through this base with the edge of a fork, and it comes so saucy and voluptuous you actually have to cradle each piece with both hands to keep things together. The sauce itself is exceptional: best appreciated on the marinara (just tomato, garlic and oregano), it's fresh and sweet and just a little bit tart. Best of the two (three?), though, is the double mozzarella. Properly luscious, it arrives bigger than the plate it's served on and oozes puddles of wonderfully stringy cheese. Order this and you will understand what got Julia Roberts so hot under the collar – it really is love at first bite.
But the best pizza in the world? If no one had told me this before I went, I'd probably be more blown away – a rep like that can only set you up for disappointment. So (slightly) lower your expectations and go on a weekday lunchtime to avoid the queue. This slice is definitely worth pulling a sickie for.
Details
Address:
125 Stoke Newington Church St
London
N16 0UH

Transport:
Stoke Newington Rail
Price:
Dinner for two with drinks and service: around £40.
Contact:
Do you own this business?
Average User Rating
3.4 / 5
Rating Breakdown
5 star:

2

4 star:

4

3 star:

4

2 star:

1

1 star:

1
I am sorry but this is very overestimated. This is not the authentic italian Pizza as they put Pecorino on top of the pizza and the pasta is not the same as the origynal Da michele in Naples. I was very disappointed when I tried it. The staff is also very rude and super slow. I am italian and I won't be back in this place. There is plenty of other italian authentic pizza in the city.
Completely overrated. It's just plain boring, and that's even worse than if it were bad-but-interesting.

As I really wanted to try this place, Iwas ready to travel all the way to Stoke Newington and to face the prospect of queuing. I went on a Saturday night at around 8pm and I've got a table after an hour. The waiting wasn't that bad as there is a pub just opposite and you receive a text when your table is ready. I really enjoyed the pizza as I think tasted very 'authentic' but there are other places in London just as good. Don't expect a big menu as all you can order really is two kinds of pizza - margherita or marinara - and a beer, but overall very good value for money and a very Italian experience.
Oh I wanted to love this place so much. After reading everything about it online and seeing the film I was so ready to go here.. I had held off for a few months as not living by Stokey it seemed a little far - however last week we managed to combine a trip round the park and an afternoon of pizza.
From the outside it looks all I wanted and more and inside we (miraculously!) didn't even have to queue. The three of us all ordered the double margarita and sat back waiting in anticipation. I was absolutely determined to love it. I feel like I know my pizza and I wasn't put off by a lack of ingredients or choices - having been to Naples a number of times I thought this would be a pizza -based dream come true.
Look, it's an above average pizza. It's large, crispy on the outside and gooey in the middle. But it just wasn't the pizza epiphany I was looking for. I found the sauce a little dull, pools of liquid in the middle, and the charcoaled outsides a little overbearing. I like the thin, slightly burnt pizzas, I like soggy middles and and I was looking for the authentic sauce, but it was just too much of all of it and not enough flavour. I've absolutely had better pizzas in London, and no doubt in Italy... if I lived locally then sure, it's good pizza, but for me it just didn't live up to the hype.

Named by journalists as "the sacred temple of pizza," after my visit I can certainly see why.
No wonder Julia Roberts playing Elizabeth Gilbert fell in love with pizza in Eat Pray Love.
Following the recent trend of single and dual dish restaurants, the menu had only two pizzas available; Margherita and Marinara.
The dough was light and chewy with the correct consistency of tomato and cheese; not too overpowering. The 'fior di late' mozzarella had a unique milky flavour. This is a speciality of the Agerola area, that is renowned for its cheese.
The black forest cake which was from the only two choices on the menu was perfectly moist and chocolatey.
My main criticism would be that the decoration was very basic and the service could have been improved. Overall, the pizza is of the highest quality at surprisingly low prices of less than £10.00 per head excluding drinks. So queues for getting into the most in-demand pizzeria in London are certainly justified.
The chefs who having been trained in Naples are undoubtedly recreating authentic pizzas. Not only would I recommend this restaurant but it is a must for pizza lovers everywhere.