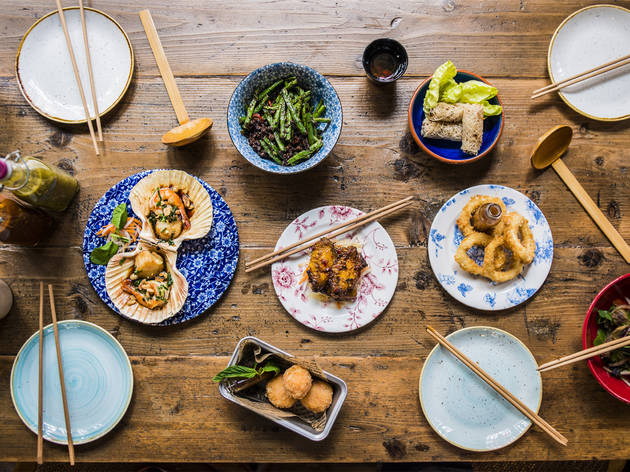 1/10
© Jamie Lau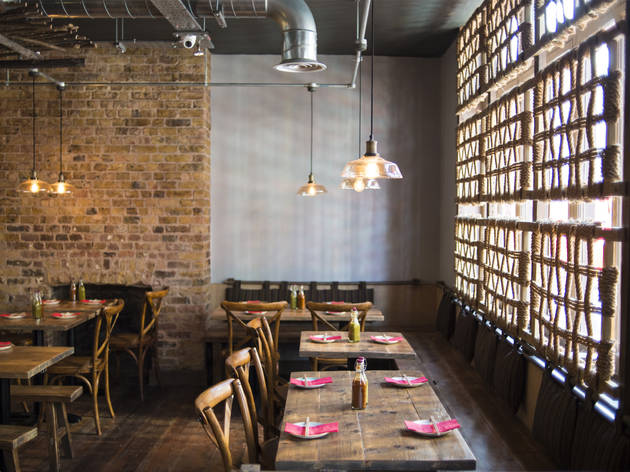 2/10
© Jamie Lau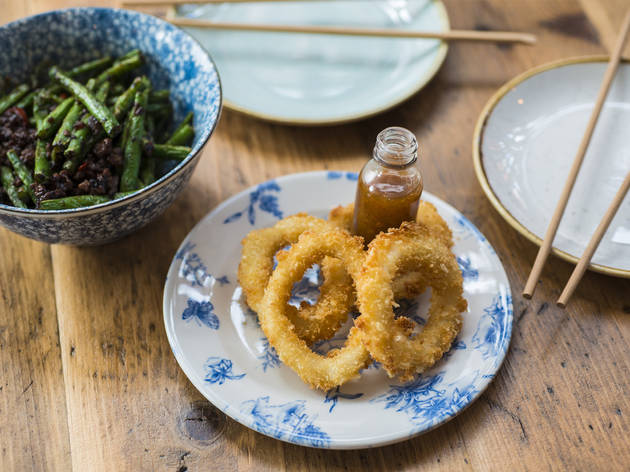 3/10
© Jamie Lau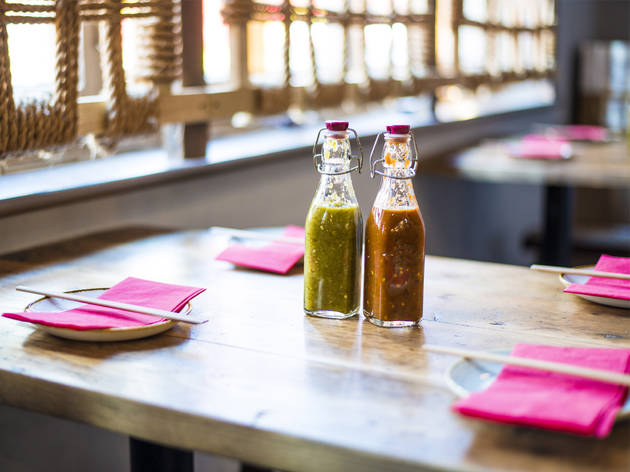 4/10
© Jamie Lau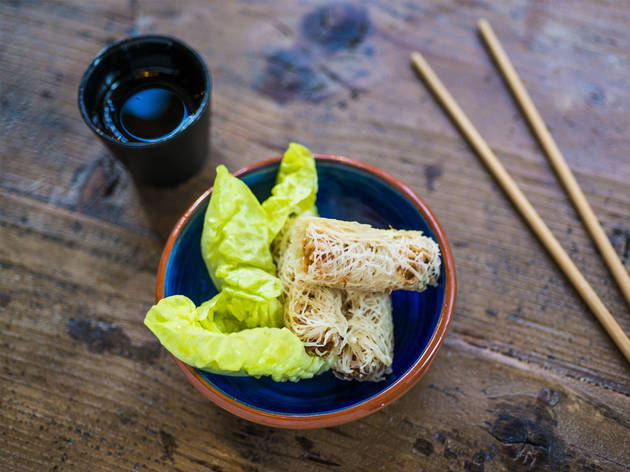 5/10
© Jamie Lau
6/10
© Jamie Lau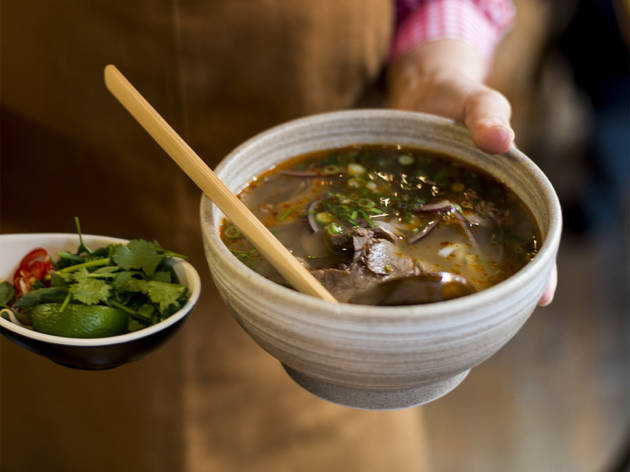 7/10
© Jamie Lau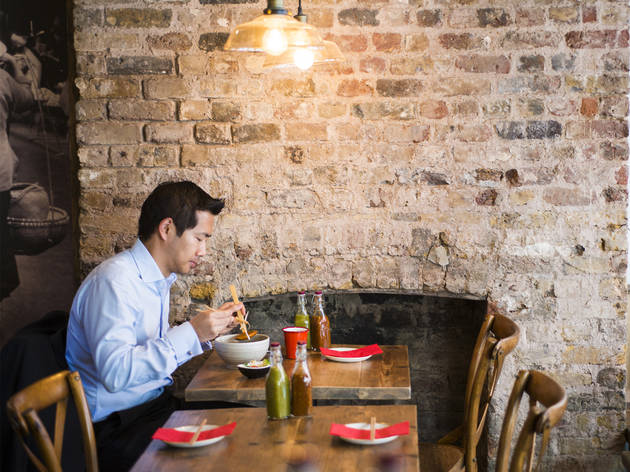 8/10
© Jamie Lau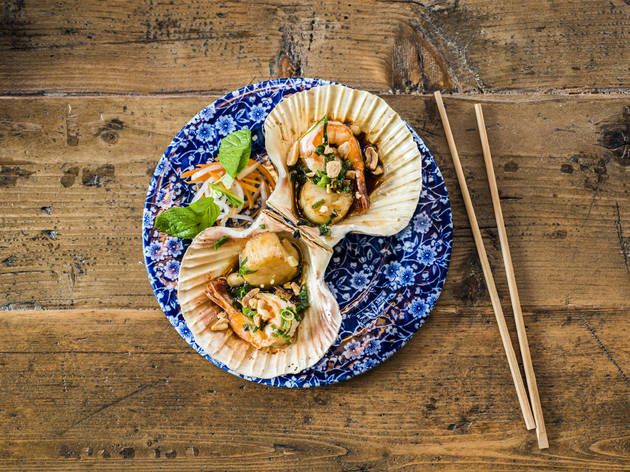 9/10
© Jamie Lau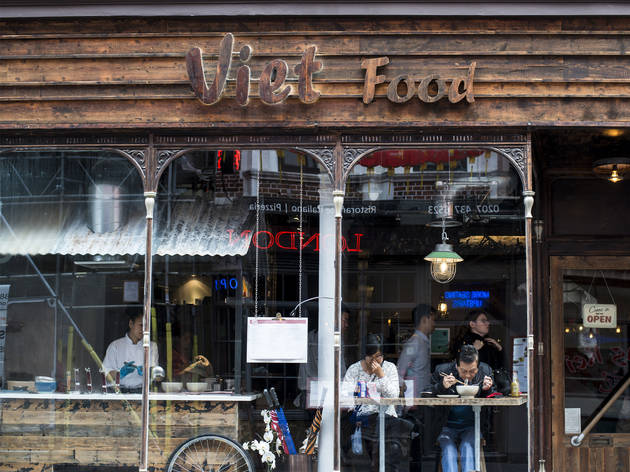 10/10
© Jamie Lau
Time Out says
Sophisticated Vietnamese cooking in a Chinatown location
Ding ding ding! Red flag alert. We'd just walked the length of Wardour Street (sans Google Maps, a rookie error) to find this new Vietnamese restaurant not in the Soho bit, as we assumed, but in the below-Shaftesbury Ave bit. This could only mean one thing: tourists. Swarms of them, all taking selfies, grelfies and good-old-fashioned giant-camera travel snaps.
That's right, people: Viet Food is just outside the entrance to Chinatown, next to the Play 2 Win arcade and across from famed-for-shouty-waiters Wong Kei. Then there's the name: Viet Food. Not exactly inspiring, is it?
But don't let these superficial no-nos put you off, because this just happens to be one of the hippest new restaurants in the capital. A creation of the people behind Dozo sushi in Soho, it's ultra-stylish, mixing traditional south-east Asian elements (interlaced woods and corrugated iron over the soup station's 'roof') with industrial chic: bare walls, scuffed floorboards, exposed girders, soundtrack of throbbing dance music. Even the loos are warehouse cool.
But before you say it, there's plenty of substance too. As one of the waiters put it, with what would appear like arrogance if it weren't basically true, 'Everything here is good.' Ex-Hakkasan head chef Jeff Tan has put together a pick 'n' mix of stellar Vietnamese street food, and of the seven dishes we sampled, only one (an overcooked but otherwise delicious grilled scallop) was a letdown.
The rest combined tastes and textures with great flair, such as the intense flavours of a dish of stir-fried French beans with tender morsels of sticky beef and alternating bursts of chilli, garlic, and shrimp-paste saltiness. Or the faintly sweet coconut crunch of deep-fried calamari with a sweet chilli dressing, which came delivered in a teeny test tube, because it's that kind of place.
We'd have liked to try one of the eight kinds of pho, but first we'd have had to die, be reincarnated as cows, and come back with four empty stomachs. Each. Because aside from slightly too-nonchalant service, that's the main disappointment: too many dishes and not enough room in your belly to put them all. Only one thing for it then. Go back next week and do battle with the snap-snapping out-of-towners once more.
Details
Address:
34-36 Wardour St
London
W1D 6QT

Transport:
Tube: Piccadilly Circus
Contact:
Opening hours:
Mon-Fri noon-11pm; Sat noon-11.30pm, Sun noon-10.30pm
Do you own this business?
Average User Rating
3.6 / 5
Rating Breakdown
5 star:

6

4 star:

10

3 star:

4

2 star:

0

1 star:

4
Giving 5* for the delicious food but one star (as it's the lowest) for the appalling service. The service is a shame to the food served by the chefs. Some of the staff were rude, defensive and confrontational. Despite having more than 20 seats free, we were refused seats because only 5 out of 7 were present at the same time -the manager was blunt and very rude. He told us to be out of the restaurant by 2pm and we were ready to pay and leave at 10 minutes before 2. However even after asking two different members of staff for the bill, we were made to wait half an hour for it. After we politely refused to pay for the service fee because of the lack of hospitality, we were confronted by two male staff members.
Again, amazing food but please, please, please, do yourselves a favour and train everyone to be hospitable and welcoming!
Mediocre and overpriced pho. Portions are very small. Curt service, water is very expensive. 10 pound card minimum.
This is a restaurant where most of the tapas are consistently good. Hence, we regularly visit it and most of the staff are hardworking and offer an acceptable level of service.
Last Saturday it was different, the restaurant supervisor was rude, arrogant, not interested in setting up a harmonious atmosphere for anyone in the restaurant.
Based on this horrible attitude and bad experience and I requested to remove the service charge, which he didn't do. There is a name for those who try to rip customers off, and he totally deserves it. I am sure the owner will consider moving him to the kitchen porter position. Totally disgraceful and an insult to his family and employer!
He is shameful and he should not work in hospitality. A total waste...I feel sympathy for Jeff Tan who has fought so hard to earn his well deserved fame so that an inept and a scumbag can destroy it in a matter of seconds. Literally, all the guests were shocked.
When I am hungover you will find me propped up in one of the window seats, people watching & gorging on the amazing lemongrass chicken they have here. The coconut calamari is also a go to for me! So glad I found this place & that it's a 5 minute walk from my office!
A personal recommendation led me to booking here and I was not disappointed. My table was soon filled with delicious food - smoky spiced quail, tender pork belly, french beans with mince and shrimp sauce, coconut calamari and chicken curry were all mouth-wateringly good. To go with this, the restaurant had a great chilled atmosphere, service was good and the bill reasonable.
The summer rolls were a little bog standard, the soft shell crab tasty but served with a ridiculous amount of onion (not good for a date!), and a slightly odd Sago dessert (a bit like rice pudding but not as good) stops me giving this place 5 stars, but this was vastly outweighed by the rest of the food. I certainly recommend heading along and trying it out for yourself.
Each dish is a master piece So many different flavours Fresh and full of flavour Amazing
Outstanding meal last night every dish fresh and full of flavour highly recommend beans with meat and shrimp paste
Uninventive and mediocre. The service was good, except for the fact that we were especially looking forward to eating a pho, but we weren't told there weren't any left until we were ordering because they 'only serve 150 a day and if it's gone its gone'. The coconut calamari and the pork belly was nice, but nothing special and expensive. The grilled prawn on the bun was alright, but otherwise bland, not very well done and there was nothing fragrant about the fragrant rice. Over all, the experience was ok, I wouldn't go back on my own accord (Ca* T** down the road would be a much better choice), but the place has so much potential if they added a dash of creativity in the menu. Maybe it will improve it only opened recently and I also hope they will revisit the Vietnamese translation on the menu.
I visited this place as the menu and reviews here on timeout looked great. However, this was far from the truth, as I will explain below.
We ordered the Coconut calamari and for £2.50 per calamari, the batter was thick and cold, the calamari was luke warm underneath. The second started (Five spiced soft shell crab) took over 20 minutes to come with my partner's main. We asked where this might be and the waiter had to ask us if we ordered this dish, even though he was the one who took the order.
There was a gluten free menu, but the Pho dishes were exactly the same and had no difference to the main menu version. We also asked if chillis could be added to the Pho Tam and to our surprise, this was not possible and nor was switching out the flat noodles for vermicelli.
On top of all this, the worst part is the service from a waiter named Chee Wai. He took our order, didn't meet any dietary requirements, even though at the bottom of the menu it said this was possible. He forgot to bring over half our food, so by the time i finished my main, my partner's main had not even arrived on the table!
All in all, this was a very bad experience for us and we will not be coming back here again. The service as described was appalling and for the price they charge on the dishes, you would think to have better tasting HOT food, which meets any dietary requirements of the customer.
A great little find in Soho. The seating all looks relatively basic but the food was great. I ordered the summer rolls which were delicious followed by a Thai red curry. It wasn't the best I've tasted but was still pretty good and great value for money. The staff were lovely too so I'd definitely go back.
FINALLY! A decent vietnamese in central London that shines like it's east london counterparts. Try the beef betel, coconut calamari, scallops and morning glory - all delish and great value for money.