Wright Brothers South Kensington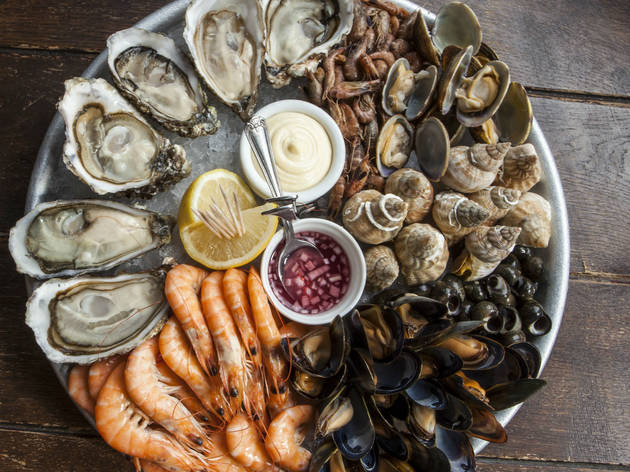 Time Out says
New branch of the seafood specialists.
Wow, Orville and Wilbur Wright really branched out once they invented the aeroplane, eh? No, of course not. These Wright Brothers might share the name but they're from entirely different stock. They run four London seafood restaurants, plus another down in Cornwall, where they've also got their own oyster farm to help them source just the right kind of goodies.
It's clearly working out well for them. This South Ken branch - diddy in comparison to the cavernous Soho and Spitalfields venues - was, on our visit, as busy as a freshly hooked marlin. Service stuttered at first but had bags of charm when it arrived – I reckon they've got a pretty good handle on keeping the moneyed locals onside.
First up: a 'petite' platter of cockles, whelks, prawns, brown shrimp, oysters, mussels and clams. All exceptional. It was also anything but petite. God only knows what the 'deluxe' option looks like – it's five times the price so presumably five times the size? I'd be amazed if there's the room to plate it.
Mains are mostly from the sea, and often with some Asian influence. My (excellent) roast crab with ginger, chilli, coriander and coconut milk was fragrant, rich and sweet. My pal's Dingley Dell pork belly in miso and chilli broth was even better, showing these guys can just as easily turn their hands to turf as surf.
Aviation trivia fans might like to know that Wilbur Wright died not in some Icarus incident (y'know, the guy who flew too close to the sun), but simply from eating some manky shellfish at a banquet. He should have waited and tried the stuff served at the restaurants bearing his name. This South Kensington branch is the third I've been to and each time I've left happy as a clam. And not died once!
Details
Best selling Time Out Offers