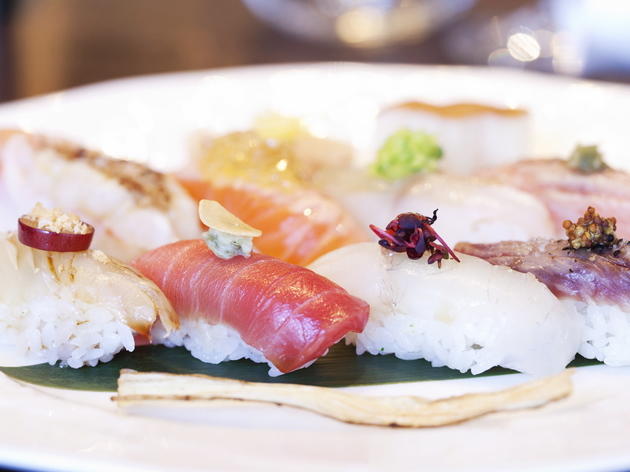 1/10
Ming Tang-Evans / Time Out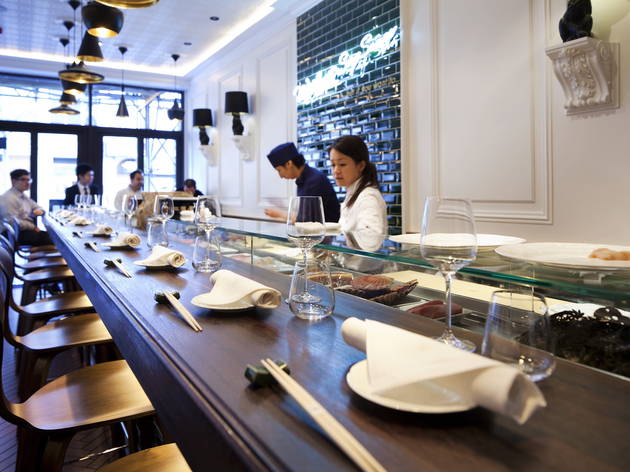 2/10
Ming Tang-Evans / Time Out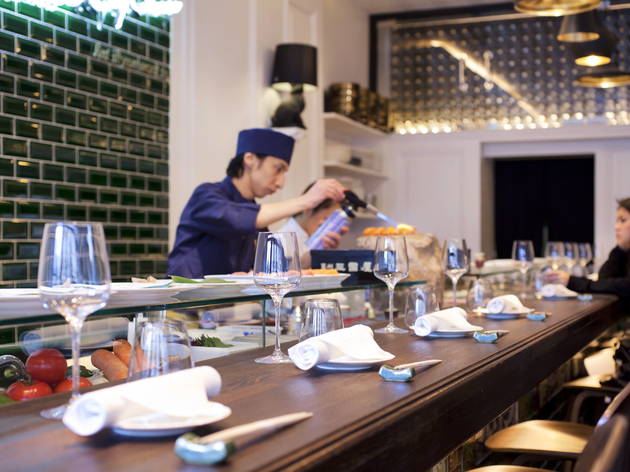 3/10
Ming Tang-Evans / Time Out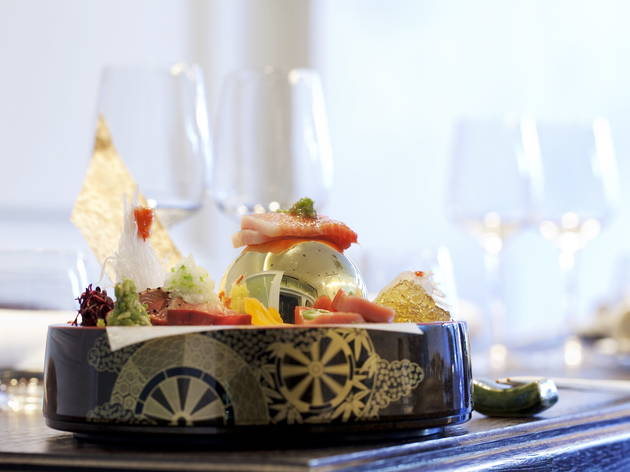 4/10
Ming Tang-Evans / Time Out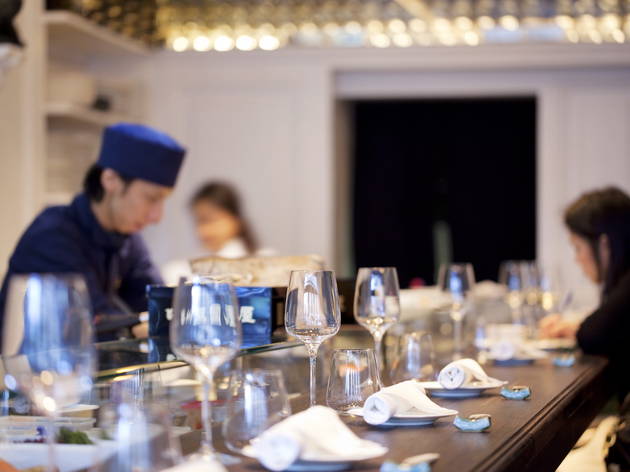 5/10
Ming Tang-Evans / Time Out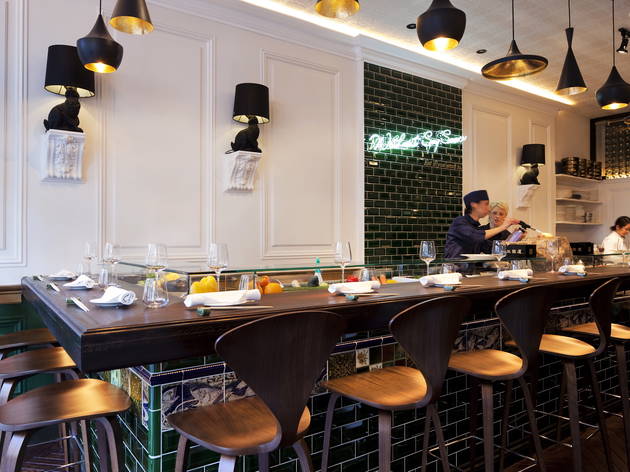 6/10
Ming Tang-Evans / Time Out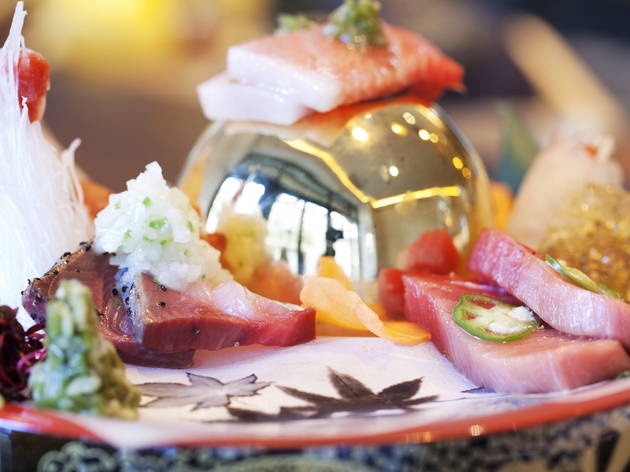 7/10
Ming Tang-Evans / Time Out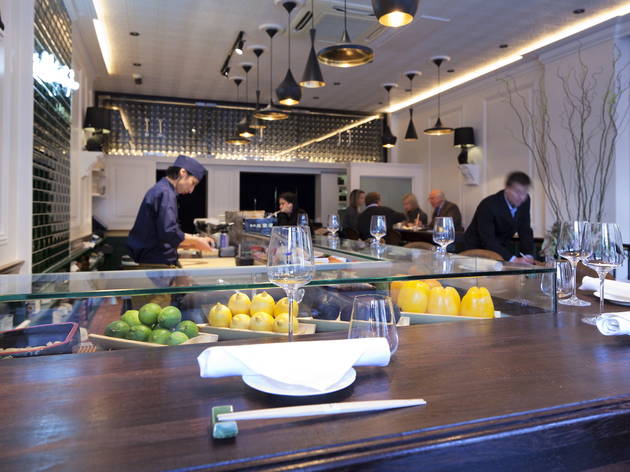 8/10
Ming Tang Evans / Time Out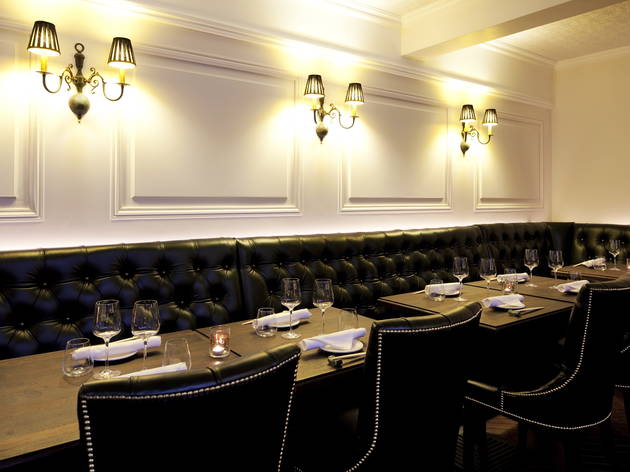 9/10
Ming Tang-Evans / Time Out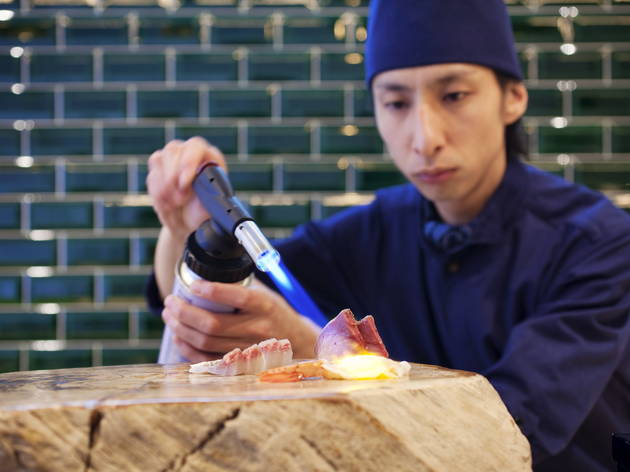 10/10
Ming Tang-Evans / Time Out
Time Out says
For anyone who likes sushi, this Kensington jewel is a must: each piece is finished with its own flavourings, and cooked dishes show precision and innovation.
For anyone who likes sushi, Yashin is a must. Tucked down a side road off Kensington High Street, its exterior looks more like a smart French brasserie than a Japanese restaurant. But the centrepiece sushi counter gives the game away as soon as you step inside. Set on the dark green tiles behind the team of itamae (sushi chefs), a neon sign reads 'without soy sauce', and this is how the chefs ask you to eat your artfully crafted sushi. In place of a dunking, each piece is finished with its own flavourings – perhaps a dab of tangy ume plum paste, a spoon of tosa jelly, or a quick blast from a blowtorch (perfect for balancing the richness of fatty tuna).
The rest of the menu also displays precision and innovation: a testament to the chef-founder's grounding in the intricate art of kaiseki cuisine. A delicate dish of saikyo lamb was dotted with sweet miso and summer berries, while buttery sautéed razor clams (just a little overcooked) came with generous slices of summer truffle. The wine and saké lists are long and well chosen, and the clientele and service are as you'd expect from a classy dining establishment – though staff have proved slightly less attentive in the basement, so eat upstairs if you can.
Details
Address:
1A Argyll Road
London
W8 7DB

Transport:
Tube: High Street Kensington tube
Contact:
Do you own this business?
Average User Rating
3.6 / 5
Rating Breakdown
5 star:

4

4 star:

2

3 star:

1

2 star:

2

1 star:

1
I found the place more style over substance. The food and the quality of the sushi was good--but for what I was getting, I'd be better off spending my cash at Dinings, Nizuni or Kiraku
we stumbled across this place (having failed to get tickets for Hyper Japan at Olympia) and having done a quick google search we thought we would give it a try. We are huge fans of Japanese cuisine and left with a huge smile on our faces (which was only dented slightly by the size of the bill). The food was as close to perfect as I have found in London and we will be calling again soon.
Love this little gem! Unusual flavour combos and top notch ingredients quality
I'm really shocked by the positive reviews this place has been given and hope that this is not what Brits think of Japanese culture. This was by far one of the worst experiences we've had at a sushi restaurant around the world and we've eaten at just about all of them. The chefs are pretentious with out merit (the food is at best a 2/5 interns of quality globally) and they talk about the customers under their breath at the sushi bar as if we weren't right there. They did not engage a single person nor serve a single person any fish and they piled all the sushi on the plate for a room temperature, mediocre omakase that was sent 15 feet away from us, then to our server, then back to us despite the chef that made our food being 2 inches away from us as he made it. Extremely sad to see that this is what London thinks is good sushi, please come to Tokyo or even New York City to see the way you should be treated at a proper sushi restaurant.
This sushi restaurant is not authentic. Tonight I wanted to have some fine sushi as I'm a bit homesick as an Asian in London. If it wasn't timeout recommended I wouldn't even try it. Great disappointment. I went there by myself tonight. I regret completely. First of all, they led me to toilet when I arrived which I had no intention to. They try to make things special which I understand, but they don't have a sense of taste for each kind of fish. I ordered hamachi in Orange soy, I thought the Orange is like a citrus flavouring which I miss a lot (tried it in Japan), but they put chilli oil to represent the "orange", it lower the class of fine Japanese food and hamachi (yellow tail) itself has its own special rich flavour, the chilli oil totally killed the original taste of it, and trust me, they tasted cheap. The sushi set I ordered had a lot of weird flavouring. Some with deep fried cube rice...tomato paste with red snapper...then it comes with sushi roll of the day, prawn and truffle oil and guess what? They rolled it with onions! Onion flavour is way too strong to match with truffles, they totally sabotaged the great flavour of truffle. Prawn flavour wasn't strong enough to be the main in the roll. I didn't finish them. Paid 65 pounds, including service charge. They gave me coins changes implying I should leave them some tips. I will not go back for sure.
Tried to get there 2 times (was fully booked). On the 3 rd time we were lucky) to have a dinner there. But it was disappointing. Wasn't fantastic and wasnt great. Everything was fresh but the portions were comically small (even smaller then in some Michelin restaurants). And after 6-7 dishes we were hungry and paid a lot.
There are two things that are very important to me when I dine out.
The first is obviously food but as I am a very good chef, I want to indulge in something that I cannot or do not prepare myself. The sushi was innovative and delicious. It was indulgent in flavour and quality but not quantity. I do think that they could be more generous with the size of the sushi or at least prepare two of each piece.
The second is service. I will use just one word here: faultless.
I
Snap up exclusive discounts in London
Time Out's handpicked deals — hurry, they won't be around for long...