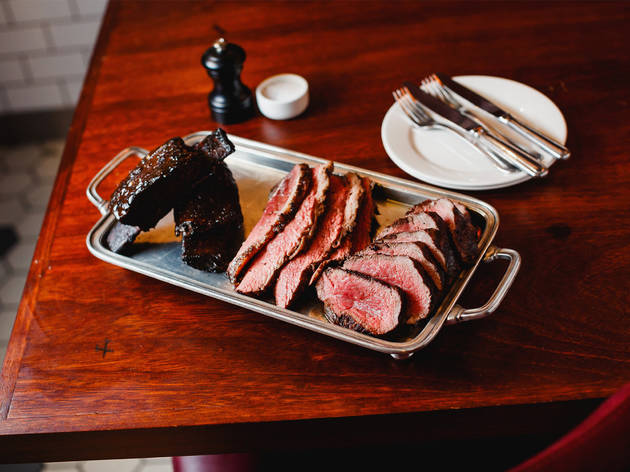 A beef-focussed restaurant from the people behind Goodmans and Burger and Lobster.
There's a marketing tool taught in business school called 'the loss leader'. It is, to quote Wiki-source-of-all-knowledge-pedia 'a pricing strategy where a product is sold at a price below its market cost to stimulate other sales of more profitable goods'. It's what's going on when a supermarket advertises a 99p leg of lamb, then beasts you on the rest of your basket.
Surveying the menu at this Soho newcomer, it looked like someone had done their MBA homework. In pride of place was a Brazilian cut of steak, called Picanha, priced at what seemed a steal: £6 (per 100g). This would be sure to draw in the customers.
And drawn in we were. To a restaurant that, until recently, was called Rex & Mariano, and sold fish. After less than a year, its owners (the Goodman group) jacked in the ceviche-carpaccio-tartare concept and relaunched the site as a steakhouse. Gone are the pale, poisson-suited tones; in their place black ceilings, warehouse lights and leather booths. Steakhouse-by-numbers. But while we're cool with them retaining the R&M standalone basin (it's more a showpiece than somewhere to actually wash your hands), we were less impressed by them re-using all the old R&M branded crockery: that's just cheap.
And this eye-on-the-bottom-line was evident everywhere. The Picanha was the best dish, but you have to order a minimum of 200g (so, real price: £12, excluding sauces at 75p each, or any sides). This still isn't bad, but other items plainly failed the 'value test'. Our favourite starter, a plate of eight Sicilian red prawns (tiny, like sweet shrimp), served raw, with olive oil and salt, weighed in at £12. A trio of 'holy fuck' baked oysters turned out to be more 'excuse me please'; the promised fiery sauce was delicious, but there was hardly any of it; the oysters were tepid rather than baked. £8.50 for three. And so it went on – perfectly nice creamy mash with roasted garlic and onions - £6. A plate of so-what 'triple cooked' chips - £4.50.
It's a pity. Because staff – though frequently AWOL – were friendly and helpful once summoned. This place could be quite good. Not that the corporate diners filling the place seemed to care. Of course, they'd all been to business school, and presumably knew just what they'd be getting.
Venue name:
Zelman Meats
Contact:
Address:
2 St Anne's Court
London
W1F 0AZ

Opening hours:
Tue-Thur noon-2.30pm, 5-10.30pm; Fri noon-2.30pm, 5-11.30pm; Sat 5-11.30pm; Sun noon-5pm
Transport:
Tube: Tottenham Court Road
Menu:
View Menu
Do you own this business?
Average User Rating
4.8 / 5
Rating Breakdown
5 star:

5

4 star:

1

3 star:

0

2 star:

0

1 star:

0
I can't remember the last time I went a full day without consuming meat or another animal produce. But I am now convinced that until I visited Zelman Meats last night, I was a vegetarian. For I did not know the true meaning of the word "meat". I have been shown the light...
Hidden in a tiny Soho back alley, this restaurant means business. As the name suggests, it does one thing and one thing only: it takes the bullshit out of meat. This eatery is not interested in disgracing you with a fatty burger that you will later regret, or insulting you with a salad that someone chucked some bacon in, or even attempting to impress you with an 800g steak that screams quantity over quality. This restaurant is interested in serving you meat. And I am now no longer just interested in obliging them, I would happily strip myself of all earthly pleasures in the simple hope of getting even a whiff of their sublimely cooked cuts just one... more... time.
The waiter, in a believably foreign accent and standard Soho attire of beard and glasses, jovially let us know that we had three choices of main: beef, beef or beef. And we, equally as jovial, accepted all three. Plus some rather interesting sides, including black truffle and parmesan chips (crispier than the crackling egg shells of a Japanese quail) and courgette covered in mint, chilli and feta cheese (creamier than Venus' honeyed skin). But these were pleasantries, mere afterthoughts in the grand scheme of this momentous dinner.
There were placed before us three supplicants, demanding our attention:
First, the Picanha. A cut from the top of the rump (see its cruder brother, rump steak). Thinly sliced, a marbled fringe and cooked medium rare.
Second, the slightly thicker chateaubriand. Sea salted and with a char coal coating to cover the deep, deep red of its beautiful innards.
And thirdly, the show piece. The short ribs. Smoked for 4 hours, slow cooked for 6.
Now before I more intimately describe the divinity of these ribs, let me surmise on the lives of the cows that gave them. Picture a calf, born to a bull bigger than Zeus' incarnation when he carried poor Europa on his powerful back and a cow more beautiful even than Helen of Troy, who launched a 1000 ships. Imagine this calf grew up in a vast meadow, surrounded by picturesque mountains and accentuated by tinkering little streams, the sun glistening off their playful water. Water that has endured millennia caught in the glaciers of those mountains and has now been purified and enriched by the elements on its journey down with the singular purpose of refreshing this growing calf. Believe that this young cow was raised by none other than Jesus, who, instead of spending his 30-odd years of life sharing his heavenly wisdom with the world, has dedicated his existence and holy to care to this one animal. Every morning and evening he feeds it ambrosia, the sustenance of the gods, and spends the rest of the time, braiding its hair, massaging its strengthening muscles and singing it lullabies, composed by Mozart, Hans Zimmer and Michael Jackson for this purpose alone. Grown to its full stature, reaching the pinnacle of its blessed existence, the cow now turned to the chefs of Zelman Meats, begging them to accept its ribs to be served at their restaurant in an act of pure selflessness. But alas, the chefs balked at this cow and its pitiful attempt to garner their graces. Their meat is better.
Thus were my thoughts as I pierced the first morsel of these short ribs. It was so tender it slid off my fork. I had to carefully scoop it up and ever so gently place it on my tongue. There! An explosion of taste, of sound, of feel ... of otherworldly, exalted joy. And just as quickly, it was gone, melted into nothingness, leaving you wondering whether it was just a dream, a cruel hallucination. But no, give thanks to your mother who brought you into this world because you finally know your purpose: to consume another slice of heaven in the form of smoked short ribs.
And the apple pie was pretty good too.
Basically a mix of Goodman and Beast based at the old Rex and Mariano. Perfectionists and general moaners will be dismayed at the food being served on a mix of goodman and rex plates, you are here for the food ffs. Started with both sets of oysters, the 4 quid Natives trade over the 2 quid Jersey rocks funnily enough. The Caprese was faultless and the Sicilian red prawns superb, the ribs...ohhh the ribs, an amazing chunk of meat. Mains are a choice of Chateaubriand or Rump (Picanha) or both in our case. The meat comes sliced and priced by the 100g. Both were as good as you are gonna get at Goodman natch. The truffle chips and the garlic mash both perfection, im dribbling. Anyone who can finish all that and then have the treacle tart with clotted cream needs their own tv show. Is it expensive? Not really. Is it busy? It was empty at 6 and full at 7, on a Tuesday. It's a cheaper and cooler than Goodman. Loads of beards. Capiche?
If meat is your thing, this is your place! Staff are warm and welcoming, atmosphere is unpretentious class. Food is AMAZING! Get the ribs, chips and "Holy *** Mayo"!
Snap up exclusive discounts in London
Time Out's handpicked deals — hurry, they won't be around for long...