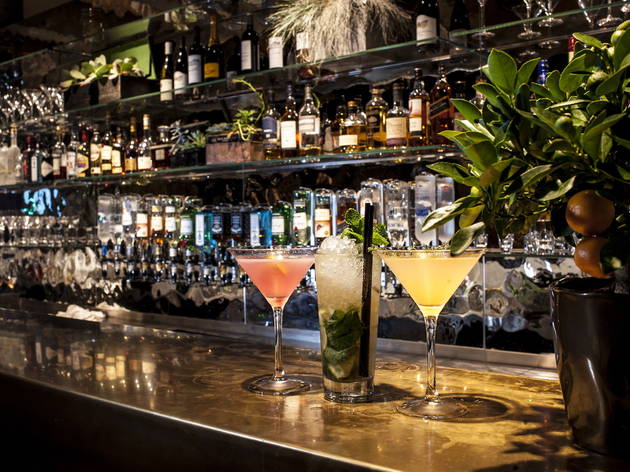 What was once a tired-looking Mercedes car dealership on Finchley Road has been transformed into JW3, an impressive Jewish community centre. On its lowest floor, the trendy Zest restaurant, plus café and bar, is helmed by Ottolenghi alumni Josh Katz and Eran Tibi, who set up the acclaimed Made in Camden at the Roundhouse.
Kashrut laws prohibit the mixing of meat and milk, so this kosher supervised venue serves the sort of colourful Sephardic Middle Eastern and Mediterranean fish and vegetarian dishes that you'll find in Tel Aviv's vibrant restaurants.
We were bowled over by freekeh risotto with tomatoes, aubergines, goats' cheese, preserved lemon and pine nuts with its robust smoky, tangy and umami notes. Roasted cod with ptitim (Israeli couscous) and pangrattato (Italian-style breadcrumbs) was topped with superfluous tomato and okra braise, but the firm fish was a perfect foil to tender caramelised aubergines.
Little mezze of roasted beetroot with yoghurt, hazelnuts and dill, and marinated red peppers with feta and oregano were fine; but mushy, under-seasoned fried cauliflower with tahini and pomegranate molasses didn't work as a dish served cold.
We loved the subtle rosewater malabi (Israeli blancmange) offset by stunning sour cherry compote and pistachio praline; but sweet potato sfinges (Sicilian-style doughnuts), although accompanied by clever and intriguing 'glazed grapes', were distinctly salty.
At 2012's Gefiltefest (the Jewish food festival), it was announced that a vegetarian and vegan community café run by volunteer cooks would open in JW3. Thank goodness the idea was shelved in favour of the far zippier Zest.
Venue name:
Zest
Contact:
Address:
JW3
341-351 Finchley Road
London
NW3 6ET

Opening hours:
Meals served 7.30am-11pm Mon-Thur; 7.30am-2.30pm Fri; 8.30am-11pm Sun
Transport:
Tube: Finchley Road; Rail: Finchley Road & Frognal
Menu:
View Menu
Do you own this business?
You may be interested in:
Average User Rating
3.2 / 5
Rating Breakdown
5 star:

2

4 star:

3

3 star:

1

2 star:

1

1 star:

2
DISGRACEFUL - service, staff, food, atmosphere is shockingly rude. complained to the manager who then said he would give us 50% off the bill but then decided to still charge us for two hot drinks which were served cold although the waiter said he would remove them from the bill so when i questioned the manager having given him the right money after the 50% off for what we actually had he said "you cant just pay what you like here" well tough we have and if you dont like it then you try serving yourself the way you do your customers. NEVER go there unless you want to be completely and utterly ripped off!
HORRIBLE SERVICE !!!
I am still fuming at the service of the staff!
Understaffed, uncaring staff, we waited for an hour between dishes.
We expected a great night and got mediocre food, cold and lacking taste. Really disappointed!.
We complained to the manager. He apologized and gave excuses of being understaffed.
We were offered coffees on the house .
I would recommend giving this place a skip until management deals with service issues.
Delicious food, would have had a lovely evening had it not been for the abismal service. Despite forewarning on booking and an extra call yesterday, front of house staff weren't clued up on what gluten is (to quote, 'can you eat nuts?'). A real shame as I now can't decide whether it's worth the stress of trying again. I think the place needs a stronger (and less passive-aggressive) manager, who was completely unable to deal with fair complaints. Also think staff need more training on how to take orders while managing questions for the kitchen on allergies and autoimmune conditions as it makes far more sense to take all orders then discuss with the chef rather than to-ing and fro-ing for 40 mins before taking down a complete order. I wish the chefs well, really delicious food, but Zest will go nowhere without sorting its customer facing issues.
Absolutely loved this place! So refreshing to have a decent quality kosher restaurant. Mezze a little pricey but overall dinner came to under £30 each (for starter, main, dessert) and was delicious!! Will def go again.
As an Englishman who takes Hebrew classes at JW3 I was really looking forward to eating with my Israeli wife and friends at Zest. Given the glowing reviews we've read elsewhere I can only presume that we went at the wrong time, which was Sunday lunchtime. Before each dish arrived my fellow diners enthusiastically described it based upon how it tastes in Israel. Upon tasting each dish the discussion quickly moved to tentative questions trying to establish whether anyone else's dish was good. Overwhelmingly they were a disappointment. My friended assured me that next time we're in Israel we'll have to have proper labneh, shakshuka, sabiah, humous etc to put the memory of the food at Zest behind us. The service was a disaster. None of the rounds of food nor drink were served without something being forgotten, which we'd have to ask for, several times over. When after meal teas were served, boiling hot water was spilt over one of us. Given we had two 3 month old babies at the table we're more relieved that it didn't go over our children, but ultimately one of us was burnt and no one came to apologise. The bill came with a generous 12.5% mandatory service charge added and none of the drinks were removed from the bill in spite of the fact that one of them was thrown over us. Thankfully there wasn't any protest when we asked to have the service charge removed, however but we couldn't help feel that we shouldn't have been necessary to ask. Not good.
Dear Davina, it was a great pleasure meeting you last week in your most splendid surroundings. I hope you have had time to consider our Chanukah request and I look forward to hearing from you very soon Best Wishes Avril JAMI Outreach Manager
Restaurent was delicious, well considered flavours, great mix of flavours - Mediterranean fusion. Mezze were delicious although a bit too pricey, we had 5 between 2 of us and was almost 20 quid! For me the main was the best dish - a whole Seabass stuffed with flavoured lentil and rice drizzled yogurt and harissa topped with currants served with sautéed cherry tomatoes, beautifully presented and really delicious collection of flavours that all worked well. Desserts were also good, ruglach bread and butter thing was great subtle and a good end to a great dinner. Restaurent tables spread out nicely and is comfortable with good ambient lighting. So 2 of us ate - shared Mezze , 2 manins and shared a desert NO Drinks was £64 with service. Not cheap but not terrible - think Ottolenghi quality ans style so price is similar. 2 things need improvement - service is a bit of mess - a bit deer in head lights, while to waiters are nice, food took along time - didn't seem so organised- was very chilled maybe a little too chilled. Also menu selection is small only 4 mains - so unless menu changes regularly which i hope it does, could get a little boring quick.! Oh also its gets busy so book even for lunch.
More venues
Sponsored listings