Science Museum Live: The Energy Show
The summer's hottest family ticket is a fast and furious new show combining theatre with hair-raising electricity, plasma balls, rockets and explosions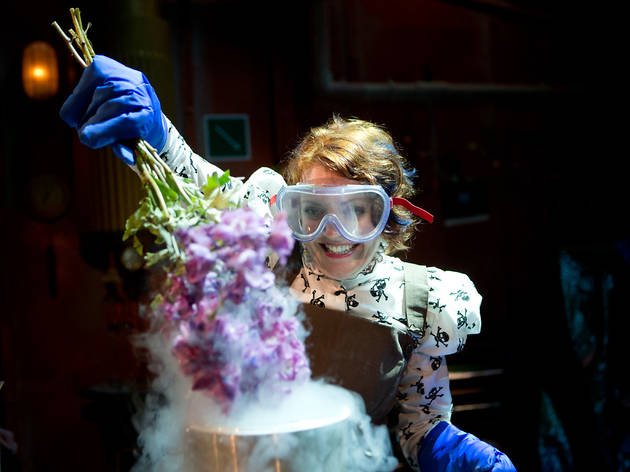 Just in time for the summer holidays, there's a new show in town. For six weeks only, Science Museum Live presents '
The Energy Show
', an exciting live drama with a gripping story and plenty of whizz-popping explosions and experiments along the way.
See methane bubbles ignite into fireballs, lights powered by plasma balls, liquid nitrogen freezing flowers so they shatter like glass, and a hair-raising Van de Graaff generator – and prepare yourself as hydrogen rockets are fired into the audience.
Staged in the Science Museum's new theatre space, the story follows Annabella and Phil, two futuristic science students, who have to race against time to prove their knowledge of energy. They get help from their virtual lab assistant, i-nstein, and the action happens in their spectacular steampunk workshop full of gadgets and chemicals. Of course, this is where the real show kicks in for budding boffins, as Annabella and Phil have to demonstrate live experiments on stage.
Watch out – theatre just got dangerously exciting!
Sponsored listing
Museum of Brands, Packaging & Advertising
Roll up, roll up! The Museum of Brands has found itself a glam new home; still in Notting Hill but now with extra added space for its seemingly endless collection of wrappers, posters, toys, boxes and general collectibles. The main part of the display is the 'time tunnel', a maze of dark cabinets that are stuffed with colourful curios arranged in date order. With the arrival of each new decade an information panel helps to put the changing designs and new fashions into context. A highlight – literally light thanks to a sunny, south-facing gallery room – is a sort of shrine to a few particularly recognisable brands. One cabinet holds every iteration of can and bottle produced by Guinness, another is packed with cereal boxes from Kellogg's, even Brasso gets its moment to , *ahem*, shine. This is a museum that will appeal to any lover of stuff, a nostalgia-stuffed tribute to the many, many things we buy.
Venue says: "Easter activities: Bunny Hop and Seek Family Trail, 30 March - 15 April and an Easter Egg Packaging Design workshop, Sunday 8 April."