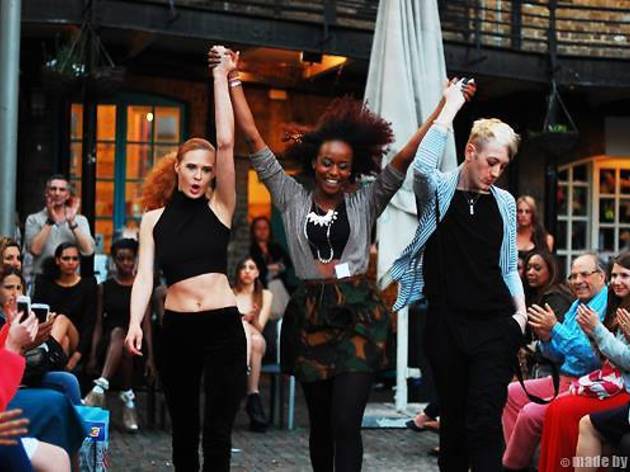 A six-week pop- up, which will hold an eclectic jumble of activities from a bunch of brands you wouldn't normally see in a room together. The event has already taken place in New York and LA and now Fashion Meets Music have landed in the marginally less glitzy Stratford,  popping across the pond as part of their mission to promote fresh talent. They have brought some U.S brands but will also showcase up-and- coming UK designers and artists. The launch night on 6th September – with the obligatory drinks and nibbles -– will see a catwalk show of all of the brands which are to be featured in the pop-up and a performance by TORA. 
Events include an opportunity to customise your denim in the Eco-Lounge, learn to strut at the modelling 101 with models Gordon Flynn and Annalise Dayes, plus free classes on jewellery making and make-up. 
Whether this is a melting pot of creativity, or a case of jack of all trades, we shall soon find out.
Rating Breakdown
5 star:

3

4 star:

0

3 star:

0

2 star:

0

1 star:

0
Following Fashion Meets Music's successful 4 month run at Westfield Stratford, the Pop Up is set to return to Camden Town for TWO WEEKS ONLY at the end of February. FMM's very own pop up retail space is perfectly located at the Collective Pop Up Shop on Camden High Street. Launching on Monday 17th February 2014, it will run for just two weeks, stocking unique and one-off creations by its many multi-talented designers. In its boutique setting shoppers will be able to pick creative, luxury and affordable pieces by future design superstars. FMM will be running a number of in-store promotions during the run so please stay tuned to their FB page for more info. www.facebook.com/fashionmeetsmusicpopup DATES: From 12 midday on Monday 17th February - Sunday 2nd March 2014 ADDRESS: 69 Camden High, London NW1 7JL.
This went so well it has since been extended and is there till the end of January 2014.
I heard about this on Facebook and so thought I would check it out as I work not too far and had a much better time than expected. The 2 models in the window who were living mannequins were scarier than most films, but it added to the effect I suppose. And i thought the lack of door hands on the shop was very weird as well. But apart from that, it was an experience rather than a shop and I only got a scarf and a bracelet, but I can't see myself bumping into someone else wearing them which is the main thing. Will definitely be back over the next 6 weeks