Four of the best bespoke suit services in London
Suits you, sir! Time Out's dandiest gents get suited up at different London tailors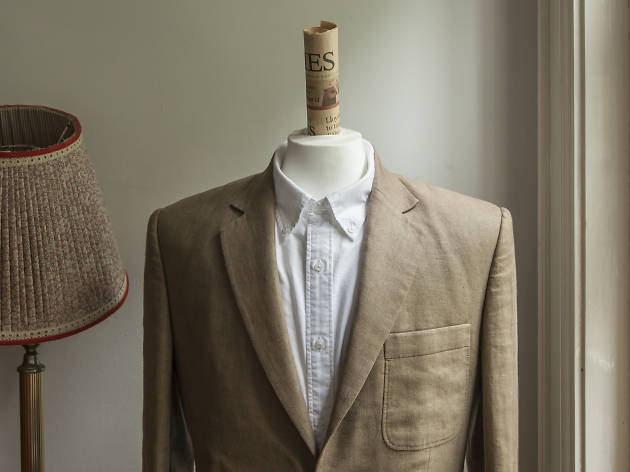 A bespoke suit can be a serious investment. Time Out's dapper chaps have scouted out some of the capital's best tailoring services that'll have you looking sharp in no time (well, in about three to six weeks, if you're being particular). If you fancy upgrading the rest of your wardrobe too, check out our guide to the best menswear shops in London, or have a rummage at one of the capital's top vintage shops.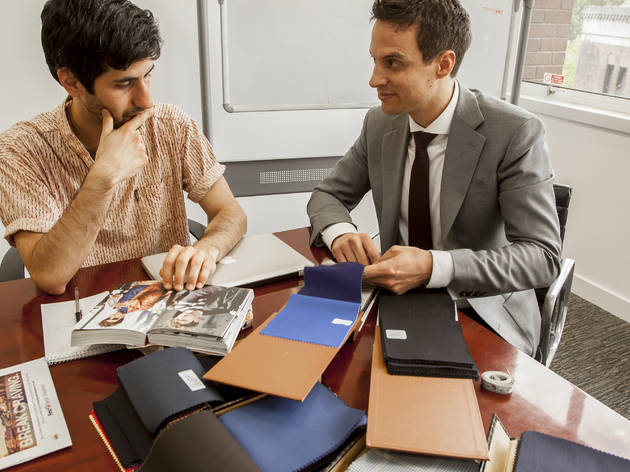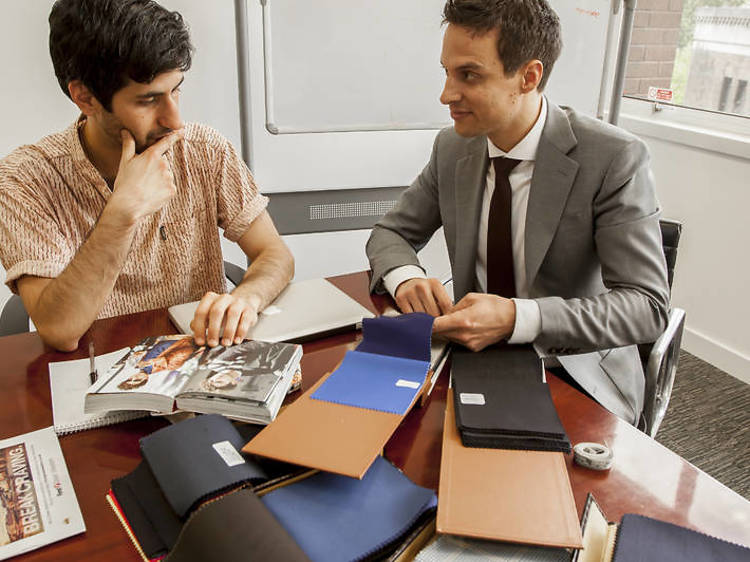 Rob Greig
There's nothing quite like having a man gently cup your undercarriage during the course of a working day. Edit Suits makes the process of getting a bespoke suit easier by coming to you, whether at home, or in my case, work. Armed with books of sample fabrics and a huge amount of warmth, outfitter Reto Peter kicked off the process by ascertaining some of the 30-plus points of measurement that go into the perfect suit. As well as making use of a traditional tape measure, pictures were taken to record my slope and stance, while a device similar to a spirit level was used to check the angle of my shoulders. Gadgets are one thing, but the real fun came from picking out fabrics. Reto politely steered me away from picking an Ikea-evoking canary-yellow lining. Discussions around buttons and pockets followed, and three weeks later, it was ready for a fitting. To my untrained eyes, it looked banging, but Reto advised a small tightening under the shoulders to give me what he called 'an hourglass figure'. With images of being the male Christina Hendricks in my head, I agreed unreservedly. And he was right - the finished article did exactly what a good suit should do: make you feel like the big man.

The measure: I finally have the dream suit. Bring on my next court appearance!
Cost: From £389 (mine was £599)
Turnaround time: Three weeks
How to book: Visit www.editsuits.com
10 Devonshire Row, EC2M 4RH. Tube: Liverpool St.

By Oliver Keens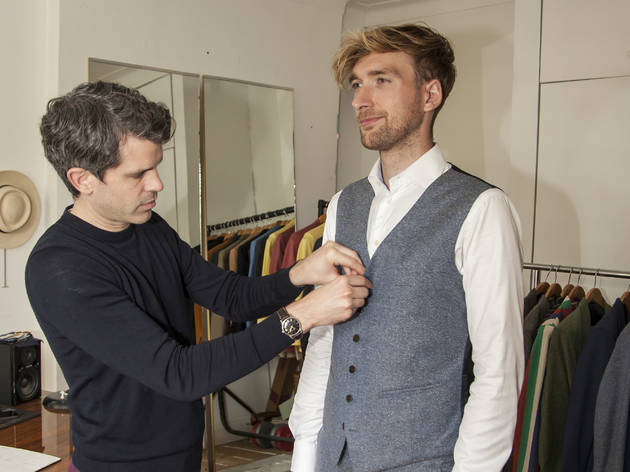 Rob Greig
The last time I had a man wave a measuring tape near my groin was in Vietnam, where you can get a made-to-measure suit for less than £100. What you don't always get is something that still resembles a suit after a couple of outings, so it's a replacement that'll work for all occasions I need when I meet Beggars Run founder Cian McAuliffe at his tiny showroom above a Bethnal Green boozer. The real challenge here is picking a favourite from their collection of over 50 suits, all unique and supremely snazzy. It's difficult to make a bad decision - I tried a yellow two-piece to see if it'd make me loo like Jim Carrey in 'The Mask', only to find that it looked as sharp as a lemon. Eventually I settled on something more subtle - a blue three-piece made with a flecked fabric from Huddersfield. For once, beggars can be choosers.

The measure: Jazzy suits for people who don't want the same as everyone else.
Cost: £360-600 for a two-piece suit (my suit was £610)
Turnaround time: Four weeks (on average)
How to book: Email info@beggarsrun.com to make an appointment
47 Approach Rd, E2 9LY. Cambridge Heath Overground.

By Alex Plim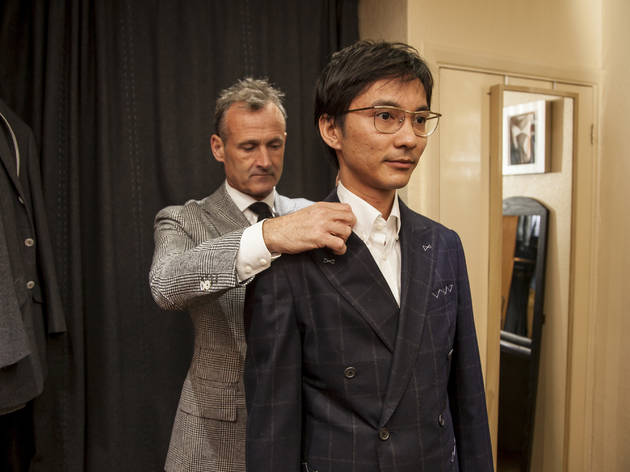 My new suit feels so comfortable I'd happily wear it to bed. By using softer fabrics (the flannel I chose feels like newborn kitten) and lighter linings, Adrian Holdsworth, founder of Italian tailoring specialist Volpe, has knocked the stuffiness out of the three-piece suit. This is tailoring so lithe, delicate and sensual, it's almost perverse. I can't stop touching it. I feel as though I have never worked a day in my life, and nor will I ever have to. And yet it has the flattering shape, flowing contours and sculptural drama of heavier tailoring. I appear taller and buffer than I actually am. Top tip: if you're skinny, a double-breasted jacket acts like a push-up bra. Volpe opened in 1999, and is a word-of-mouth business offering exceptional quality at a fair price. It's simple: Adrian measures you, offers advice, helps you choose from a selection of beautiful Italian cloths and sends it all to Caruso, a workshop in northern Italy. The handmade suit comes back, gets tweaked a little in-house, and you walk out sexier, cooler and more stylish than when you walked in.

The measure: Although the most expensive option here, Volpe has one of the best price-to-quality ratios of any high-end menswear shop in London.
Cost: From £1,000 (mine was £1,850)
Turnaround time: About five weeks
How to book: Pop into the shop or phone (7821 0002)
Denbigh St, SW1V 2ER. Tube: Pimlico.

By Alfred Tong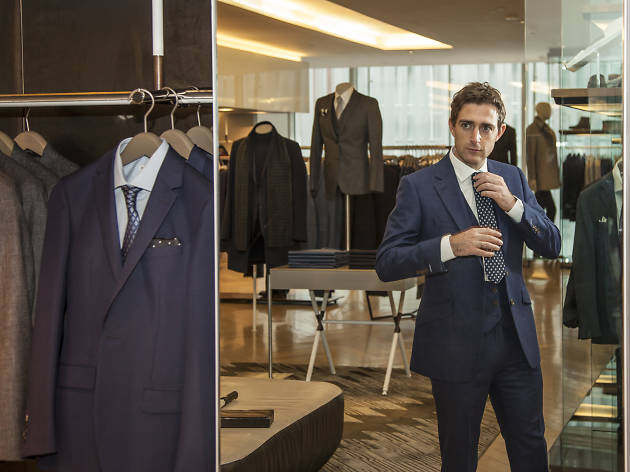 Rob Greig
I knew I wanted something blue, something woollen, something classy - but I didn't want to look like David Cameron or someone who works in the City. That said, I wanted to avoid the full Jeremy Corbyn (never change, Jez) and embrace the smartness. So I went into Reiss's flagship store just behind Oxford Street to meet Richard Williams, its dapper and friendly personal tailor. He made the experience a breeze. Reiss has a 17-stage gitting experience, and Richard whipped me through each of them - choosing the fabric, the buttons, the lining and the rest - with the ease of a man who knows a lot more about suits than I do. The first stage took about two hours, and when I came back about five weeks later, the suit fitted perfectly. It's not cheap, but it's not outrageous either, especially if you've got a wedding coming up or you wear one every day. And there's something seriously flattering and pampering about getting the personal touch.

The measure: Jeremy Corbyn: if you ever do fancy a change in style...
Cost: From £550 (mine was £850)
Turnaround time: Four to six weeks
How to book: Book online here.
10 Barrett St, W1U 1BA. Tube: Bond St.

By Dave Calhoun
Snap up exclusive discounts in London
Time Out's handpicked deals — hurry, they won't be around for long...