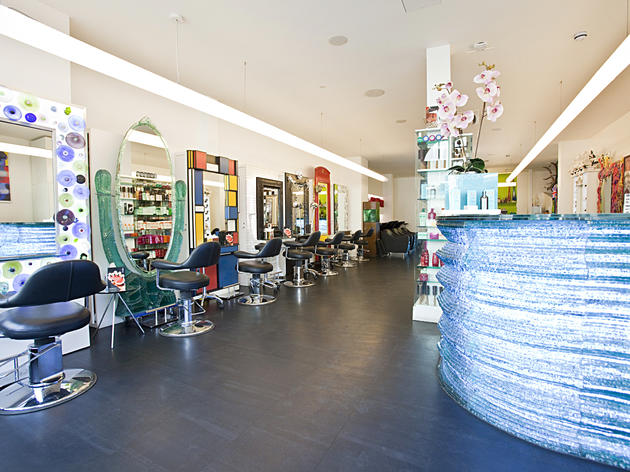 Time Out says
With another salon a mere hair-flick away from the King's Road, Hari's may be a blow-dry magnet for the über-Sloane but there's no doubting it's at the top of its game. Leaving behind the familiar charms of the chic and glamorous Brompton Road salon, we took a chance on the kookier King's Road outlet, complete with diamond-encrusted skulls above the mirrors and paint-splattered work stations.
Our tester's vegetable colour treatment (from £45) came with a fresh juice from the in-house bar. Colour was expertly applied and left her with locks that looked posh and glossy. There are numerous sideline treatments too, such as killer lashes and spray-tans to match your new hair colour. A nail beauty splurge comes from Sophy Robinson, who has worked for Topshop Unique and Giles Deacon: her's are capable hands to place yours in.
Be warned, though: this is not the destination for oasis-like calm and Chelsea stylings. There seems to be a constant commotion in this lively salon: staff outnumber customers (of which there are already many), smoothies are constantly being whizzed up and music is at louder than background volume. Perfect if you're looking for a bit of action to accompany your haircut.
Details
Address:
233 King's Rd
London
SW3 5EJ

Transport:
Tube: Sloane Square tube
Contact:
Opening hours:
Open 10am-7pm Mon-Wed; 10am-8pm Thur, Fri; 10am-6.30pm Sat; 11am-5pm Sun
Do you own this business?
Average User Rating
2.8 / 5
Rating Breakdown
5 star:

5

4 star:

1

3 star:

0

2 star:

1

1 star:

6
DON'T RECOMMEND! NEVER EVER. Absolutely terrible place where nobody takes responsibility for what they've done. Including Hary who does no supervising at all because he is running around, doesn't have time for that and just doesn't consider it as his personal duties. Although it is he who must take personal responsibility for pupils's work, for clients's good look and for the service his salon provides.
I was there as a model and it was really awful experience. Neither pupils nor Hary even don't listen to you, what you want, what you explain - they absolutely don't care. I have a scar on my head and of course doing haircut I always try to hide it. So at this place I did the same, showed the scar and asked to keep it covered by hair. In vain.
All hairs around the scar were cut close to zero, I got terrible look and no excuse at all, nothing, absolutely nothing. Just was told roughly well what you wanted we were just pupils. Guys it does't mean you have to uglify your models! Far from it! And if pupils are so unprofessional, a superviser must be at the place constantly watching them but not twinkling somewhere far away.
So 100% negative. If you want to look awful - go to Hary's salon.

Awful experience. Had a panic attack in their students salon and walked out.Clueless girls who seemed bemused by clippers, seemed like it was the first time they had ever held them.Leave all expectations of being treated with dignity and respect at the door. Horrific.
I went to Hari's as a model a few months ago and I definitely DON't recommend it! The lady who did my hair was very nice but I don't think she had much experience in cutting my type of hair (afro-mixed race). When I told the hairdresser what I wanted (just a trim), her supervisor came but she didn't even acknowledge me and I was treated as a mannequin rather than an actual human being! I was there for about 3 hours and wasn't even offered a drink of water or anything even though the bar was right behind me. The hairdresser pulled my hair so hard during the blow-dry that I came out of there with a massive headache. My hair was uneven and very puffy. But at least it was free. I still wouldn't go again though, even for free.
After that I went to Jones & Payne also as a model and I had the best haircut I've ever had in my life!
Very pleased with my haircut - would definitely recommend.
Beautifull salon. Great staff and service.
I must say, having read all the terrible reviews, I almost got cold feet from my model appointment. Good thing I didn't, because I ended up getting an excellent haircut. The trainee who was cutting my hair wasn't that experienced but with Hari's help and guidance she did a terrific job. It took about 2 hours and I left absolutely satisfied.

I recently visited London and I walked past the King's Road salon, it looked really busy and there were some really nice hairstyles in there! I had a blow out with Andrew who is just the nicest young Irish guy, so friendly and gave me such lovely glossy waves. I'll definitely be back there next time I'm in London.
I started out knowing about HARIs when i moved to Parsons Green and use there stylist Andra who is FAB! However i wanted to see the Kings Road branch as i always drive past it with a bus. When i calleed a girl called Amy picked up and was really polite. I just wanted a normal blow dry and not spend over £40, she suggested Jenny for £35. Jenny took such good care and did such a nice blow dry it lasted for days! deffo returning.
I read but did not heed the bad reviews. What a mistake.
I had then misfortune of having my haircut supervised by Hari himself, who threw big diva like strops whenever I fed back that I wasn't happy with how the haircut was turning out. Apparently I had chose a picture and so there was no scope to change even at a very early stage in the cut. I let myself be embarrassed into silence and am now stuck with a 50 year olds hairstyle that actually looks nothing like the picture and is definitely something I'm not happy with. Who loses out? Me for the next several months!
Heed the warning and give them a wide berth.
The wonderfulL Charlie at this salon is the first hairdresser in years who understands how to. Cut my curly hair. I came across this salon by accident and am so glad that I did. Staff are courteous chatty and professional.I used to dread going to the hairdressers but not any more. Worth every penny.
The worst place I have ever been to have my hair done. All I wanted was a wash and blow dry, the girl washing my hair nearly ripped it out and actually asked if I wanted it conditioned! I have curly hair and just wanted it to be non frizzy for a big work week ahead, he said he understood, no. Twice I asked him to do it and still no idea, I left with something I could have easily done myself, to be honest my boyfriend could have done a better job. Very expensive, watch out if you get asked if you want a coffee .. It will be added to your bill. No magazines to read and a shabby toilet. It might look alright from the outside but HARI's is all fur coat no knickers.
Until today....I've been a loyal customer for cut, colour, and keratin treatments at the Kings Road salon. I booked an appointment, was called hours before and told that my stylist had quit and that they were doing me a favour to let me move to another stylist. They then scheduled me for such a short window to perform the colour and cut that the manager and the stylist expressed annoyance at me. As I typically spend anywhere from £200 - £400 per visit....I cancelled the appointment and won't be back. The salon manager was unbelievably rude, without any customer service skills. Somehow, their frustation on staffing challenges were misdirected to me...the customer! I called Paul Edmonds who scheduled me in on the same day (without complaint) and performed beauitifully with professionalism and charm. It's a shame that this salon has lost the plot on what it means to provide a service.
Snap up exclusive discounts in London
Time Out's handpicked deals — hurry, they won't be around for long...