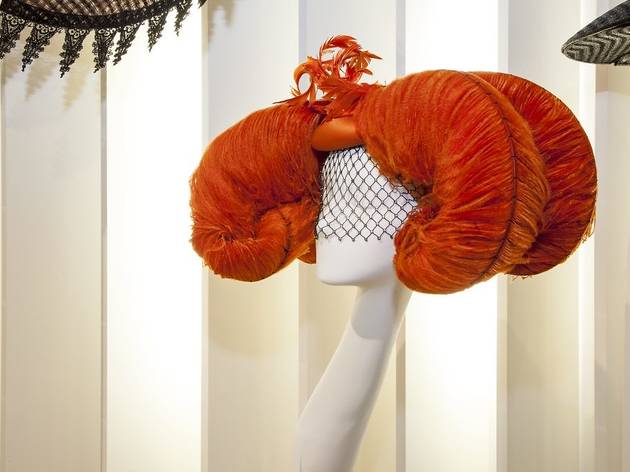 1/18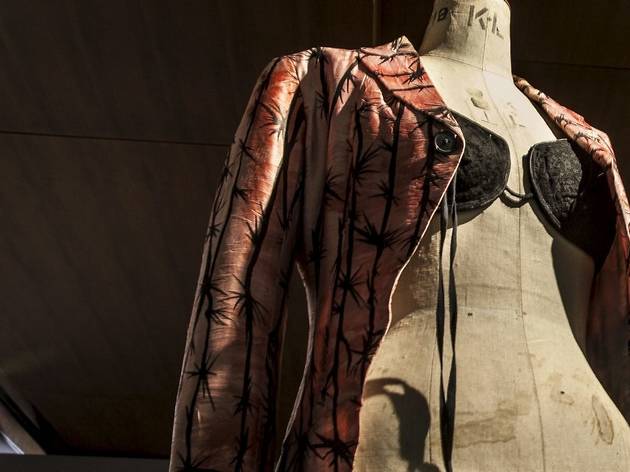 2/18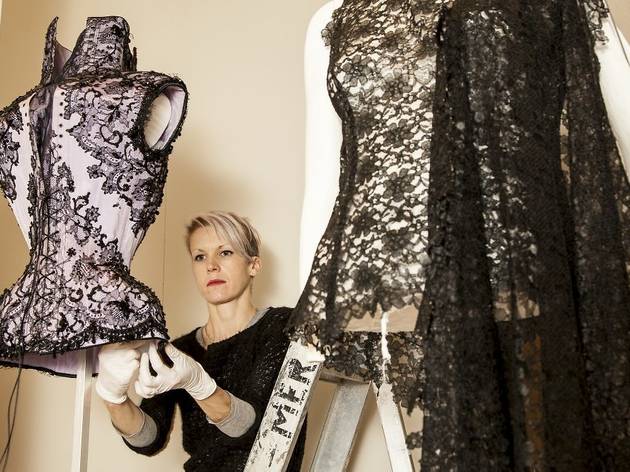 3/18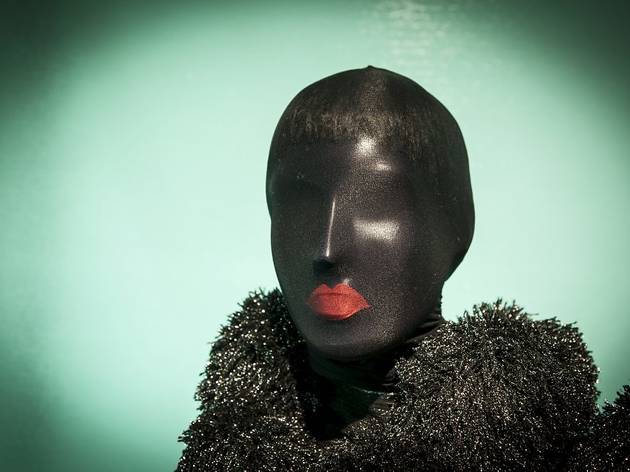 4/18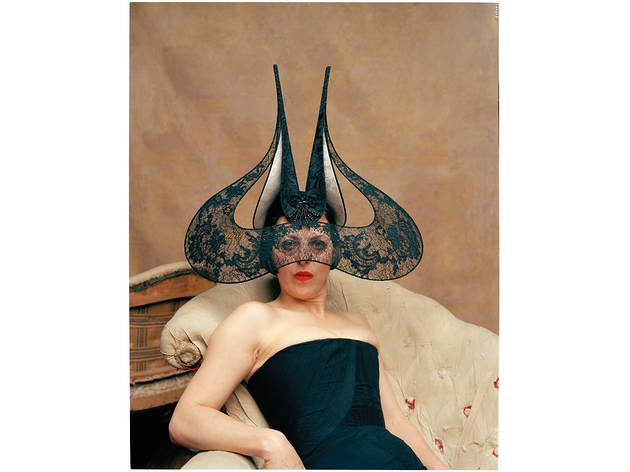 5/18
Isabella Blow, 2002 (© Diego Uchitel)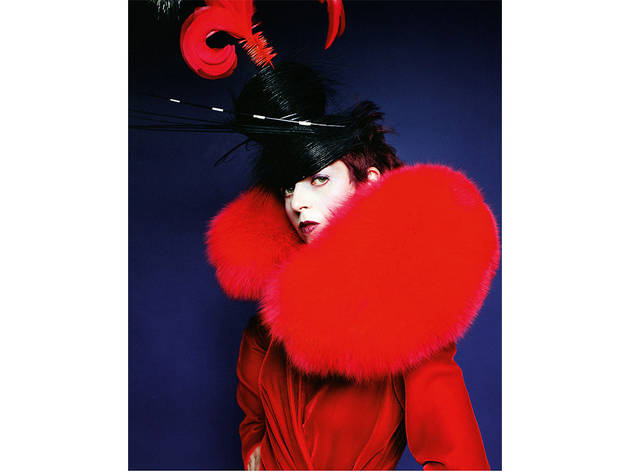 6/18
Isabella Blow, 1997 (© Mario Testino)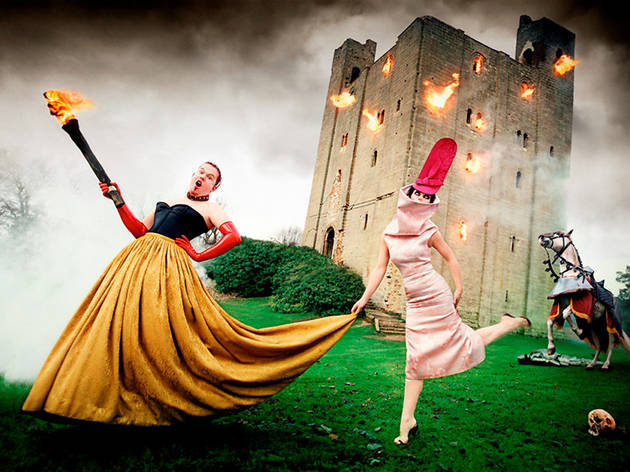 7/18
Alexander McQueen and Isabella Blow: Burning Down The House, 1996 (© David LaChapelle Studio, Inc.)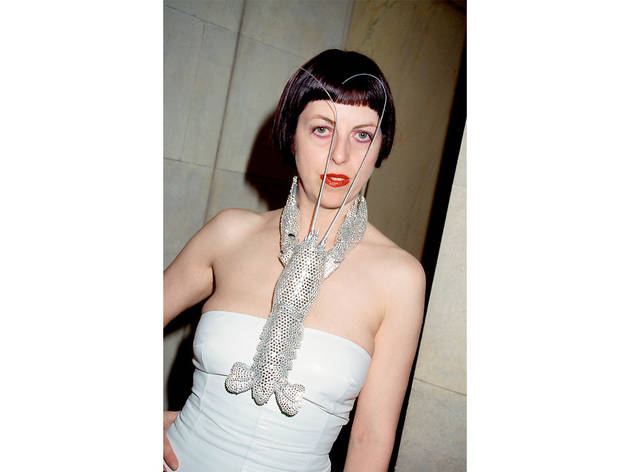 8/18
Isabella Blow at the American Embassy in Paris, 1998 (© Roxanne Lowit)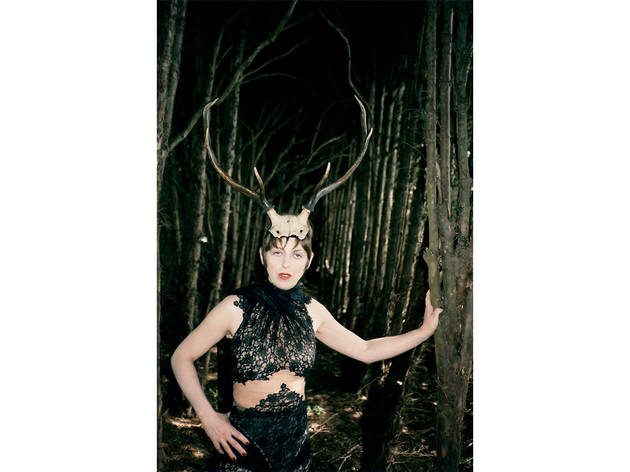 9/18
Isabella Blow with Horns, 1996 (© Juergen Teller)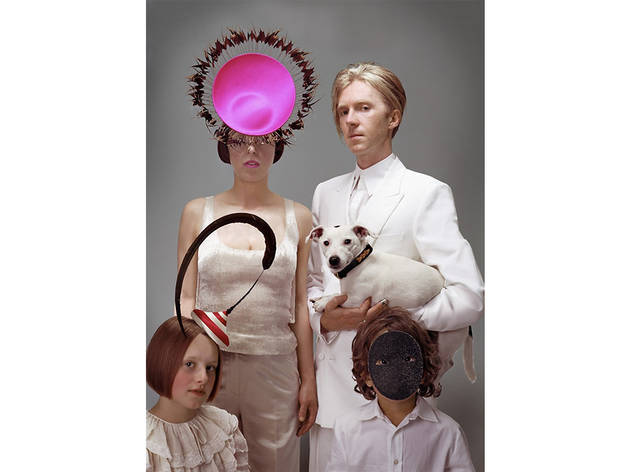 10/18
Isabella Blow and Philip Treacy, 2003 for Vanity Fair (© 5 Donald McPherson)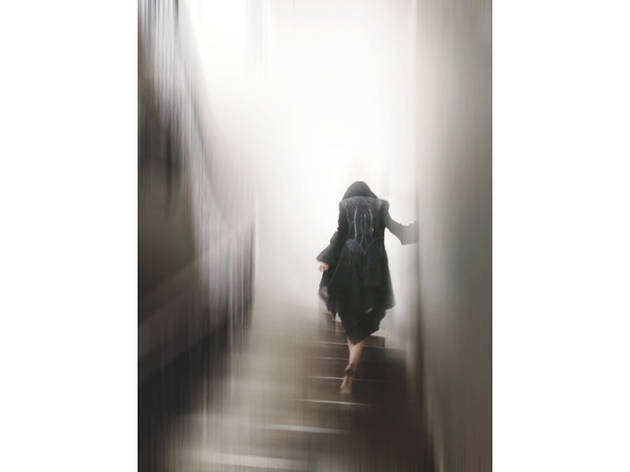 11/18
Black frock coat with feather stand up collar and embroidery detailing, silk and feather (© Nick Knight)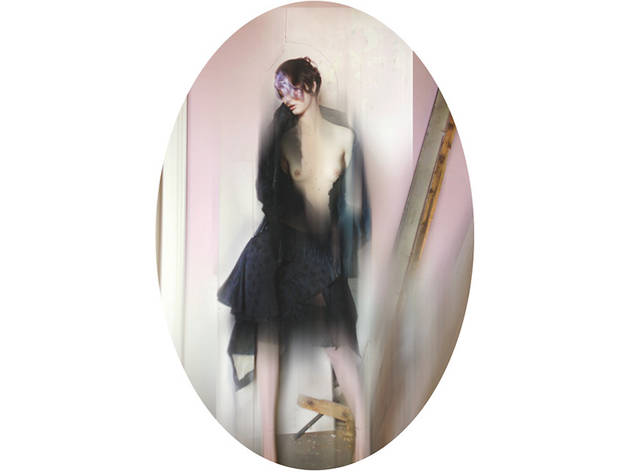 12/18
Black frock coat with feather stand up collar and embroidery detailing, silk and feather (© Nick Knight)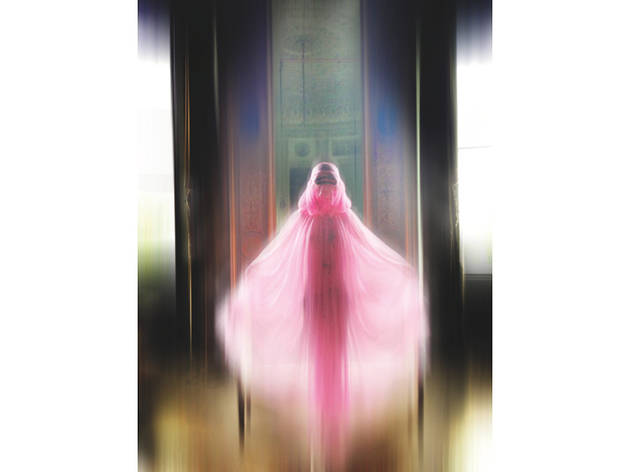 13/18
Burka - Undercover by Jun Takahashi, S/S 2003. Worn to Christian Dior, Haute Couture S/S 2003 (© Nick Knight)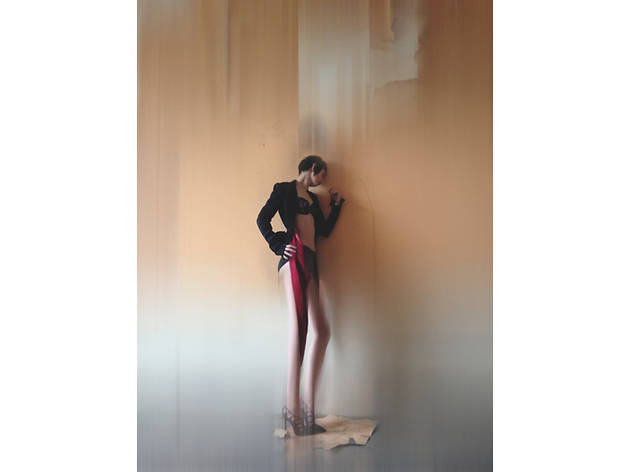 14/18
Jacket - Alexander McQueen. Underwear - Rigby & Peller. Shoes - Manolo Blahnik (© Nick Knight)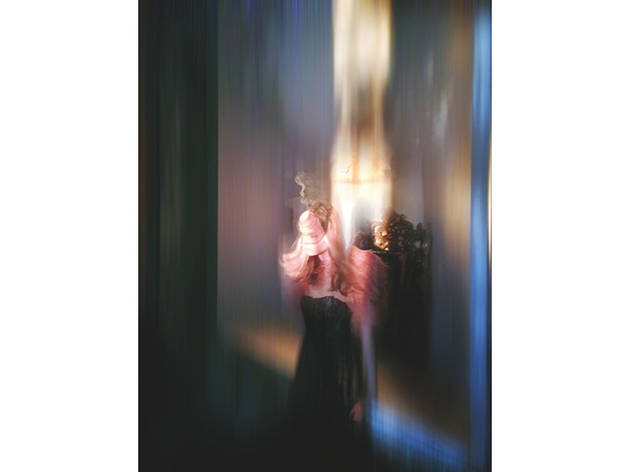 15/18
Hat - Philip Treacy, A/W 1999. Bolero - Alexander McQueen, S/S 2004. Dress - McQueen, S/S 2003. Worn to the launch party for 'Bergdorf Blondes' by Plum Sykes (© Nick Knight)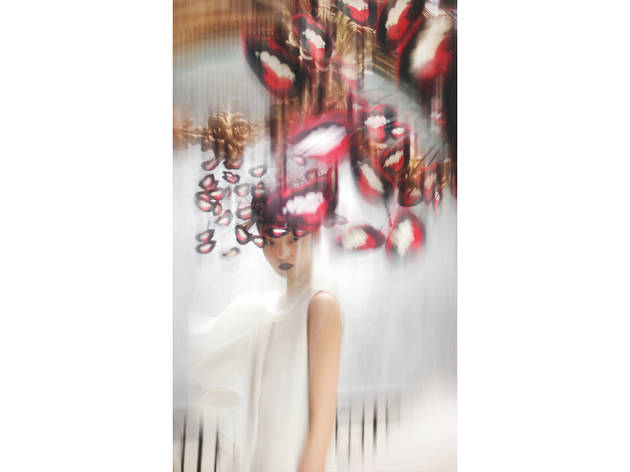 16/18
Hat - Philip Treacy, S/S 2003. Dress - Chalayan, S/S 1999 (© Nick Knight)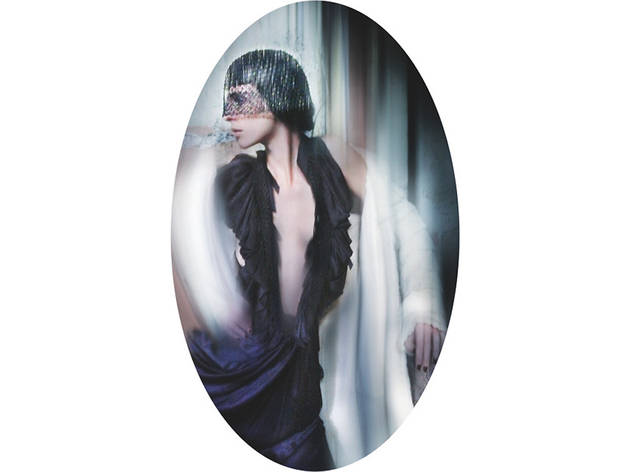 17/18
Hat - Philip Treacy, c. 2004. Coat - Louis Vuitton, A/W 2004. Dress - Wunderkind, S/S 2006. Worn to the film premiere of 'The Phantom of the Opera', 2004 (© Nick Knight)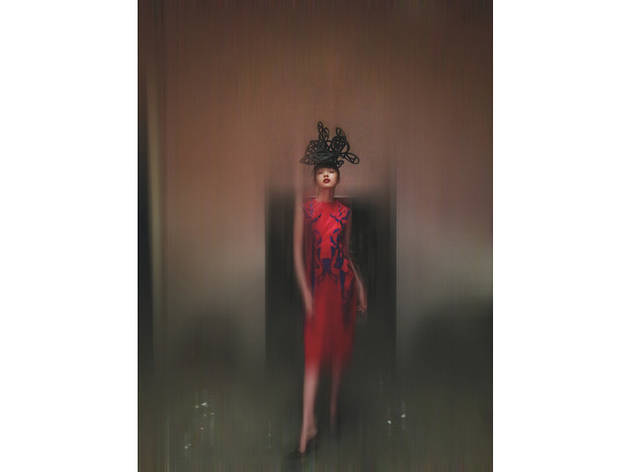 18/18
Hat - Philip Treacy and Simon Periton, A/W 1999. Dress - Tristan Webber, S/S 2000. Shoes - Manolo Blahnik (© Nick Knight)
Fashion doyenne, muse and aristocrat Isabella Blow (1958-2007) devoted her life to discovering incredible fashion talent and championing the designers she discovered. Much of this spectacular show features pieces by them, most notably her protégées Philip Treacy and Alexander McQueen, whose rare MA collections are on display. Rather cruelly, footage from those collections has been placed alongside videos of less successful fellow graduates from the same year and the contrast is immense , showing what vision and foresight Blow had. Conservators have been hard at work making sure the clothes – many of them well worn by Blow – have been restored to their former glory. That includes Erik Halley's famous lobster hat, which got a bit bashed up in a car crash en route to a Julien Macdonald show, which appears in an incredible under sea installation alongside Treacy's ship hat. Top tip: stop and gawp at this masterpiece, it's awesome. The exhibition starts with fascinating snap shots into Blow's past with ephemera including a birth announcement in the Evening Standard and old photographs of Blow as a child on the Cheshire family estate, Doddington. Walking through past an installation of Blow's head by Tim Noble and Sue Webster, you arrive at outfits from McQueen's breakthrough Dante collection of 1996. Touchingly there is video footage from the show and you see Blow's excited gesticulation and expressions of delight while steely fashion editors stare on glumly. On the mezzanine level you are greeted by Treacy's incredible hat collection of the same year. The climax is a gallery of Blow-a-like black mannequins complete with red cut-out lips and wonky black bob featuring her most dazzling and photographed outfits. Be prepared to be wowed, this is fashion in its purest and most captivating form.
Average User Rating
3.5 / 5
Rating Breakdown
5 star:

0

4 star:

1

3 star:

1

2 star:

0

1 star:

0
Absolutely loved this exhibition, which really exposes the viewer to the fashion world; the intensity of backstage chaos, and the borderline genuis/madness of Blow, McQueen and Treacy. The exhibition encapsulates the eccentric character of Blow who was not only a lady who broke fashion boundaries, but who also used natural, existing and old objects/styles to influence her work. She saw stars in McQueen and Treacy, and I believe their collaboration developed them all as artists, making them the fashion icons they are today. You are exposed to Blow's life and the person she was, as it captures her quirky character that got her noticed in the fashion world in the first place. There are exhibits of original McQueen and Treacy pieces, fashion show snippets and interviews of Blow herself. My favourite was the final room which was based on the show created in memory of her. This is more than just an exhibition of fashion: this collection exhibits nature's influence on fashion, the life of a woman who knew fashion on a historic and innate level, and a game played with style to recreate and advance the fashion world. Ali Valenzuela
With a little more care this could have been the show of the year... BUT.. As you are herded into the gloom of the first three rooms of this show, you really wonder what on earth your £12+ was spent on : lighting and excitement are lacking and all the pzzazz and panache that Isabella could bring at the drop of a hat, let alone the blink of a coquettish eye, are no where to be seen. It is a bewilderingly flat entrance for a woman for whom Fashion, Style, Creativity and Magic were everything. The worst signage ever doesn't help matters - put two people in front of an exhbit and no-one else can read or learn anything about it since the signs are generally small, at ground level, black lettering on grey and half the size of a postcard. Who curates these things? Do they never go to exhbitions when there are crowds? And don't get me started on the bizarre idea to show videos of Mcqueen fashion shows on an old style tv in a corner of a room which allows - oh, maybe 5 people to view it, standing, awkwardly huddled in a bunch. Are there any signs telling you how long any of the video/film clips are so you can judge whether it is worth you while watching them, or how far along you have to go before the film loops back to the beginning? No of course not! In fact one of the lauded film clips is marked as being circa 2010, yet, should you be able to find space to view the actual film, wihtout other peope bumping into you as they try to find their path through the stygian darkeness, you will discern the film-makers themselves mark it 2002. Bizarre. Upstairs you will find richness of haute couture beyond reckoning, wonderfully eccentric, eye-poppingly memorable, gorgeously crafted outfits that will sear into your brain and make you want to rush off to VV Rouleaux to find feathers and ribbons and whiskers on kittens with which to parcel youself up. There is however again a lack of clarity in the signage as it is never declared whether these outfits were owned outright by Ms Blow, or worn once by her, or just inspired by her. All very confusing. Such a waste! Having returned home I instantly youtubed Isabella Blow and found several short films which brought to light her vivacity and joy in a far greater measure than any of those shown at Somerset House which is a great shame. The two clips shown with Ms Blow speaking directly to camera are poor and lacking in the elan she clearly had oozing from every pore when she wanted. Where are the comments from her nearest and dearest about who she was and how she was? Further disappointement comes with another two dismally small tv screens showing a Philip Treacy Fashion Show, shoved in corners, impossible to view with a crowd - no seating, no showmanship, which is a shame as when you do see the hats on live models, they, well, come alive... The worst damage to Mr Treacy is however, in the display of his incredible and iconic sailing ship hat, which is stuck in the back corner of a boxed display cabinet and it is has then weirdly been diseected by piece of plastic posing as a watery sea surface. Having seen this item displayed at the Design Museum many moons ago at close range, let me tell you, you are missing a price beyond rubies, by not being allowed to appreciate fully its exquisite craftsmanship and artistry. I spent over 3 hours at this show, far longer than I anticipated and I did enjoy it, my eyes-reeled, my breath was held in awe at the genius of Treacy and McQueen, but oh God my heart sank at lost opportunites by the curators to really make this an utterly fabulous experience. At the end I was only left with the briefest snapshot of Isabella Blow - when with a few more say interviews by people who truly knew her could have been lent her more colour.. What instigated her to embrace her path, made her a muse, made her the person she was? The fact that the posters being sold at the show promoting her dont't actually feature her are perhaps a clue. It's smoke and mirrors... You'll get to admire some stunning Treacy and McQueen objets d'art and have a glimpse at the curator's version of Isabella but the rest really is blowing in the wind...