Heads up! We're working hard to be accurate – but these are unusual times, so please always check before heading out.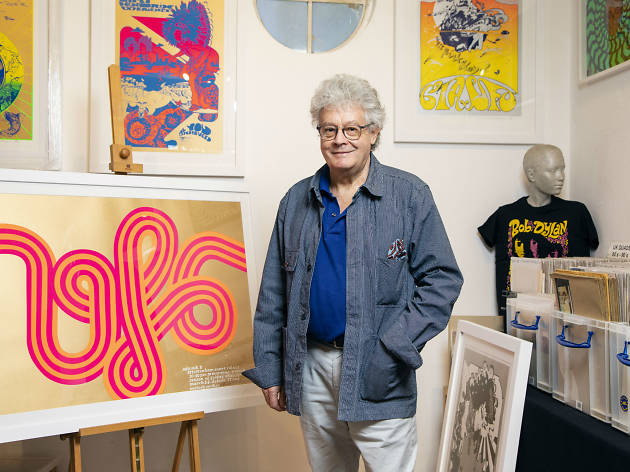 This Londoner designed gig posters for Jimi Hendrix
Artist, designer and secondhand clothes dealer Nigel Waymouth was at the centre of the '60s psychedelic scene. This is his London story
'I was born in India during WWII. My father was in the RAF and after the war ended, he and some fellow officers formed an airline. I spent my early childhood in Buenos Aires. When I was 12, my father lost all his money, my parents got divorced and my mum and I moved to London.
I quickly became a north London boy, living between my aunt's in Edgware and my mum's in Stanmore. At school I was part of a high-spirited bunch of sixth formers: if we weren't protesting politically, we would be visiting exhibitions, theatre productions or jazz clubs. Living in north London really shaped my taste in music. I met the singer Long John Baldry at Dino's Café by Edgware station, and stayed talking to him for hours about the blues.
'Our shop was a magnet for anybody with creative leanings'
At the start of the '60s I was studying at UCL and getting into freelance journalism. My girlfriend at the time had a large collection of vintage clothes, and regularly scoured secondhand markets like Portobello or Caledonian Road. When the building on King's Road where I worked as a journalist went belly-up, the landlord asked if I'd like to take it on to sell the clothes. I and my two partners, Sheila Cohen and John Pearse, opened the Granny Takes a Trip boutique in 1966.
These were the days of the so-called "alternative culture". London was at the epicentre, and we wanted to be part of that revolution. Our shop was a magnet for anybody with creative leanings. We didn't want to be seen in a sharp uniform like the mods on Carnaby Street: we wanted fashion to be looser and more free-flowing.
'We chopped a car in half and screwed it on to the shopfront'
Quite often we'd change the shopfronts overnight, staying up all night with pots of paint. At one point we chopped a 1948 Dodge car in half and screwed it on to the shopfront like it was coming out at you. We wanted to titillate passers-by and grab their attention, creating something that was artwork in its own right. Granny's was more about ideas than making money. Running a shop was not my ambition.
In 1967, the people who ran the UFO Club on Tottenham Court Road asked me to team up with the late artist Michael English to produce a poster for their psychedelic night. As Hapshash and the Coloured Coat, we designed posters for musicians like Jimi Hendrix. We even recorded an avant-garde album. Around 50 of my friends turned up to the studio, tooting horns and making all sorts of noises, while I read out Marvel comic books to make them sound like epic poetry.
After a while, the whole '60s atmosphere of "peace and love" morphed into something more aggressive and political. My life changed too: I met someone, fell in love, got married, and started painting. I've been painting portraits ever since.
I live in London now – I can't think of any other city with such a strong core of creativity. I hope it stays that way.'
Nigel Waymouth's designs appear in the exhibition 'Bamalama Takes a Trip: A Celebration of '60s Graphic Design' at Bamalama Music & Movie Posters.
For more unique looks at London life, sign up here to get Time Out features straight to your inbox.
Now meet more incredible Londoners
If you've read our regular 'My London Story' feature in the free Time Out London magazine or online, you'll know that there's no end of fascinating, inspiring people in this city of ours. From activists to hairdressers, mermaids to hedge-trimmers and aviators to refugees, we've met some incredible Londoners this year. Here are a few of the best.