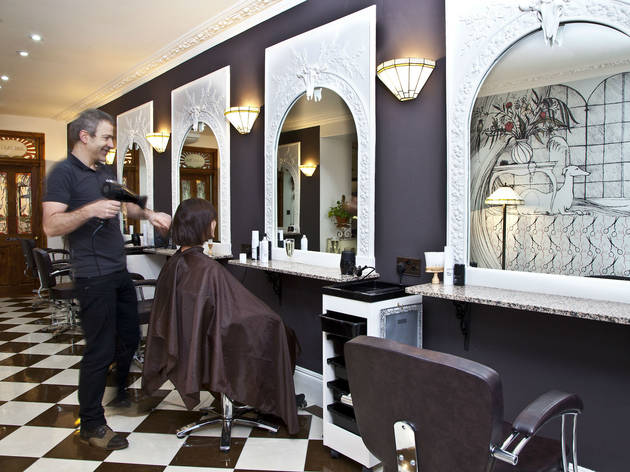 Walk into Oskar Pink and you'll be met with a pleasing, somewhat Parisian-style interior – there's a gorgeous art nouveau-style mural on the wall and bespoke wallpaper with a quirky repeat-print scissor pattern. It's a wonderfully welcoming space, and the latest salon in a stable of three (the other two are in Chalk Farm and Kentish Town), each with a different interior vibe, though all headed up by the charismatic Stavros Konstantinou.
Having spent ten years as a creative director at Toni & Guy, and a further year managing a salon for Nicky Clarke, he decided to turn away from the corporate world of hairdressing, shake off his formal training and adopt a more freestyle approach to cutting and colour. He opened his first branch in 2007, hoping to attract cool north Londoners by encouraging his stylists to put the customer first rather than just cutting to a formula – and the approach has paid off.
Visiting the salon without a clue what to have (anything but another bob!) wasn't as awkward as feared – Stavros suggested a smart shoulder-length cut which turned out exceptionally well. It was understated, flattering, survived the first-wash test and has got better with time.
Venue name:
Oskar Pink
Contact:
Address:
5 Camden High St
London
NW1 7JE

Opening hours:
Mon 11am-6pm; Tue-Sat 10am-7pm; Sun Closed
Transport:
Tube: Mornington Crescent
Do you own this business?
Average User Rating
3.8 / 5
Rating Breakdown
5 star:

11

4 star:

0

3 star:

0

2 star:

0

1 star:

5
I went to Mornington Crescent salon. I was quite confident after reading the nice reviews but it turned out to be my worst hairdresser visit experience. The stylist did what he wanted on my hair, didn´t listen to me and I left with an uneven and horrible haircut.
I have been going to Mornington Crescent branch for 3 years now. Eliot is a true gentleman and puts time and effort into getting your hair exactly as you would like it. They have a great team in place and nothing is too much trouble. Espresso on arrival and a relaxing shampoo in the tranquil washing room. Eliot takes his time with your cut and always makes sure you leave having had the cut you would like. His mentor Stavros has taught him well and he has picked up excellent customer service skills in dealing with tricky customers. The salon has a friendly atmosphere and I look forward to my haircuts so much I often book in extra appointments even when I don't need my hair cutting. I would highly recomend this place 6 stars ****** .
I had my haircut at Camden High Street Branch and was the worse experience in my life!! My fault was to arrive 10 minutes later and this allowed them to decide that I did not deserve to have my hair dryed..and not even dye my hair, for which we had agreed by phone to evaluate if do it or not when I would be there. What I was wondering was..in 10 minutes she would have dye and dry my hair then?? No way!! So at least she could have dryed it..or at least her colleague, who was more than once waiting, whitout do anything, while her client had the hair dye.
I found the situation really disappointing and unprofessional...and even expensive since I have spent 40 pound and dryed the hair by myself.
Moreover, I had to tell her many time how to cut my hair, giving me the impression that she wasn't confident of doing an hair cut. However, the 9hair cut was fine but unhappy and unsatisfied!
Unfortunately, would not raccomend it.
Definitely the best hairdresser in town. Love love love this shop. Elliot is a master of his craft.
I had my hair cut by Elliot at the Kentish Town Branch and I felt like he was taking his personal issues out on my hair. It seemed like he had an attitude problem and was purposefully rough and inconsiderate during the whole process. At one point he left me with a heavy brush attached to my hair whilst he answered the phone and seated other customers. I thought he was rude, unprofessional and inappropriate in his conversational topics and general manner; this made me feel uncomfortable and untrusting in the situation. The haircut was OK but I left feeling unhappy and unsettled by the whole experience, which doesn't encourage me to return ever again.
Stavros - Chalk Farm branch: I went to Stavros and got exactly what I asked for: something different while still minding my personal style. He was courageous enough to not just trim my hair - the easy option most hairdressers opt for - but give me something that makes me see myself in a new way.
Great salon great haircut !
I very impressed, I have just had Gemma colour me and Millie cut my hair at mornington crescent. The salon is amazing but the staff are better. I love my hair after these two transformed me. Ive been sick of going to rush and getting different hairdressers every time and bad colours, but i was told my girls at oscar pink have been there for years, so I will be recommending them to all my friends and I have booked to see them again, with a lovely rebooking discount. Fantastic work ladies :-)
Pretty place maybe but definitely not customer-friendly!! :( Booked an appointment several days in advance and when I got there they did not have it in their system and when I enquired about the introductory discount I saw on their website, the guy got furious and told me to leave...I am still not quite sure what happened, but one thing I know is that I won't go back!
First time to Oskar Pink - and loved it! Went to the Chalk Farm salon. Highly recommend it. I'm really fussy about my hair (blonde) had a perfect full head of highlights, great colour, really fine and natural bleach beach hair, possibly the best colour I've had in a few years. Cool cut and blow-dry and I'm defiantly going back. Great customer service too - all round perfect salon experience!
I've been coming to oskarpink for 3 years, and i go between the salons where ever there is free appointments as i'm a last minute booker. I wouldnt go anywhere else now, they are always lovely an friendly and i walk out with exactly what i want. i trust them an they have great coffee. i highly recommend them
I love oskar pink! So happy I found them, they are nothing but friendly & professional. I had fantastic colour and cut, and now 4 of my friends go as well. 10 stars from me!!!
I got my haircut by Stavros - 10 years as creative director at Toni & Guy??? I suggest he goes back to Toni & Guy and work as a jobbing hairdresser where he can sharpen his haircutting skills and learn some customer service - really not impressed - charasmatic -hahaaha!!. Was expecting something edgy and trendy but got something very boring, Not the friendeliest salon or the cheapest - will not go back!!
i love this place, after 10 years of being a camden resident i have failed to find a hairdresser that could actually achieve the look i wanted, until oskar pink opened in mornington crescent. every time i go there they get it right every time!! and the staff are so friendly and attentive in a genuine way not in that fake hairdresser way that i hate in most salons! they really listen to what you want. everything about this place is genuine which is like a breath of fresh air to me and my hair!!
Brilliant cut by Oskar Pink.