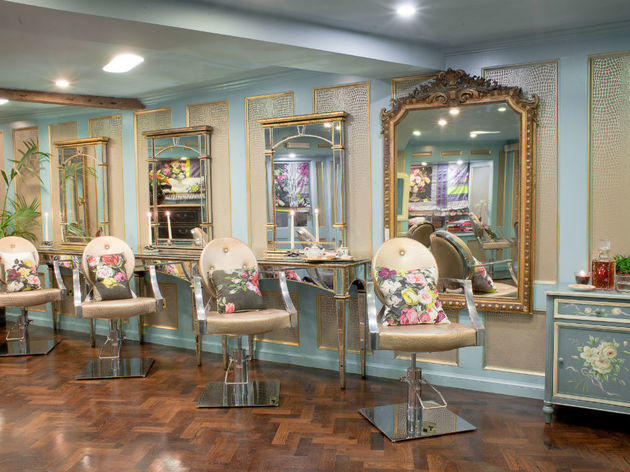 Complete with a bar, cupcakes, pretty vintage china and a liberal dose of quirky charm, this Parisian-style salon is so good they named it twice. The staff are friendly and knowledgeable, and offer a full range of beautifying services – from manicures and pedicures, cool cuts and colour, to botox and an express service (where two technicians will have you in and out in half the time). Highly recommended is the exclusive take on the Brazilian Blowout treatment (from £55). Giving customers the trichological equivalent of a 'road to Damascus' moment results in perfectly glossy, rain-proof, 'wash and wear' hair (even for colour damaged locks) for up to three months. A wahs and cut is from a reasonable £48, and colour from £65.
Venue name:
Taylor Taylor London
Contact:
Address:
137 Commercial St
London
E1 6BJ

Opening hours:
Open 10am-8pm Mon-Wed; 10am-9pm Thur; 10am-7pm Fri; 10am-6pm Sat, Sun
Transport:
Tube: Liverpool Street tube/rail
Do you own this business?
You may be interested in:
Average User Rating
3.5 / 5
Rating Breakdown
5 star:

7

4 star:

1

3 star:

0

2 star:

1

1 star:

4
I love Taylor Taylor so much. I have been seeing Amy for my colour for 4 years now. She is a colour goddess! I am forever complimented on how gorgeous my blonde hair is. I am by no means a natural blonde, but fool everyone with Amy's expertise.
Apart from the top salon colour, Taylor Taylor has by far THE coolest interior you will have ever seen. Did I mention the cocktail bar as well!
Go to this salon you will not be disappointed.
I have had a very bad experience with Taylor Taylor at two different branches of theirs, I have never felt this upset and disappointed. I have been messed around twice, I found the staff very unprofessional, they do not care about their clients needs at all and the service is poor.
I would definitely not recommend Taylor Taylor to anyone I know. The whole reason I had chosen them in the first place was that I wanted a professional hair dye and good service, but I was wrong in fact it was my worst experience ever as a client.
SO DISAPPOINTED AND UPSET!!
So, after being told that I am almost impossible to please I wrote a review on this salons other site in West London. To my friends disbelief I totally loved it and left with the best haircut I have had in 20 years. I planned to book myself in again for colour in the New Year but that salon was full. They suggested I try their other salon near Liverpool Street ( which actually works better for me as my train comes in from Cambridge) . I was a bit nervous due to some mixed online reviews but I can totally say I was blown away yet again as the two salons had actually talked to each other and my details were on the system along with the patch test thingy that I had to have for my colour change. A mousey blonde by nature the colourist has transformed me into a completely natural looking ash blond using a technique I think they called bayalage. The blond is perfect and completely suits my skin tone and that very same evening I bagged a date . Now thats what I call a hair appointment. I could possibly be a convert for life. Oh ...and I managed to slurp my way through two free espresso martinis while I was there and the total cost was about £130 which for a whole head of blond at a London hairdresser I thought was pretty damn reasonable.
I've been going to Taylor Taylor for years, it's a beautiful salon and I feel pampered every time I go there. The free drink/ cocktail is a nice touch, and I love the gold tiles in the washroom - very gothic/ glam. Love the chatty staff, and their product range is a bit different - I discovered Davines there and now swear by it.
I love it at TaylorTaylor. The people are always friendly and listen closely to what I'm looking for in a cut. It's a great way to spoil yourself if you need a 'pick me up'. It's also a good excuse to have a cocktail. I've had a few hairdressers now and they've all been great. I've been happy with every cut I've had there… and I've had a few!
A fantastic salon, fantastic staff, environment and atmosphere. Once again I left this wonderful salon last week feeling like a million dollars. Highly recommended - if you need a serious haircut, this is the place, if you just want a wash and blow dry with cocktails and friends, this is the place, if you need a pick-me-up mid week, this is the place. Having tried a multitude of other salons, and ultimately been disappointed in all of them, this remains my all time favourite, my desert island salon. Keep up the good work - the world needs salons like this to make it a better place. Ingrid
I loved it . I rarely write reviews but I had such a fabulous time in their smaller Salon on Cheshire Street that I had to write something. Cocktails, a perfect cut , a total colour change and three hours later I look like a new person just in time for Christmas. A massive thank you to everyone and you have a customer for life now
I have never experienced such atrocious customer service in my life. I went in for a consultation as I wanted to make a drastic change to my hair, was promised a call back the next day and spent the next week phoning and left 4 MESSAGES only to be given the complete runaround and never phoned back. I still haven't heard from them. I'm surprised that they have any customers left at all with the way that they treat people. If I could rate 0 stars I would. Pretentious and rude. DO NOT use this salon.
When I read time out I thought wow this sounds amazing, called straight away to book a session for Brazilian straitening. When I arrived there was a service with absolutely no smile. It seemed very frosty and distant. In the precession the guy came across as arrogant as he started ranting about the product they use etc. I did not like the feeling there at all. Looks nice people are looking cool but so cold. After all I would have had to sit there for 2 hours in that kind of atmosphere no thank you!
I had a pretty bad cut here actually - the guy was nice but a bit young and inexperienced and didn't really listen to what I said I wanted - as I recall, I almost got the exact opposite of what I asked for - and then they pushed some really expensive product on me to take how that did not fix the problem! I only went once.
In sum: Honestly, it's the worst salon I've ever been to. Taylor Taylor ruined my hair, demonstrated poor technique (highlights look more like a poor dye job - out of the box), tried to rip me off by over-charging, and management failed to respond to emails and calls.

I went in to Taylor and Taylor for the first time this week. I was going in to have half a head of highlights. Upon meeting the stylist, he told me he wanted to do Ombre. I was a little confused, because I booked highlights. I kindly said, that Ombre was nice, but I really didn't like the look for myself. He responded by saying, "well, if I have to highlight to the root, I can do a T-section, while at the same time, charge you for a half a head." Keep in mind, the service I booked was, "Half a Head of Highlights," which to my knowledge and every other salon's knowledge on the planet - highlights are traditionally going to the root. I was pretty perplexed. I should have walked out of the salon at that moment, as it already had left a bad taste in my mouth - but decided to sit quietly and agree, though, I felt taken advantage of.

I then explained to the stylist, that I loved my blonde color, but I wanted to go a little brighter, in some sections around the face. He said he preferred it to be more natural, I said, I preferred it to be brighter. Again, I should have read the vibes - we weren't clicking.

Long story short, I left the salon with GREY hair with an orange tinge to it! If you see in the photo, my hair is a golden blonde. So, I wound up with the exact opposite, (or, I don't even know what I wound up with), but it's pretty terrible looking. Additionally, the technique of the highlights honestly look like a bad dye job, straight out of the box. I've tried to wash out as much of the toner as possible (using clarifying shampoo), but I'm left with a gross shade of pale, washed-out orange. And feeling pretty discouraged.

I am very familiar with the standards of many salons in New York City, and after visiting Taylor Taylor Spitafields - I can safely say, from my experience, the salon is "pretend posh". While, I'm sure this is not representative for all staff at the salon, (following my visit, I have read that Sarah does great color and is very kind) but with the stylist I had, it was exceptionally a poor experience.

Prior to this review, I called up the salon the following day; to which I was rushed off the phone, and was told to email management. Additionally, during the brief conversation, the receptionist, stated that management was currently there, so he would have them read the email immediately. I asked if management was there, why I could not speak to them directly over the phone. He explained "that is not our policy". I have still not have had the kind courtesy of a simple reply. In the mean time, I'm having to walk around London, with terrible hair, in a state of flux; and hating your hair when you normally love it, is honestly the worst feeling.

In conclusion, Taylor Taylor not only ripped me off (by charging a half a head for a t-section of highlights), but failed to listen to what I wanted (which wasn't anything unusual or particular). Additionally, the salon demonstrated exceptionally poor technique (every strand of hair goes into foil?), and to top it all off, when a customer is unsatisfied, they choose not respond in order to correct their mistakes. If that doesn't demonstrate the class of the salon, I'm not sure what else does.

In conclusion, I would never in a million years, go here again, even if it was FREE. Salons in London like Windle and Moodie, Cobella, and others do a much better job - and don't have to pretend to be posh, they just do a nice job, and care about their clients.

More venues
Sponsored listings