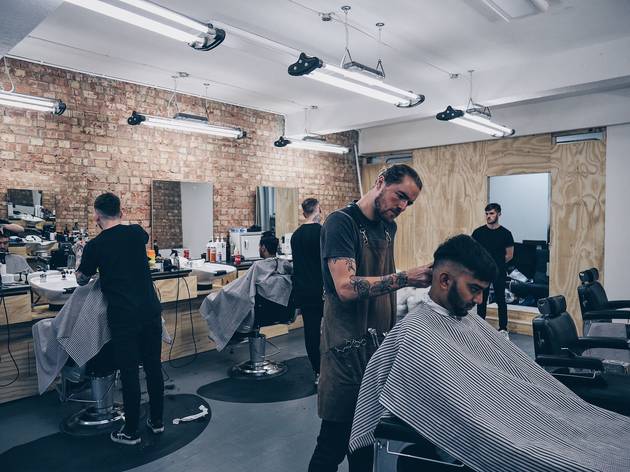 Time Out says
Does your barber cut hair on a mountain top? Perhaps you're using the wrong man. Miguel Gutierrez, of hugely popular vlog The Nomad Barber, travelled the world to observe cutting and shaving techniques in Dubai, Turkey, Chile and even London's East End. The video series documented Liverpool-born Gutierrez's year-long odyssey to learn the history of barbering.
'I wanted to create a concept that would allow me to travel, but also keep me in the industry,' Gutierrez tells me as he snips methodically at my wayward hair. I'm getting spruced up at the Nomad Barber's first permanent residence, a smallish shop off Brick Lane.
The space is stylish without being pretentious, and it's free of the hippyish travelling trinkets you might expect. Chic indie flows through the speakers and portraits from Gutierrez's travels adorn a wall. It's a cool, comfortable set-up that's been swamped with happy customers since launching. 'We get such a varied mix,' says Gutierrez. 'City boys, hipsters, guys who want a style they've seen on Instagram.' Ah yes, Instagram. The Nomad's hefty social media following has served him well, he says. 'A lot of customers come via YouTube.'
The six-man team (one of whom was a sniper before he became a snipper, so think twice about asking for 'a tiny bit more off the sides') work through cuts and shaves in 45-minute slots, priced at £32. It's competitive, and extras like a hot towel with every cut make it memorable. Let's hope this nomad has finally settled.
Details