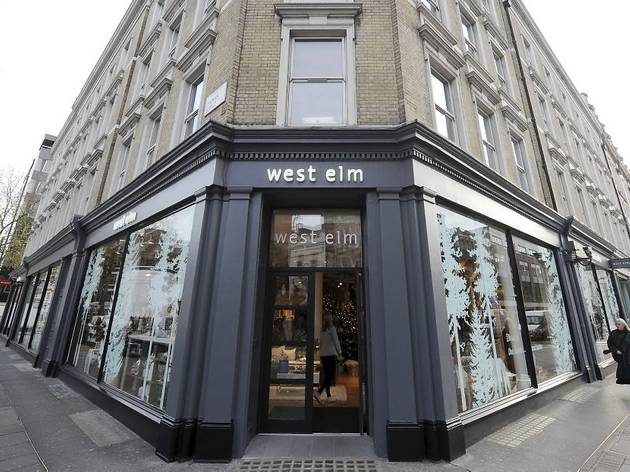 1/3
Eamonn McCormack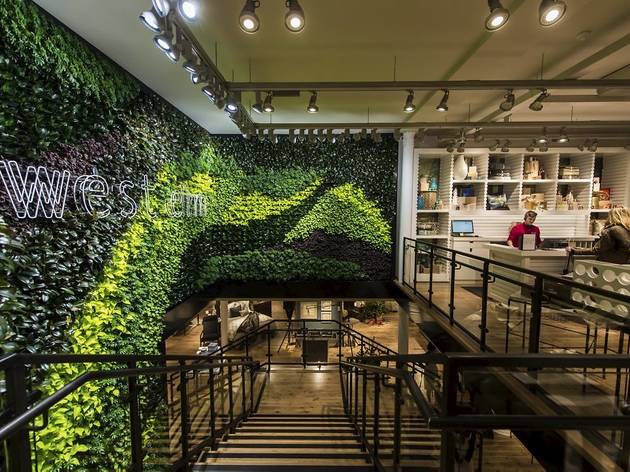 2/3
Ian Gavan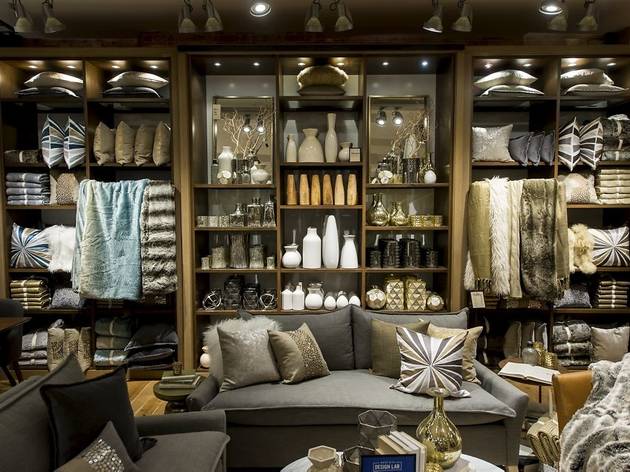 3/3
Ian Gavan
Time Out says
Anyone who has nipped across the Atlantic and sampled the delights of American homeware stores such as Williams-Sonoma, Restoration Hardware and Ethan Allen will lament the lack of affordable equivalents over here.  The wide selection of beautiful design available at reasonable prices in the US has for some years been responsible for British tourists doubling the return weight of their suitcases. As a result, the arrival in London of West Elm, owned by the same brains behind Pottery Barn, has sent out a ripple of excitement among home décor lovers.
In a particularly brave move, the brand have chosen to position their first UK store just a few metres away from their British competitors Heal's and Habitat. 12,000 sq ft on Tottenham Court Road has been dedicated to inducting the British public into the brand's New York understated chic. Across two levels the space houses everything from cushions and cookware to bedding and furniture an emporium of tasteful quality at an accessible price. The shop atmosphere is a relaxed and friendly one, where shopping is made easier by attentive staff and a beautifully curated selection of stock that makes you want to chuck out everything you own and start again.
The space also also boasts an in-house café as well as a 'Design Lab' where customers can benefit from an in-store stylist and their design wisdom. A free Christmas Gift wrap service is also on offer, as well as a wide selection of foodie gifts. On top of this, the brand are keen to integrate themselves into their new location by supporting local business, and a corner of the shop features artwork created by local artists as well as furniture produced in collaboration with UK-based designer James Harrison. However, the biggest draw is possibly the company's green credentials. Dedicated to supporting artisan hand-crafters, West Elm's rugs are hand woven in India by craftspeople protected by the All India Artisans and Craftworkers Welfare Association. Their range of organic cotton bedding and towels as well as furniture crafted from sustainable wood and renewables such as bamboo also help enforce the company's ethical and environmental interests.
Details
Address:
West Elm
209 Tottenham Court Road
London
W1T 7PN

Transport:
Tube: Goodge St
Contact:
Opening hours:
Open: 8:30am-7pm Mon-Wed, 8:30am-8pm Thurs, 8:30am-7pm Fri-Sat, 12pm-6pm Sun
Do you own this business?
Average User Rating
1.9 / 5
Rating Breakdown
5 star:

1

4 star:

2

3 star:

0

2 star:

0

1 star:

8
WORST CUSTOMER SERVICE
Never ever buy any furniture from West Elm! It is poorly made. I've bought a console and the wood cracked few days after. And this is not the worst part of it: their consumer service worth nothing. They never send any email to tell you what's going on, the process, the deliveries, etc. They are working with UPS so they are not able to track their own pieces!!! If you call them they are unable to tell you anything about what is going on! When are you going to have your new furniture, when are they going to pick up the old one, nothing, non email. So you expect something which never arrive at the end. A waste of time. UPS doesn't deliver to your home… but to your door! How do you do when you aren't a wrestling champ' to carry by yourself your furniture? Keep the boxes! UPS won't pick up your damage furniture unless you have the boxe!!!

No. Don't be tempted by the nice design. Go and shop somewhere else.

AVOID
TERRIBLE CUSTOMER SERVICE & POOR BUILD QUALITY
As reported all over the internet - especially in the US.
Both wrong items and faulty items delivered. UK customer service handled by a US call centre. Staff will tell you a new story every day and seem poorly trained. Replacement orders sit on the US system waiting approval for weeks (not exaggerating) and go nowhere unless you call repeatedly. Customer service have no visibility of UK stock levels and it takes 3 days to get a response from the UK distribution centre. They tell you they will return calls but wont. They wont put you through to a supervisor, nor will a supervisor call you back. I spent half an hour with a rep just trying to find my order. Still no resolution...
DO NOT TOUCH WITH A BARGE POLE!!!
Appalling customer service. Defective products poorly adapted to the UK which cause the products to fail or in my case, for a pendant light to fall...
Communication to resolve the issue is just impossible. They just don't care!
AWFUL SERVICE AND PRODUCTS. I would strongly insist my customers to not buy anything and will certainly not be specifying anything from them in our projects!
My delivery was missing items and it was very hard to get the situation resolved. They don't respond to emails, and on the phone they are very polite but still don't help. It's a shame because their designs are nice, but I wouldn't put myself through it again. I'm still waiting for a refund on an item I didn't receive.
Some lovely furniture, but not worth buying given the shocking service you receive if anything needs fixing or arrives damaged - check the reviews elsewhere. Feel free to roll the dice that everything will turn up in perfect condition, but we had a couple of pieces that arrived damaged and needed replacing and it has been over a month and hundreds of pounds in phone bills and we were told today that they still haven't even logged the fact that we need the items to be replaced.
West Elm is my go-to for home decor inspiration. The designs veer towards mid-century, sleek retro lines which always seem to work with everyone's taste. As with all US-based stores, there's usually a tempting selection of furniture and decorative items on sale in the basement. One niggle is that you need to arrange your own transport for the display sale items which sort of negates the discount price! Customer service is a bit hit-or-miss, although that won't stop me from future purchases because their designs are beautiful and the make is good quality. Well worth a drop by if you're looking for interior design inspiration.
Worst Customer service ever experienced. Ordered a desk and chair in April 2015, desk arrived as planned but we are now in July and I am still waiting for the chair. When I call West Elm customer service no one has a clue what is going on. They are unable to give you any information, they can't tell you when to expect it or when it may come into stock. The information is so limited that I think it would be better if they didn't answer the phone. Yet they continue to make the product available to buy online but can't get one shipped out in almost 4 months. Shocking Service. Should have gone to John Lewis!
Great store, Great service! The team in store are really helpful and go that extra mile when I was in search of a product which was out of stock! Thanks team!
West Elm Customer service is appalling (and WAS a fan of their store from the US) but have written in to CS months ago with a complaint (and have written again and again) and have never had a response....oh well, we bought our sofa elsewhere but what a same because the US versions are quite good.
Ordered from Westelm online products never arrived despite being described as in stock. Customer service said they would get them sent straight from the London store and email date of shipping. This didn''t happen and now my order is being described as 'closed'. Now have to check money has not left my bank account. Very poor service. First and last time I shop with them. Will stick to the excellent service which is John Lewis. Not a very good start for a new name on the high street. Shame as the products look very nice. ??