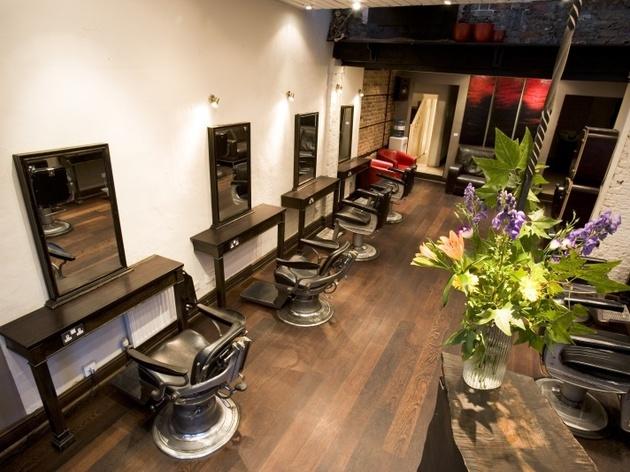 This much-loved salon has been tending local tresses for over 20 years. As well as offering excellent colour and cuts, you can be sure to catch up on all the local gossip upstairs on the roof terrace while smoking a cigarette. That's our kind of salon. Blow dries from £25.
Venue name:
Witches Hut
Contact:
Address:
13 The Pavement
SW4 0HY

Opening hours:
Open Mon-Thur 9am-9pm, fri 9am-8pm, Sat 9am-6pm, Sun 10am-5pm.
Transport:
Tube: Clapham Common
Do you own this business?
Average User Rating
4.5 / 5
Rating Breakdown
5 star:

14

4 star:

0

3 star:

0

2 star:

0

1 star:

2
Had my hair cut and highlighted by the manager's salon at Witches Hut in Balham. I was amazed with the work she did on my hair. She was very attentive listening to my request and giving her opinions., the final result was a lively healthy looking hair. The rest of the staff was also nice. The salon has a bar that provides us with a wide range of drinks from where to choose. I was very happy with the service, I will definitely return and recommend it to all my friends.
I've been going to the Witches Hut for years, and have had my best haircuts there! Recently strayed and went to "Curly-haired Specialist" and was really unhappy with the quality of the colour and the cut- returned to the Witches. Kirsty and her team re-cut and toned my hair leaving me much happier and saved me wearing a hat through summer.
The receptionist is also really helpful! :)
Super happy with my half head of colour, cut and blow dry at The Witches Hut Clapham. I've been a regular for over 15 years and wouldn't dream of going anywhere else for a hair-do as I'm always so pleased with the result. Similarly I have a number of friends who are also regulars.
Following an initial consultation as to what I wanted I was offered a variety of drinks to chose from and magazines to read whilst the manager worked on my hair.
The staff are always friendly and attentive, the ambience of the salon is really fun and enjoyable and I would most definitely recommend this hairdressers.
i went here for the first time a few weeks ago after this place was recommended by one of my housemates, having had a number of disastrous cut / colour jobs since moving to london. i am pleased to confirm that i got the best cut and colour ive ever had IN MY LIFE. usually hairdresser trips end with me going home and washing my hair again, either to get rid of the awful bouffant blow dry, or overly dark hair colour. there is no doubting that i am one fussy customer. however, kirsty, the manager, sat down with me for at least 10 minutes to understand what i wanted (ive never experienced this before) and she delivered on it 100%. lovely lady, completely talented at what she does. i just hope she never moves away because i actually dont know what i would do otherwise. lots of people seem to be singing her praises on here, and i would wholeheartedly agree with them all! the blow dry lasted 3 days! and she didnt fill my hair with tons of product so god knows how she did it! i am already planning when i can go again!
I have been going to Witches Hut Clapham for years. Kirsty is brilliant at what she does, advises me on what would work best for me and I am always more than happy with the results. The rest of the team are always friendly and attentive. I wouldn't hesitate in recommending this Salon.
I'm a big and long standing fan of this place and Kirsty - aforementioned in other reviews below. What's the worst that can happen in a hairdressers and what's the best? In the former, you hate yourself and want to die and will wear a hat rather than show people how bad things got - in the latter, you look like you're younger, have lost weight and suddenly the sun's shining. If you ever feel like the former, call Kirsty at the Clapham branch, and you will come out feeling the latter. It's everything from good service, flexible appointments (up to 9pm some nights), to quality junior staff on the washes, to experienced and patient stylists and colourists and brilliant blowdries and problem solvers if something has gone awry at home or somewhere else - or even if you're not happy with something here. I can't recommend it enough for peace of mind and I think the prices are extremely reasonable. I think I must have been coming here for over ten years. I've occasionally tried somewhere else just out of convenience to my work place (rather than near where I live, like this is), or curiosity or just to try something different and I have ALWAYS come back because they do it best. Split ends? they will banish them! Rubbish colour? They will mellow it. Bad cut? They will make it better magically. I have an unruly mop weathered by bleach and my attempts at colour and general frizz frightmares. I come out with beautifully smooth and soft hair that curls around my face seductively and frankly is gorgeous, even if I say so myself - because it's their skills I'm praising. And their products are good value on offer, most of the time.
Got my hair done today at the witches hut Clapham Common with Margaux! I am over the moon with everything. I'm an anxious client, I hate getting my hair cut but Margaux and the rest of the team make you feel welcome and at ease. She listened so well to what I wanted and took extra time and care to see that I was happy with the end results. She gave me lots of advice about future care of my hair and gave me tips and tricks to maintain my new do. I have been a client here for a while, and the service is always excellent, all the staff are friendly and personable and take the time talk to you and catch up. The salon is always clean and tidy with a cool and fresh feel to it enhanced by their staff who are always up to date with the latest trends. To top off the experience, a great range of drinks and magazines to sit back and relax and enjoy the service.
I have been going to the Clapham Witches Hut for years. I have now moved quite far away from Clapham but still do the journey to see Kirsty as she is amazing at what she does. I have a cut and colour every couple of months and I always walk out more than happy with the results. The rest of the staff are always friendly and happy. I can not fault the service and recommend the Witches Hut to Family and Friends.
I regularly have myself & my childrens hair cut in the Witches Hut in Clapham by Kirsty & cannot fault Her every time we go. All of the staff welcome us & the atmosphere is welcoming & lively in its unique way.
My children look forward to our trip to the hairdressers every time. I wouldn't go anywhere else & always recommend to my friends & family.
Love Love Love this place!!! Always leave one very happy customer. Staff are relaxed, friendly and are trained to be fab at their job. I would recommend this place to anyone, near or far. You won't be disappointed!
Had my hair cut in Clapham and will never ever go there again. Was one of the worst experience ever. My hair was longer on one side and had no layers in it and looked like nothing I asked them to do and even worse than before. Will never go there again and won't recommend that salon to anyone.
On reading the negative review below, I felt compelled to respond and defend the manager of the Balham Witches Hut. I have been getting my hair coloured and cut with her for three years and I cannot recommend her highly enough.Every time I leave the salon I am always extremely happy with the colours, cuts and blow dries she has done.
She is very knowledgeable in all areas of her role (especially colour) and has managed to transform my hair over the years. I am always complimented on her great work. Even last year when getting a blow dry in NYC the hairdresser could not stop gushing about colour of my hair.
I am really disappointed for her with the review below as it does not accurately reflect her or the work she produces. I have only ever had fantastic experiences with her and have recommended her to quite a few friends who are also very happy.
Do not let the negative review below sway your decision to go to Balham Witches Hut. All the staff are friendly, it has a great vibe and the Manager is brilliant at her job.
I've been a regular client @ Balham for about 3 years now and would recommend their services to all my friends. I've always had my hair done by the present manger and I'm VERY HAPPY with both colour and style. My face is round-shaped therefore not every style fits me but I've always had great advise. Friendly environment. Love the bar and general decor. Price is similar to other places but I wouldn't change, not even for a cheaper deal.
The most awful experience at the Balham branch.
Having had my hair cut here twice before I felt confident letting the Manager ombre dye my hair. BIG MISTAKE. Blocks of bleach were left on my naturally dark brown hair until it was completely white. The toner they then applied made my natural hair colour red. On straightening my hair there were ugly straight lines where the bleach hadn't been blended at all, even on my top layers so there was no way I could hide it.
I complained the next day and after being told by the Assistant Manager that they would try and help me (but that dying my hair back to brown would cost me more money) I went back for them to see if they could fix their mistake. The Manager that dyed it in the first place didn't even acknowledge me the whole time I was in the salon and she walked right past me several times. On seeing the state of my hair, the Assistant Manager did (reluctantly) did dye my hair back to brown for free. Not before telling me it was my fault for choosing a style that would not suit my hair. I would have expected an experienced salon Manager to tell me this before she dyed it in the first place, but obviously the £90 I paid to have it dyed didn't cover the cost of her expert opinion too.
All in all I paid £90 to ruin the condition of my hair. Do Not Go Here
From my initial phone call which was dealt with in a friendly and knowledgeable manner (good sign) to the excellent cut (by Cedric -he was suggested by reception) and advice I would recommend this salon to friends. Everyone at least appeared to be glad to be there rather than bored and distant; the ambience has the right mixture of busy and cool. The interior is cozy without, thank god, the ubiquitous sterile designer feel so commonplace and therefore so banal nowadays. I got the cut I wanted but more importantly needed; expertly done and no over push of products. Well done everyone; you are doing something very well, keep it up. Note: I went there on a Thursday afternoon so not sure what it will be like on a Saturday.
Snap up exclusive discounts in London
Time Out's handpicked deals — hurry, they won't be around for long...