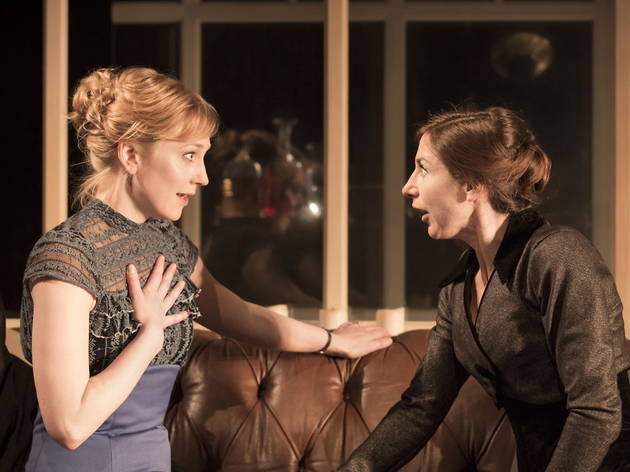 'Her performance was a little natural for my tastes,' comments Dominic Rowan's creepy, David Cameron-like Torvald of his wife Nora (Hattie Morahan) in Simon Stephens's new adaptation of Ibsen's 1879 masterpiece.
I dread to think what he'd consider unnatural: Nora is one the great female roles in the Western canon and Morahan throws everything she has into a performance that's frequently electrifying, but about as natural as a spork.
Twitching nervously, giggling coquettishly, whispering conspiratorially, rolling her eyes, staring anxiously into the middle distance, shooting between emotional extremes and speaking in an odd, Thatcher-esque drawl, she seems deep in the throes of a nervous breakdown from the off.
It is a singular turn of remarkable intensity, but difficult to get on board with: because she starts the play at full tilt, Morahan has nowhere else to take Nora emotionally or tonally. It's also easier to sympathise than to empathise. Nora has sacrificed her mental wellbeing for the sake of the narcisstic Torvald, buckling under the pressure of the 'scandalous' clandestine loan she took out to pay for his recuperation after his own breakdown. But it's often hard to see the humanity under it all.
This isn't such a problem in the first half, in which Nora bounces and buzzes off the walls of her neat, constrictive family home for two nerve-jangling hours. But a climactic showdown with Torvald requires her, awkwardly, to jettison most of the strangeness in order to deliver a final, vindictive speech.
Still, if Carrie Cracknell's production didn't quite work for me, it's far from unimpressive. And Ian MacNeil turns in a typically superb Young Vic set: a tidy, picture-perfect Nordic apartment surrounded by inky darkness, which revolves between scenes to dazzlingly cinematic effect.
Nick Fletcher's sheer ordinariness as Torvald's blackmailing ex-employee Krogstad is disarmingly sinister. And Dominic Rowan is superb as Torvald: his stilted attempts at empathy mark the only performance to truly mesh with Morahan's powerhouse otherness.
Average User Rating
3.5 / 5
Rating Breakdown
5 star:

4

4 star:

2

3 star:

1

2 star:

1

1 star:

2