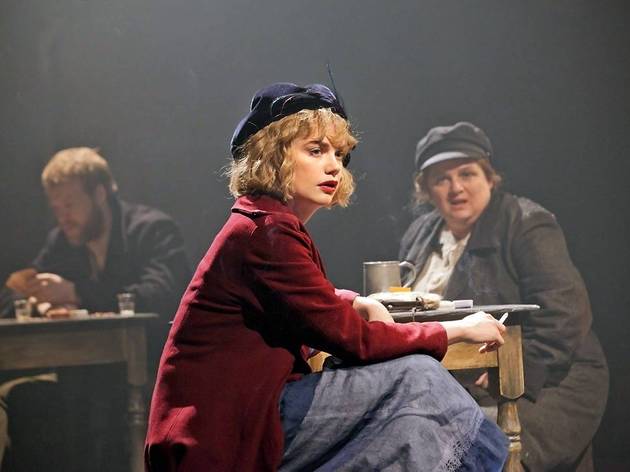 Jude Law is the reason Rob Ashford's meticulous production of this flawed early Eugene O'Neill play sold out its run months ago; jolly good he is too as lusty Irish sailor Mat Burke. Bearded, buffed-up and thick of brogue, he's an elemental creature, entirely at the mercy of his instincts, roaring and rolling and swaggering, all present tense, with no thought for the consequences.
Rescued from the sea by Swedish skipper Chris Christopherson (David Hayman), Mat falls in love with the old man's American-born daughter Anna (Ruth Wilson) in a matter of moments, offers to fight anyone who disapproves of the suit, and storms out of Anna's life in a second when she reveals that in the years of her father's absence, she had gone on the game to support herself.
One of the finest actresses of her generation, Wilson is astonishing as Anna. Her performance is a sort of frozen negative of Law's: where he is all blood and guts and unselfconscious nowness, Wilson's Anna is like a detached, wryly despairing observer to her own life. When we first meet her, in a New York bar, she says her name with a nervous flap of her hands and a humourless, hysterical giggle, as if she cannot believe that this 'Anna Christie' is really her. It's a superb reading, suggesting Anna has as much trouble squaring her past with her present as anyone; except unlike Mat and her father, she can't walk out on herself in disgust.
Paul Wills's mobile wooden set is a thing of sepia gorgeousness; combined with Howard Harrison's fine lighting and Adam Cork's superb sound, the sea scenes have an otherworldly serenity that captures the purity and liberation Anna feels on the waves.
The weak link is Hayman's Christopherson: I could never get my head around his broad, cartoonish Swedish accent. Maybe Scandinavian sailors spoke like this 90 years ago, but in 2011 it robs the part of emotional authenticity. Then there is the play itself: some of the language is very overwrought, while anyone of a feminist bent is liable to blanch at the ending, where Anna is meekly 'redeemed' – Ashford surely could have handled it more sensitively. Still, an affecting portrait of two lost souls who find each other on the boundless ocean, powered by strong performances from both Law and Wilson.