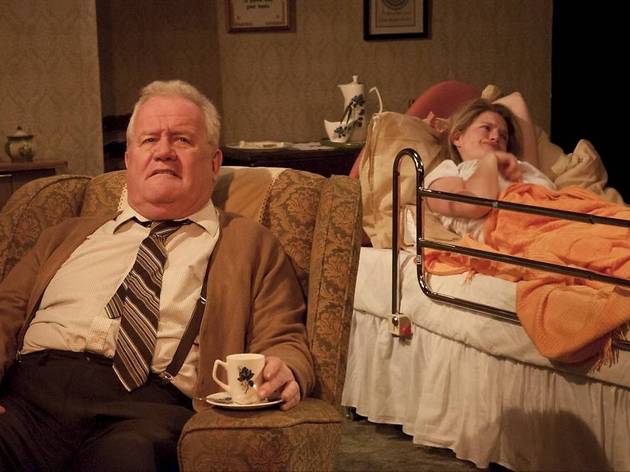 Middle England is living in hell but still clings nostalgically to its good intentions in Dennis Potter's 1976 play about the Bateses, a middle-aged couple living with their severely disabled daughter, Pattie. All praise to young director Amelia Sears for reviving this BBC commission, which remained unscreened for more than a decade because of its pivotal event, in which an insinuating young man called Martin cures Pattie of her affliction by raping her.
It sounds grim and gratuitous, but it isn't. Thirty-six years on, Potter's wit, power and political judgment are undimmed. You look in vain for a contemporary writer who has such a sharp ear, strong stomach and apocalyptic vision.
In Sears's vivid production Matti Houghton's excellent Pattie is central: she lies twisted and gurgling on a bed in the sitting room. Long before the entrance of Rupert Friend's devilishly plausible Martin, it's clear that something wicked has distorted her parents' lives: Tessa Peake-Jones's plaintive Mrs Bates is desperate for a respite from care; Ian Redford's brooding Mr Bates is desperate to turn the clock back and has joined the BNP (though his wife still sends their old clothes to the Tory party jumble sale).
The sense of evil lurking among the china figurines and unfinished sentences is so potent, watchable and subtly achieved that it's almost a shame when it's spelled out. When Martin enters he comes with broad winks to the audience, flickering light bulbs and thunderclaps. This very '70s idea of the devil incarnate is the only part of Potter's play that seems dated – what was once taboo is now kitsch and over-referenced. And during scene changes, when Matti Houghton's Pattie writhes around in bed to a blaring punk soundtrack, it looks worryingly like Sears's intelligent production is going to turn into 'The Sexorcist'.
It doesn't, thanks to moving, detailed performances. But, 40 years on, Potter's observation of the Bateses' despair – and their insidious means of relief, such as prayers, petty cruelty or blaming 'the coloureds' – seem far more shocking and relevant than the central act that got his play shelved by a queasy BBC.
Rating Breakdown
5 star:

1

4 star:

0

3 star:

1

2 star:

0

1 star:

0