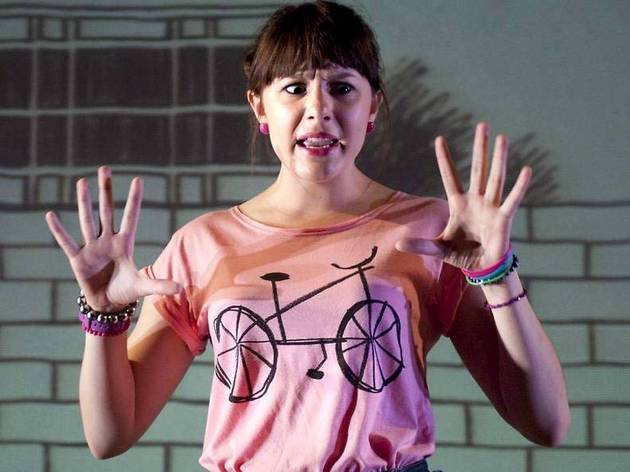 Time Out says
A schoolgirl caught in the headlights of impending life narrates Jack Thorne's superb 60-minute monologue, which merits all its Edinburgh Festival rave reviews.
Car trips usually work better on film than in the theatre, but this one gains fluency and a view from Jenny Turner and Ian William Galloway's deft animated backdrop. As Katie, her boyfriend Abe and his two dodgy workmates chase after a cheeky kid on a bike, the backing screen sketches its way through street after cartoon street, like Rolf Harris's answer to SatNav.
Luton – one of the UK's most boring and, apparently, highly weaponised towns – is the real backdrop. This tense coming-of-age tale, whose undercurrents of anxiety and humiliation are illuminated by the twin headlamps of sex and violence, is a microcosm for a new lost generation: sharpened by underemployment, soured by boredom and elated by cruelty.
Rosie Wyatt is excellent as Katie: vehement, charming, clueless and bright, and in danger of falling through her careful parents and orchestra practice into a poorer, angrier world that few escape from.
Thorne, one of our brightest talents, writes with exceptional drive and insight and a constant awareness of danger, which keeps you alert to every nuance that Katie, in her masochistic excitement, fails to see. 'I know what I'm doing,' she tells us repeatedly, as she quivers, transfixed by the thrilling prospect of trouble.
Everyone on this vengeful trip is distorted by disappointment or humiliation: Katie failed to get the university place she wanted; her boyfriend and his mates are cruising for someone to bruise in the shadow of lay-offs at work.
The detail makes 'Bunny' more than your average monologue; it is a brilliant miniature play about Britain: condensed, complete, and full of vivid and unnerving kids on the cusp of darkness.
Details
Users say