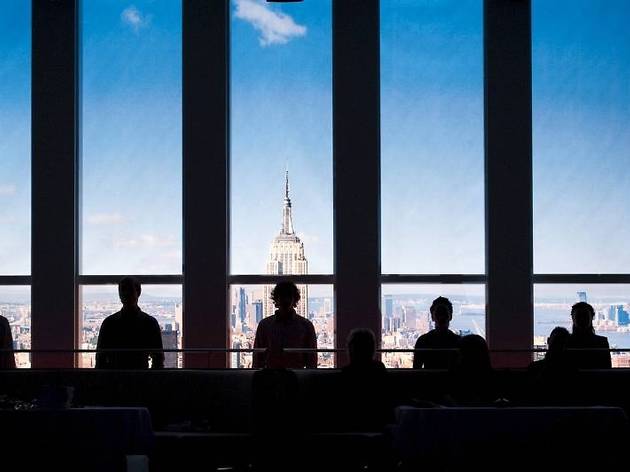 Time Out says
Ten years on from 9/11, everyone retains their own memory of where they were when they heard or saw what had happened, and what the crashing planes meant for them and for the world thereafter. That's why Rupert Goold and Robert Icke's piece of memorial theatre has so many writing credits.
'Decade' has much transatlantic talent at its disposal (big names like Simon Schama and John Logan; brilliant emerging playwrights like Alecky Blythe): so much, in fact, that it's in danger of giving multi-authored multi-media theatre a good name. But Goold's company Headlong are in a different league when it comes to cohering an imaginative spectacle – don't try this on the fringe, kids.
'Decade', which mixes snippets of white collar testimony with tense, racially conscious street-level drama, decade-length historical appraisal and disaster-themed group dance-offs, shouldn't work as memorial or as theatre. But it does, thanks to its timeliness, the commitment and quality of the actors, the confidence of Goold's direction and – most crucially – the bonding, beyond-words expressiveness of Scott Ambler's shellshocked choreography.
On arrival in this Dockside office space, you're processed by US immigration then led to a table in a recreation of the World Trade Center's panoramic restaurant. There's something profoundly tasteless about sitting, drinking, watching white-dusted office workers contort in a desperate dance through the lit corridors above this space. Those devastating falling man photos have been widely republished in this anniversary year. Dancing on their graves like this does initially feel like disaster porn.
But the intelligence and care that has been expended on these 20 short plays is increasingly persuasive, especially as the movement graduates from schlock horror and begins to describe the disparate yet collective community reaction in New York.
'Professors historicise, people remember,' says a Schama-like historian. He's right – and although 'Decade' doesn't even try to define the events of that bright September day, or their legacy, it finds an authentic, thought-provoking way of collaging some of its storylines together. It digs down into bundled human layers of grief, anger, fantasy and memory; the living soil of every swooping historical narrative.
Details