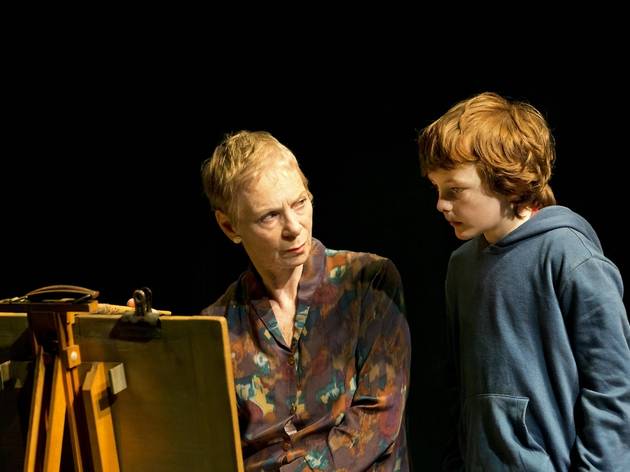 Peter Gill's revival of Robert Holman's 1987 triptych doesn't quite live up to the adulation heaped upon it in the accompanying programme notes and web documentary by younger star playwrights Simon Stephens and David Eldridge, but it's undeniably very special: a stripped-down work of delicate foreboding that's a far cry from the lavish sets and big names one expects from the Donmar. It's a sure sign that the venue's new boss, Josie Rourke, means business.
Holman's text is divided into three playlets, each of which centres on two or three disparate, damaged individuals who are attempting to find common ground in a world touched by war.
The first,'Being Friends', is set in rural Kent in 1944; in it, two young men – a Quaker conscientious objector and a disabled artist – chat awkwardly as doodlebugs buzz past. In 'Lost' it is 1982 and a mother is trying to explain to a naval officer the complicated, hostile feelings she harboured for her estranged son, who has died in the Falklands.
The evening culminates in the spellbinding hour-long title piece in which the two wars touch, as Jewish Holocaust survivor Helene (Sara Kestelman) attempts to defuse the bombs in the heads of rage-filled Falklands veteran Alan (Ben Batt) and his mute adopted son Sam (played on press night by Lewis Andrews).
Despite Alan's profanities and Sam's wordless howls, this is a very still play and production. The occasional quietly horrific reference to torture or concentration camps slides menacingly into the lulls and pauses in the characters' polite chat.
The lack of on-stage movement (the characters mostly sit) and lack of set means it feels like a radio play at times – and Holman's script could have handled a slightly more dynamic approach, but the strength of Gill's production is that he allows the skilled cast to derive finely nuanced performances from Holman's delicate text.
Like Stephens's recent Royal Court triptych, 'Wastwater' – which is indebted to Holman's play – it's hard to sum up what 'Making Noise Quietly' adds up to. I came away from Gill's production with a powerful sense of human interconnectedness and of the dangers that lie therein, of how even the most ordinary lives are just a few inches away from destruction, either self-inflicted or at the hands of another.
In the final scene, this is devastatingly palpable: a few wispy strands of circumstance are all that will determine whether Alan blossoms into a good dad or a monster as sadistic as the Nazis who tortured Helene.