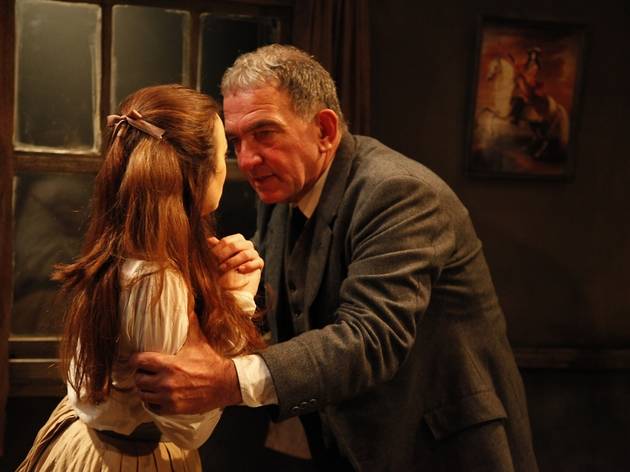 Not for the first time, the Finborough demolishes the myth of twentieth century British theatre being an effete wasteland pre-'Look Back in Anger', with the first revival in 90 years of this domestic tragedy by St John Ervine.
'Mixed Marriage' isn't quite a lost classic and Sam Yates's revival is not without flaws. But Ervine's 1911 portrayal of a pre-partition Belfast working class ripped apart by religious conflict and mutual mistrust is powerful stuff, couched in startlingly modern language.
At the play's centre is John Rainey (Daragh O'Malley), a fearsome Protestant patriarch and powerful orator who is persuaded to make a public show of unity with Catholic colleagues during the 1907 Belfast dockers' strike.
He is an impressive man, but his unquestioning sense of religious duty is his inevitable Achilles heel. When he discovers that his brash eldest son intends to wed a Catholic girl, Rainey is driven to fatally sabotage the strike.
It's hardly an unpredictable 80 minutes, but the taut economy of Ervine's text impresses, as does its prescience and sheer fearlessness. O'Malley is excellent as the gruffly charismatic hero-turned-villain, while Fiona Victory is a splendid foil as his big-mouthed, big-hearted wife.
Other performers aren't as strong, and Richard Kemp's cramped set is an odd use of space, but this is a lean, potent drama that does not deserve to be forgotten.
Rating Breakdown
5 star:

3

4 star:

0

3 star:

0

2 star:

0

1 star:

0
Excellent night's theatre- the acting was great and the space works so well to bring the heightened tensions right at you- what a wonderful theatre this is- a real gem
Most moving piece of theatre I have ever seen. I can't recommend it strongly enough.
As a regular theatregoer for 40 years I can say that this is the most powerful piece of theatre I have seen in a long,long time. Shades of the Royal Court in the 70's ! .