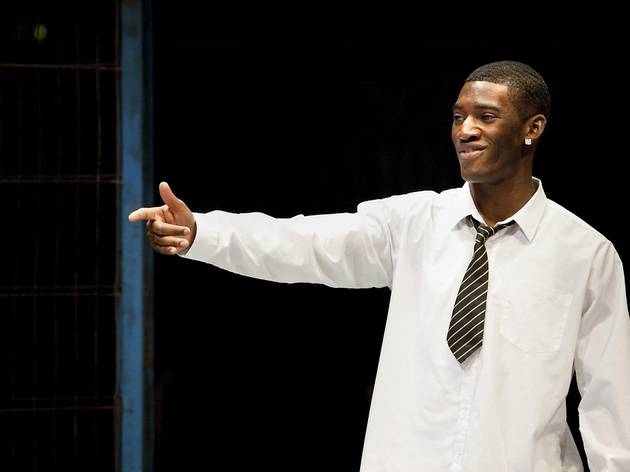 Screwed-up state schools are already winning all this year's gold stars for new drama. John Donnelly's 'The Knowledge' (at the Bush) was 2011's first contender for best new play. Now 'Mogadishu' – a debut from ex-teacher Vivienne Franzmann, which won the Bruntwood Prize – is provoking boos, cheers and classroom-style backchat from the young, mixed crowd at the Lyric Hammersmith.
So what's the beef with schools? Well, comps are a melting pot of neglect, white liberal guilt, satire-ready bureaucratic regulations and ripe faux-Yardie argot – ie dramas waiting to happen. Here, Franzmann's first-hand experience zings in every phrase – from 'Local Authority Designated Officer' to 'bare fugly'.
'Mogadishu' opens in Tom Scutt's broken wire cage of a playground, where Malachi Kirby's Jason (15, black) is beating up Michael Karim's briefcase-toting nerd, Firat (14, recently arrived from Turkey). Julia Ford's teacher, Amanda (forties, white, pinot grigio-swigging and compassionate), tries to break them up. Jason knocks her to the ground, then bullies his mates into saying she pushed him and called him a black bastard.
Director Matthew Dunster gets great performances from young actors. His tense, comic production is as vivid as a black eye – and reveals just as many shades of pain in the escalating consequences of Jason's lie. Malachi Kirby's Jason, the remorseless villain of the piece, remains a cipher. You feel the frustrated love in his relationship with his security guard dad, an authoritarian with no authority. But Jason and Amanda's contrasting home lives don't shed much light on their chacters. And the increasingly melodramatic action ends up forcing a confrontation (and a parallel) between Amanda's furiously articulate self-harming daughter Becky (Shannon Tarbet) and her mother's accuser.
Dunster's production needs to pull back on its dramatic punches and allow the young characters room to breathe as well as hurt. Becky ('because I'm white and middle class it's just fucking assumed that I should have manners') fights her mother's battles, hurling words like sticks and stones. She and all the kids in the cast – with their wiseass ignorance, playacting and vulnerability – thrum with life. But they rule the play as well as the school: both would benefit from having more convincing adults in the ring.
Rating Breakdown
5 star:

1

4 star:

0

3 star:

0

2 star:

0

1 star:

0
Awesome theatre, went to second London performance and it was some of the best theatre ever. The story does not sound like an uplifting subject but the writing never put a foot wrong, the cast were well up to the material and we the audience were emotional participants in the drama that they played out before us. Can't recommend it highly enough and suggest that it's the best £10 you'll spend at the theatre this year. A well deserved award winner.