Philadelphia, Here I Come!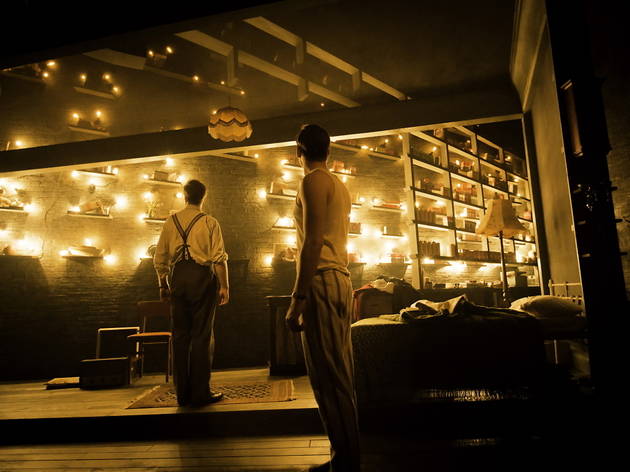 Time Out says
'Posh' director Lyndsey Turner seems incapable of helming anything that's less than sparkling at the moment, and she does not disappoint with her Donmar debut, buffing this bittersweet 1963 Brian Friel jewel to a lambent sheen.
'Philadelphia, Here I Come!' follows Gar, a young man from the fictional Irish town of Ballybeg, on his last night at home before emigrating to the States for good. It is a play about inner and outer lives, about what is said and what is unsaid, and to this end there is not one Gar but two: the nervous, introspective Gar in Public (Paul Reid, winsome) and his unfettered invisible alter ago Gar in Private (Rory Keenan, a brilliant performance of powerhouse restlessness).
A potentially grating device, it works effortlessly, partly because Friel keeps Gar in Private's exact nature vague and unforced – is he Gar's inner monologue? His super ego? An Americanised ideal of him? – mostly because Gar in Private's frank verbal fireworks offer us the light we need to illuminate the seemingly barren emotional terrain inhabited by the rest of Ballybeg's denizens.
It becomes apparent that Reid's sweet public Gar is leaving home not out of wanderlust, but disappointment. Over two hours we see a litany of let downs that have driven him out of town. Chief among them is his relationship with his father SB (played with mournful dignity by James Hayes), a gloomy old widower and creature of habit who has taken refuge in taciturn silences and endlessly repeated routines.
Gar dropped out of university to work in SB's shop, but they have grown no closer: on the last night he will ever see his son, SB stoically drinks his usual solitary cup of tea as Keenan's Gar in Private screams, shouts, mocks, pleads, cajoles and cackles incredulously as he wills his father to even so much as acknowledge that tomorrow will be a different day.
The kicker in Friel's play is that he suggests emigrants of Gar's generation quit conservative, buttoned up Ireland for emotional, rather than economic reasons. Rob Howell's deceptively simple set telescopes Gar's entire life – his home and the shop – into one room, which he hardly ever leaves. Whatever is out there, you feel escaping Ballybeg is the victory.
There is melancholy here, but equal amounts of merriment. Friel's text and Turner's production dance with nimble wit and good humour, mostly provided by the superb Keenan, whose sizzling energies cut through the old world gloom like a beacon in the dark, lonely but hopeful.
Details
Users say