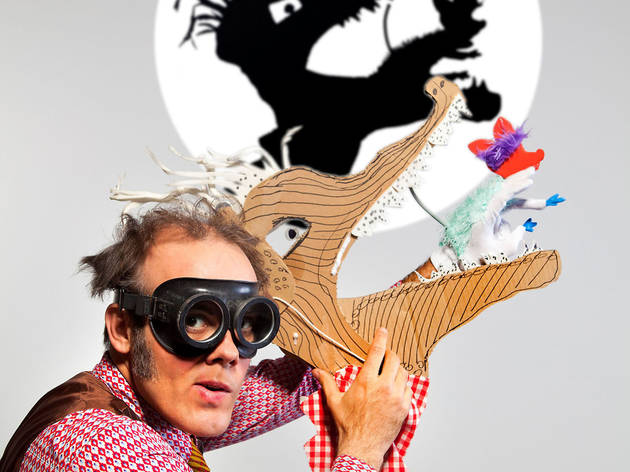 There comes a point when men ought not to be making shadow puppets from bits of old rubbish and yet we must be grateful that Canadian Jeff Achtem has stuck at it. By his own admission, he spends too long alone in dark rooms and it's certainly taken its toll on his appearance.
Here he is discovered on a stage that looks more like a municipal tip, tearing up cardboard and muttering to himself. He wears aviation goggles, a manky red kilt, green waist coat and purple leggings, while his bare feet control the lighting. Even the wispy bits of hair which sprout above muttonchop sideburns on his largely bald pate are used as foreground in some of his shadow work.
Suitable for anyone over seven, the show is at times almost as slick as computer animation. But Achtem never loses sight of the fact that it's a live performance and his ingenious improvisation is crucial to its charm.
Early sequences are little more than goofy encounters between double-chinned snails grazing on the 'grass' of his thinning hair. But he ploughs on through the animal kingdom, mocked up from gloves and found objects. Projecting through translucent flock fabric he creates the flora of the seabed and the eyes of his cut-out characters shift conspiratorially between their prey and the audience.
But it's his final excursion into 3D with a bird's adventures underwater which is his crowning glory. He asks you to keep mum about it, but not to tell would sell him well short. Achtem is a phenomenon. Long may he continue.
Rating Breakdown
5 star:

1

4 star:

0

3 star:

0

2 star:

0

1 star:

0
Brilliant performance. This is a super creative and likeable guy bringing back the magic of simple things. In an era of super special effects it waas so nice experiencing surprise with this show made with toys and crafts and inocent humor. Definitively recomend for kids and adults alike.