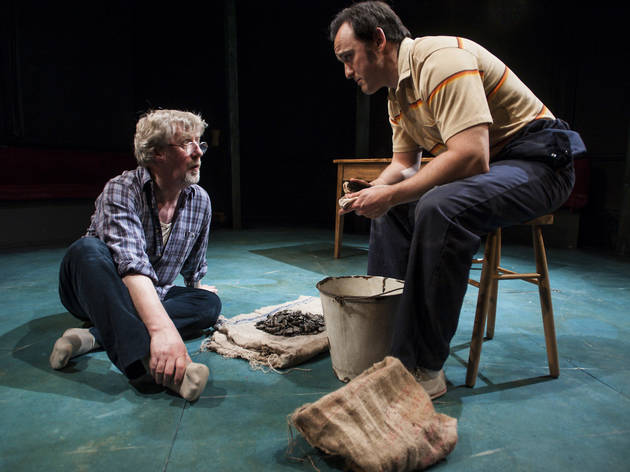 The Finborough continues its run of Fringe hits with a London premiere of Canadian Michael Healey's 1999 paean to the power of storytelling. 'The Drawer Boy' is set in rural Ontario and is based on 'The Farm Show' (a '70s project that saw actors embed themselves in working farms to provide inspiration for a new piece of collective theatre). It strives to pin down the elusive purpose of art.
It begins with conventional fish-out-of-water comedy as city-boy actor Miles (Simon Lee Phillips) crashes the tractor and gets teary-eyed over the fate of Daisy the cow. But Healey's play reveals its grander ambitions with bucolic self-assurance.
Miles's presence upsets the bizarre stalemate between the two old friends who work the farm, gruff Morgan (a brilliant Neil McCaul) and brain-damaged Angus (John Bett), whose simplicity seems to mask forgotten pain and long-repressed secrets. Miles is an actor and actors tell stories, and, as 'The Drawer Boy' argues with undisguised idealism, stories can be powerful and revealing.
Healey considers whether art has a fundamental perspicacity that transcends its inevitable untruths and pretensions. Shot through with references to state subsidy and the hard farmers' logic of 'produce or die', 'The Drawer Boy' nevertheless makes a powerful case for the necessity of art. It's one that's perfectly rendered here in Eleanor Rhode's lean and vital production.