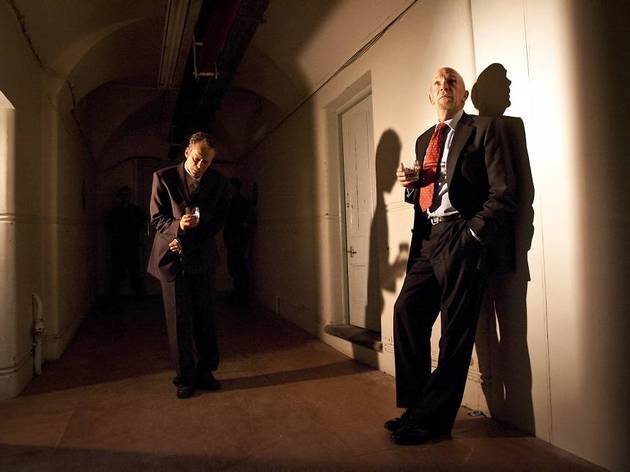 'We don't want to see dissent in the avenues of our great cities,' declaims Hugh Ross's creepily patrician Minister for Culture in Harold Pinter's 'Press Conference', the first scene in this site-specific mash-up of five of the late playwright's political shorts. With arts funding getting nuked and the screws tightening on Occupy St Paul's, this sinister 2002 vignette bites as hard as it ever did.
With 'The New World Order', Brighton's Hydrocracker mount their own occupation of Shoreditch Town Hall under the auspices of the Barbican. As monosyllabic security services usher us deeper into the bowels of the building, the oily politicos of 'Press Conference' and 'Precisely' gradually fall away, replaced by sadistic armed forces.
Down in the basement the cruelly brilliant 'One for the Road' (1984) and 'Mountain Language' (1988) form the meat of the production, chopped up and spliced to form a Guantanamo-esque nightmare in which Ross's minister supervises the destruction of two (or perhaps more) angry, bewildered innocents played by Esther Ruth Elliott and Richard Hahlo.
The gimlet-eyed precision of Pinter's writing is sometimes sacrificed to the format: only the excellent Ross really emerges as a coherent character. In particular, 'One for the Road' loses some its suffocating horror by being doled out piecemeal over the evening.
But this is a superbly realised production from director Ellie Jones, a literal and metaphorical descent from the airy upper halls of power to an underworld of dirty little secrets. It crackles with Pinter's pitch-black wit and horrified fascination with emotional and political power.