Shine 2013: kit tips
Going the distance will be tough, but the right gear can put a crucial spring in your step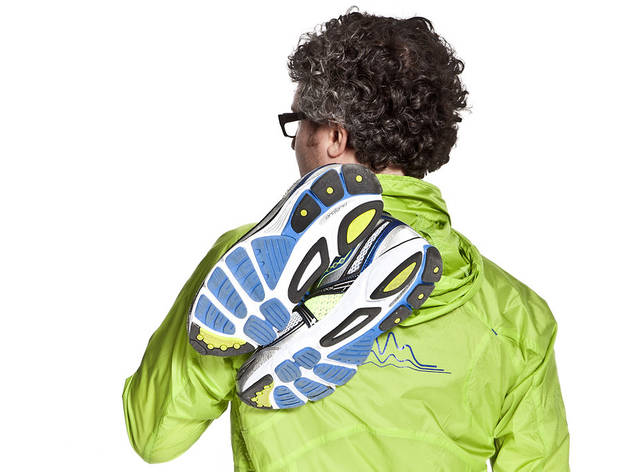 Runners Need is a specialist running store. We asked their team to give us some useful ideas on what participants should wear while training for and taking part in the Shine in London 2013 night-time walking marathon.
For your Shine walk and training walks you can wear walking or running shoes, depending on what you find most comfortable. But be aware that if you also run, or plan to in the future, you will not be able to run in walking shoes, whereas most walkers will find running shoes that suit both activities.
Running shoes are more cushioned, because they are designed for a high-impact activity, so you will generally find them more comfortable to walk in over long distances. A specialist shop like Runners Need will have a complete range of options, including walking shoes, so you can try different brands and styles and see what suits you best.
You can peel off layers as you warm up, and add them as the night cools down. You'll be walking for at least four hours (eight hours for a full marathon) and the conditions can be difficult to predict.
Your top half should consist of a base layer, mid layer and outer layer. The base layer should be a snug fit and made of synthetic fibre to wick moisture away from the skin. The next layer should be slightly looser and is designed to insulate the body. This layer is generally only required if it's very cold and should be the first layer to go if you get too warm. The final outer layer, such as a gilet or training jacket, should act as a protective shell. It's essential that the outer layer is breathable, so that the inner layers can perform efficiently.
Garments made of technical fabric (with wicking properties) transfer sweat away from your skin to the outer surface so it can evaporate, which helps to moderate your body temperature. Cotton gets heavy and damp with moisture, but technical clothing will see you through training and the big night without showing a trace of sweat – and minimising odour.
The major running brands produce a vast range of technical clothing under such names as Coolmax, Dri-Fit and Climalite, but essentially they work in the same way. Technical clothing is also designed to provide greater flexibility and movement, and there are a wide range of styles and fits, to suit any shape or size.
Tops with a half or full zip are really versatile, as they allow extra ventilation when you need it. Zip pockets are handy for carrying your mobile, snack and keys. Also look for reflective strips on your outer layer, to help you stay visible when darkness sets in.
It's estimated that, when unsupported, breasts bounce up to 9cm during exercise. This can not only cause soreness while you exercise, but potentially result in lasting damage. Just because you're walking, that doesn't mean you can make do with your everyday bra. A quality sports bra will reduce movement by up to 74 per cent, alleviating discomfort like chafing and leaving you free to make the most of the event.
Walking is lower impact than running, but you should still choose trainers that are right for you and will stay comfortable from start to finish. A good pair of trainers will provide the optimum level of cushioning and support for your walking style, but also suit your foot shape, body weight and surface you walk on, both during your training and at the event.
The right shoes can make all the difference – they will work with your natural biomechanics, boosting your walking efficiency and maximising comfort and support, but more importantly, reducing the risk of injury. Don't choose shoes based on looks, as they may not be right for your foot shape or level of activity. For expert advice, go to a specialist shop, where you'll find a wide range of brands, styles and widths.
The big night is not the time to wear new kit – chafing, rubbing and blisters will make for a very uncomfortable walk. Allow at least three weeks to wear in your trainers, and wear clothing that you have worn on your longest walk leading up to the event.
Choose good-quality sports socks that are comfortable, breathable and won't slide down the back of your shoe. You are on your feet for a long time, so you may want to consider socks with padding on the forefoot and heel to enhance your comfort.
- A cap to shade you from sunlight or keep off rain.
- A waist pack or backpack to hold a water bottle, extra layers and other essentials.
- A sports watch or heart rate monitor – many are inexpensive and can be paired with free smartphone apps to measure distances and map your route.

Find out more about Shine 2013 by going to www.shinewalk.org/timeout, or simply sign up now and help make London shine. The entry fee is £35, which helps cover the cost of putting on the event. Registration closes at midnight on Sunday September 15 2013.
Many thanks to Runners Need for the above tips.